UIR-Marietta connection stronger than ever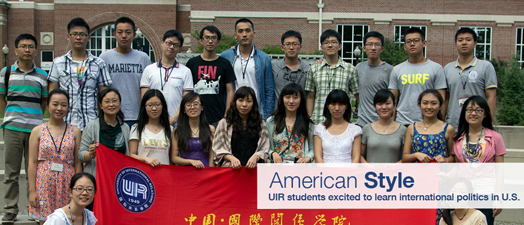 Taking a break from his lunch in Gilman Dining Hall, Yu Yongjia couldn't wait to talk about his first experience in the United States.
"I have studied about America a lot and I really like your culture, but I don't want to just study from the book," he says. "I want to see it and touch it."
For two weeks in late July, Yu participated in the annual China Institute's 2013 Summer Program at Marietta College. Yu, along with 21 other students from the University of International Relations in Beijing, studied U.S. foreign policy, international politics and political economy.
Dr. Mark Schaefer, Associate Professor of Political Science, says the program has been held annually since 2007, with the exception of one summer.
"It is valuable for us to bring the students and faculty advisers over from China to continue building our relationship with the UIR," says Schaefer, who has been a driving force behind the program since its inception. "This is at (UIR's) request. They want to give this opportunity to their students to come over to the U.S., while providing a rigorous academic component."
How demanding is the work?
Less than 24 hours after arriving in Marietta, the students were in Mills Hall getting an introduction to U.S. foreign relations from Schaefer. Then daily for the next two weeks, the students met with different Marietta faculty for about five hours discussing topics such as "Public Opinion and Its Role in U.S. Policy Making" and "Religion in American Society."
"The program is designed to give them a foreign relations perspective that is from the U.S.," Schaefer says. "We try to debunk some of the myths that they may have heard. … It is a lot of fun to see how engaged the students are in the classroom and how they are always asking another question. They use the two weeks at Marietta to the fullest."
Wu Xue, one of the two faculty advisers, says the classroom format in the U.S. is much different than what the students experience at UIR. She adds this would explain their overzealous approach during the seminars.
"In China, the students typically listen to the professor speak the entire class," she says. "In the U.S., the students have more freedom to choose what they are interested in speaking about and learning about."
Schaefer says the only part of the two-week program that is rigid is the research project conducted by the students at the end of their stay.
"It is often their first big presentation in English," he says. "We center it around an issue that the U.S. and China could be competitive on, and we ask them to try to create a cooperating policy and then they have to advocate for that policy."
Wu says the research is just one of the challenges.
"They also have to do everything in English," she says. "Some of the students are comfortable doing this, but for some of the others it is stressful."
The students do get some time away from the classroom to meet with Marietta Mayor Joe Matthews, shop downtown and enjoy some American cuisine.
"I love the American food," says UIR student Sun Chao. "In China we eat a lot of rice, but here we get more beef and chicken with our meals."
Many of the students agree that Americans live a much more serene lifestyle than what they typically experience in Beijing.
"Everyone is so friendly and it seems everyone is living the happy life," says student Zhu Mingjun. "I like the slow pace and everything seems so clean. There are so many differences, like drinking water from a fountain and not having to boil it first."
Dr. Xiaoxiong Yi, Director of Marietta's China Program, says UIR and Marietta have a long-standing relationship, and during President Jean Scott's final year the two institutions signed another memorandum of understanding.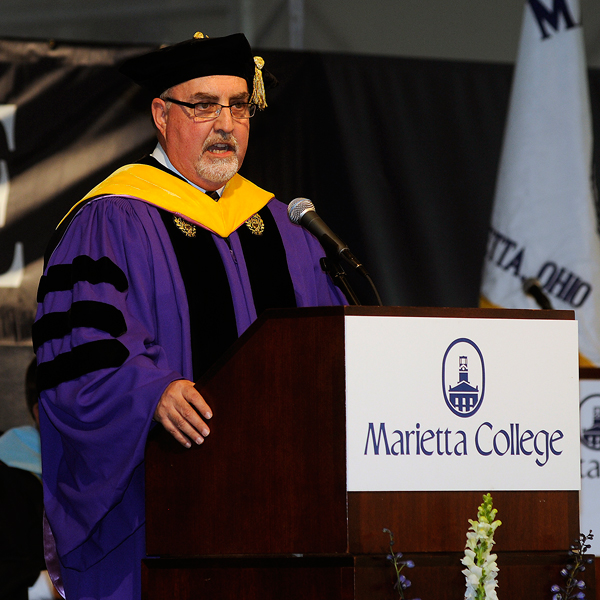 ​The association took on a new dimension this summer when President Joseph W. Bruno teamed up with UIR Presidents Liu Hui and Jian Tao to host the inaugural Marietta-UIR Summer Palace Conference in Beijing in late June.
"We were interested in firming up our relationship with our colleagues there, but also hosting an event that would raise the profile of Marietta College in China," Bruno says. "So our colleagues in China helped us put together an event that was centered on higher education and its responsibilities for the social good."
Yi says there were participants from several top Chinese universities and research institutes in attendance, including Peking University and the China Academy of Social Science. There were also several top business firms, including China State Investment Corp. and China International Capital Corp.
"The first Marietta-UIR Summer Palace Conference in Beijing put Marietta College on the strategic map in China and also further consolidated our two-decade relationship with UIR," Yi says. "President Joe Bruno's speech on the second day of the conference was, literally, brilliant and was one of the very best public talks I have heard in years." 
On the first day, Bruno talked about "Liberal Arts College in the United States," and followed that up with a less formal talk about creativity to the UIR faculty, staff and students.
The event was covered by four major Chinese national news media — China Central Television, People's Daily, Guangming Daily and China Education Daily.