Undergraduate research team travels to Brazil to get answers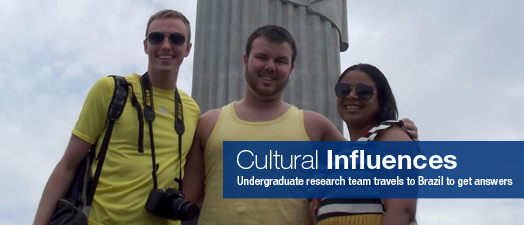 Marietta College students often seize the opportunity to study abroad, but it's rare that a student has the chance to leave the country to conduct original research.
Such was the case for recent graduates Cody Clemens '13 (Malta, Ohio) and Vincent Hendershot '13 (Belpre, Ohio). Hendershot and Clemens partnered with Dr. Tomeka Robinson, Assistant Professor of Communication, and traveled to Brazil this summer to continue their study on leisure and health.
"Our research focused on the reasons for non-compliance of doctor prescribed exercise programs and how culture influences patient-doctor interactions," Hendershot says. "Based on the globalization within cities from all around the world, it's essential that doctors are able to approach health from a culture-centered approach in order to ensure that doctors are treating the patient, and not just the disease. We are researching how culture may be a barrier for the adoption of health behaviors and how 'healthy behavior' can be defined differently from place to place."
Through a partnership with Brazil's Universidade Metodista de Piracicaba (UNIMEP) Clemens, Hendershot and Robinson spent two weeks in Brazil gathering research, taking part in question and answer panels and meeting some of their research team.
The research began during the 2013 spring semester as Hendershot, Clemens, and Jacob George '13 (Marietta, Ohio) enrolled in Robinson's Communication 395: International Research course. Last year Robinson did a series of lectures at UNIMEP on health and leisure, and through the experience connected with Dr. Cinthia Lopes da Silva.
"Dr. Cinthia Lopes da Silva asked me about doing some collaborative research as she saw similarities between her work and my own," Robinson says. "Throughout the fall semester, she and I exchanged several emails and decided that we wanted to look into the meanings that health students attribute to leisure and physical activity."
Lopes da Silva and Robinson agreed to assemble a team that included students.
"Cody and Vincent have taken several health communication courses with me, so when this opportunity arose I asked the two of them along with Jacob George to join the research team," Robinson says. "Though Jacob was unable to make the trip, he still contributed a great deal to the literature review and project proposal."
Joining the team was Danny Valdez, a graduate student from Texas A&M University. With the team assembled George, Hendershot and Clemens were able to get to work doing background research, composing a literature review, and developing a schedule for the project.
The group also assisted Robinson in writing a chapter for Ohio University's Introduction to Communication textbook.
"This experience has truly opened several doors for me and it has given me the opportunity to find something that I am truly passionate about," Clemens says. "I am starting my Master of Arts in Corporate Communication in the fall of 2013 at Duquesne University and I know that I will be doing research of some type in my program. This opportunity in Brazil has given me the head start I needed to get ahead of the game and publish work. It has also opened a door to return to Brazil in 2014 to put the finishing touches on the project."
Clemens and Hendershot were both quick to credit Robinson for the success and enjoyment of the project.
"On behalf of the entire team, I would like to thank Dr. Robinson for reaching out to us last December and asking all of us to take part in the amazing international research opportunity," Clemens says. "Dr. Robinson is a phenomenal professor, mentor and friend, and I, along with the rest of the research team, truly got to see her outstanding leadership on this project."
The research is a yearlong project in conjunction with the Universidade Metodista de Piracicaba and Texas A&M and will continue throughout the next year.