Weaver promoted to lead College's Police Department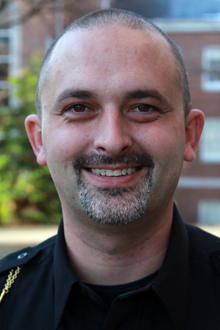 After serving as Interim Chief of the Marietta College Police Department for several months, Jim Weaver has been permanently promoted to the top spot on the force.
"I am delighted that Jim Weaver has become the Chief of Police for the Marietta College Police Department," said Dr. Robert Pastoor, Vice President for Student Life. "Jim has been a loyal and dependable employee of the department and this promotion is based on his exemplary leadership in the Department."
Weaver is pleased to continue to work with six full-time officers and five part-time officers in the department, which has embraced its commitment to campus safety and service.
"I am very excited about the opportunity to lead the Marietta College Police Department in this capacity," Weaver said. "In the time that I have worked for the department I have seen it grow by leaps and bounds to where we are today, an accredited agency with a team of compassionate, professional officers who truly care for and love the community in which they serve."
Though he has served in the interim position since July following the resignation of Tom Saccenti and only recently was tapped as the permanent chief, Weaver has already identified specific goals he wants the department to reach.
First, he wants to continue to be the best-trained agency in Ohio by having all full-time officers certified as both Master Criminal Investigators and Master Evidence Technicians. He also wants to grow the department's community policing program, which began several years ago and has resulted in a stronger relationship with the campus community.
"I would like to continue seeing growth in this area as I feel it is very important for our community to have a good relationship with officers so they are comfortable calling us for any reason," Weaver said. "The third goal is to continue to build our relationship with both the Marietta Police Department and the Washington County Sheriff's Office. We currently have a fantastic relationship with both agencies and I would like to build on that by partnering with them in continuous training sessions on campus. This would both improve the working relationship of all of our officers and get area agencies more familiar with our campus."
Weaver earned an Associate's Degree in Criminal Justice from West Virginia University-Parkersburg and graduated in 2008 from Washington State Community College's Police Academy, receiving the highest test score in his class. Soon after, he joined the Marietta College force in 2008.
A native to the area, Weaver was born in Wood County, W.Va., but moved to Washington County during his childhood. He graduated from Waterford High School.
"My beautiful wife, Jamie, and I are high school sweethearts and have been married for 14 years and we have been together for 17 years," Weaver said. "We have three wonderful children: Jimmie, who is in the eighth grade, Jillie, who is in the sixth grade, and Jaxon, who is in the second grade. They attend Waterford Elementary School and together are involved in band, track, basketball and softball."
The campus community has been satisfied with the quality service Weaver has provided.
"I know that the members of the Department highly respect Jim and are extremely happy to work with him," Pastoor said. "Faculty, staff, Board Members and students have been so complimentary of Jim's work that it is truly fitting that he has been asked to take over the reigns of the Department. I look forward to working with him for many years to come."