What's your goal?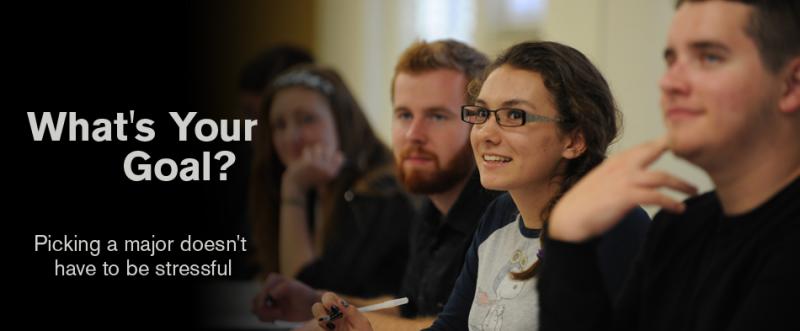 Marietta College offers more than 40 majors that will help you fulfill your professional goals. In addition to focusing on a major, Marietta students also receive a solid liberal arts education, which bolsters critical thinking skills as well as writing skills. Here are some you could consider:
Land & Energy Management
One of the newest majors at Marietta College, the Land & Energy Management degree helps prepare students to work with oil and gas exploration and extraction companies, government agencies, utility companies, conservation programs, law firms, engineering firms and financial institutions.
"The program takes advantage of our expertise on the energy side and integrates strong core liberal arts components in ethics, energy and business law, communication and negotiation." — Dr. Bob Chase, Chair of Petroleum Engineering & Geology.
Education
One of the top programs in the state of Ohio, the Education major at Marietta College was recognized by the Ohio Board of Regents for ability to prepare students for careers in the classroom. In fact, Marietta boasts a 100-percent placement rate for Education graduates.
"Marietta College placed me in a school to work with a teacher who taught seventh- and eighth-grade science. This allowed me to assure myself that I am on the right career path." — Erica Gill '15
Graphic Design
The Graphic Design major is for students who want to hone their visual communications skills. After studying various studio art mediums, those concepts are then melded with digital formats. Graduates work in a variety of fields, from print and web media to advertising.
"Marietta College gave me a foundation on which to build. An education can be quickly outdated in these fast moving times, but Marietta College gave me the personal foundation to know that learning never ceases. In beginning my career, the Marietta Career Services Center helped me to write my resume and conduct mock interviews so I wasn't going into the workforce cold turkey. I also had faculty helping me to find internships as well as alumni helping me to find jobs. I felt that the connections I have made and just being a part of The Long Blue Line has given me an advantage in my career. " — Corryn Muench "12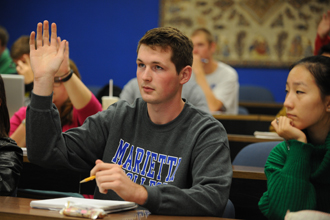 English
The English Department at Marietta College features an exceptionally talented faculty who help develop your critical thinking and writing skills. Graduates of this program work in a variety of professions, including technical writing, software engineering, public relations and law.
"I want students to leave having grown in terms of how they can think and write and approach the world and understand how they're interacting with the world, so they can have a more nuanced perspective than when a student first comes in it's often, this-or-that, and I really like to mess that up. But then too I really love watching — especially now that I've been able to advise a student from first year to graduation — it's so cool to be able to say 'Oh my goodness, this is eight times more polished and stronger than that was your first year writing." — Dr. Nicole Livengood, Associate Professor of English
Psychology
Students interested in Psychology have the option of earning a four-year undergraduate degree or a five-year Bachelor of Arts/Master of Arts Degree in Psychology. The Psychology faculty provide thorough hands-on psychological research opportunities to students, who can also take advantage of the new Behavioral Research Lab and Marietta's Center for Families and Children.
"My intention was to major in business because that was what my family told me. And of course, family knows best, right? Well, I decided to take Psychology 101 my freshman year and I fell in love with it! … Today I am a social worker. I am challenged daily with the public, my coworkers, and myself. Of course there are days that are better than others, but when I know I impacted someone's life for the better, there is no greater feeling. I love my career and I have Marietta College to thank." — Megan Mason '13
Engineering Binary
You can earn two degrees from two prestigious institutions with Marietta College's 3-2 Engineering Binary Program. You'll spend your first three years at Marietta College before transferring to Columbia University or Case Western Reserve University. By the end of your undergraduate academic education, you will have earned a Bachelor of Science or Arts from Marietta, and a Bachelor of Science in Engineering from one of the two affiliate universities.
"The 3-2 program is a great way to straddle the line and figure out what type of undergrad experience you want while in a safe environment (Marietta), with friendly people and terrific professors. While doing this you have a great opportunity to build a network. The transition after the first three years can be tough, especially watching your friends have a senior year without you, but I've stayed friends with a lot of people from Marietta and made many new friends when I was at Columbia. Academically it is challenging, you've got to want it to do it, but I enjoyed it." — Ben Charley '13
Accounting
Marietta College's Accounting majors benefit from a talented faculty who are devoted to sharing their knowledge with students so they are well prepared to excel in either the Certified Public Accounting examination or the Certified Management Accounting examination. Marietta's Accounting graduates work in the nation's "Big Four" audit firms, as well as in other leading industries.
Cody Meglio '11 graduated Phi Beta Kappa and salutatorian of his class with Bachelor of Arts degrees in Accounting, Economics and Finance. Within months of graduating, he earned one of the 10 highest scores in the nation on the Uniform CPA Examination. At that time, he was the youngest CPA in the state of Virginia.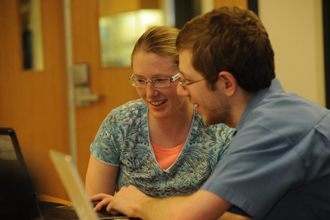 History
No one does History like a liberal arts college, particularly Marietta College. Students who study History at Marietta benefit from talented professors who are available for collaborative research projects and who can prepare students to succeed in either graduate or law school or in a career.
Katherine Tedesco '14 completed an internship as a research intern with the Naval History and Heritage and Heritage Command — Underwater archaeology Branch in the Washington, D.C. Navy Yard.
"After working there, I learned I really like exhibition development. I wasn't able to physically create a display, but I witnessed several displays being formed and presented to the public. I also realized that I want to work in a military museum again. Now If I get to work at the Smithsonian, I won't be upset, but there is something special about military museums and how they connect a veteran to a time in their life or how it helps the survivors of a veteran get a perspective that they couldn't have otherwise." — Katherine Tedesco '14.
Physics
Students pursuing a Physics degree at Marietta College benefit from talented professors who provide a curriculum that prepares students for graduate school or for careers in physics-related fields. Our Physics majors benefit from internships in national and international research labs, and have a keen understanding of which field of physics suits their professional interests by the time they graduate from Marietta.
Alexandra Jurgens '15 completed an internship with the Stanford Linear Accelerator Center National Accelerator Laboratory, part of the National Science Foundation's Research Experience for Undergraduates (REU). She appreciates the close-knit feel of the Physics Department.
"I never had to worry about approaching my professors, they make themselves super accessible, and I don't have to worry that they won't remember me after a class with only three other people. Beyond that, it's impossible to hide in classes that small, so it's really obvious when you don't understand a concept. Even though that can be uncomfortable, it means that the class can really focus on the things that students struggle with. It also makes you accountable for everything that you do, or don't do, which is good preparation for entering grad school or the work force. Personally, I think that the physics program at Marietta is unique and a great preparation for various careers." — Alexandra Jurgens '15
Health Science
Students who major in Health Science are prepared to work in a variety of health care professions. Graduates of the program are well equipped for advanced degree training, including fields in physician assistant, physical therapy, nursing and occupational therapy.  
"I came to MC with the sole purpose of becoming a physical therapist. I took all the classes and volunteered in an outpatient orthopedic physical therapy clinic run by a MC graduate and family friend. Sometime in to my senior year I realized that it was not the correct path for me. It took a long time to figure out, but I realized that working as a clinician required daily patient interaction that I did not enjoy as much was necessary … but my love for science remained unchanged. After taking human physiology with Dr. Pete Hogan, I realized how difficult and challenging the field of neuroscience was. Even though my first seven semesters were devoted to the career of physical therapy, MC provided me with enough basic and translatable experiences/coursework that I was able to get accepted into the Neuroscience Ph.D. program at The Ohio State University." — Dr. Jeffrey Wojton '08
Undecided?
If you are still on the fence as to where you'd like to focus your studies, don't worry. Marietta College is a liberal arts college, which means you will be exposed to a variety of subjects throughout your four years here, which means you'll get a taste of what many majors are like. Who knows, maybe you'll choose more than one major, or pick up a couple of minors in the process! Starting your career at Marietta without a major will not set you back, and in fact, will give you a chance to figure out what you want to do … and still be able to graduate in four years. Here is a complete list of our undergraduate degrees.