White House adviser to speak at 31st annual Friedman Lecture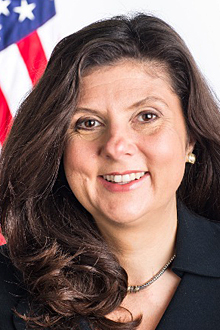 Dr. Betsey Stevenson, Member of the White House Council of Economic Advisers, is scheduled to deliver address for the 31st annual Milton Friedman Lecture.
Stevenson, who is on leave as an Associate Professor of Public Policy at the University of Michigan's Gerald R. Ford School of Public Policy, will begin her presentation at 7 p.m., Monday, March 2, in the Alma McDonough Auditorium. The lecture is free and open to the public.
Stevenson will cover, "The Labor Market in the Recovery: Achievements, Challenges, and Opportunities." She is a Fellow of the Institute for Economic Research in Munich and has served on the Board of Directors of the American Law and Economics Association.
She served as the Chief Economist of the US Department of Labor from 2010-11, and has taught at the University of Pennsylvania's Wharton School and Princeton and been a visiting scholar at the Philadelphia and San Francisco Federal Reserve Banks.
Stevenson is a labor economist who has published widely in leading economics journals. Her research examines the impact of public policies on the labor market, with a focus on women's labor market experiences, the economic forces shaping the modern family, and the potential value of subjective well-being data for public policy.
Stevenson received a Bachelor of Science from Wellesley College and an Master of Arts and Ph.D. in economics from Harvard University. She will also be speaking to the Economic Roundtable of the Ohio Valley at noon, Tuesday, March 3, at the Marietta Country Club. 
The Economic Roundtable of the Ohio Valley is a non-partisan non-political educational organization that formed in 1982 as a result of collaboration between the Business and Economics Department at Marietta College and a group of business, civic and educational leaders. The object of the Economic Roundtable is to promote an interest in and to enlighten its members and others in the community on important governmental, economic, and social issues. Since its inception, the Economic Roundtable of the Ohio Valley has presented the Ohio Valley with more than 160 distinguished speakers who have enlightened and informed ERT members with their fascinating discussion on a broad scope of governmental, economic and social issues. 
The ERT's speaker series is open to its members only. The ERT's membership is open to all interested individuals at $35 a year. To join ERT, please contact David Mead at dave.mead@marietta.edu or call him at (740) 376-4632. You may find more information on ERT at economicroundtable.org.