Accounting and Public Accounting Capstone Projects
Five accounting seniors (Eric Arnold, Caleb Hester, Emily Kochevar, Ryan Lynn, and Morgan Spradling) delivered their capstone research projects during the week of April 4, 2016. Topics included flat v. progressive tax structures (Hester), oil & gas company disclosures in a market downturn (Spradling), the evolving role of internal audit (Kochevar), term limits for corporate boards (Lynn), and a historical look at changes revenue recognition practices (Arnold).
Economics Capstone Projects
After a year spent learning statistical techniques and conducting economic research, students in Dr. Jacqueline Khorassani's Econ 421 course - Empirical Research - presented their individual and original work to faculty and classmates on December 8-9, 2016. Many interesting findings were discussed. The students now have the opportunity to refine these papers for publishing and/or conference presentations.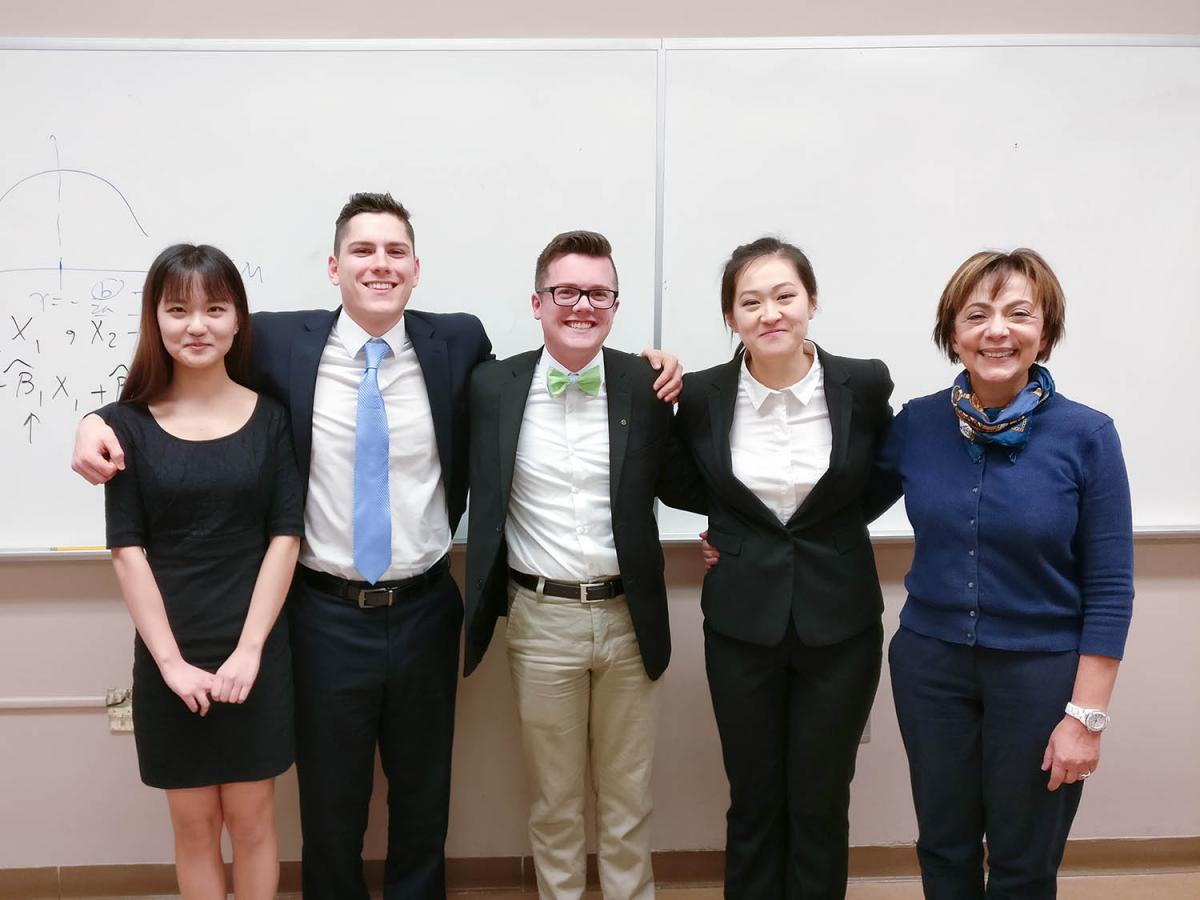 Pictured above, seated from left to right are Matthew Bush, Dr. Khorassani, Jimmy Wharton, and Wei Gao. Standing from left to right are Amanda Davis, YiWen Du, Yisong Liu, Yi Lun Wang, Tian Chi Han, and Han Yun Long.  For the title of each student's research project, please click here (PDF).
Management Capstone Projects
MNGT 453 students (Business Policies and Practices) analyzed their respective companies to identify core competencies and the existence of competitive advantage. This effort included prototypical concepts from the strategic management literature including; Porter's Five Forces, the Five Generic Strategies, the 9 Cell Industry Attractiveness-Competitive Strength Matrix, and the Weighted Competitive Strength Assessment. The case analyses concluded with the identification of implications for management and recommendations for future strategic policy initiatives.
Companies analyzed and student team members were: Herman Miller (Bethany Delaney, Wes Gilkerson, Tanner O'Connor, and Stephanie Yanzhe Li); Chipotle (Nathalia Ferreira, Carlos Nucete, Mary Ervin, Andy Dollman, and Lauren Morain); Nucor (Nikki Hannaway, Cameron Smith, Kate Reid, Arash Ghafouri, and Jesse Quick); and Disney (Victor Zipeng Dong, Syreeta Osborne, Nick Miller, and Chad Sudbrack, pictured).