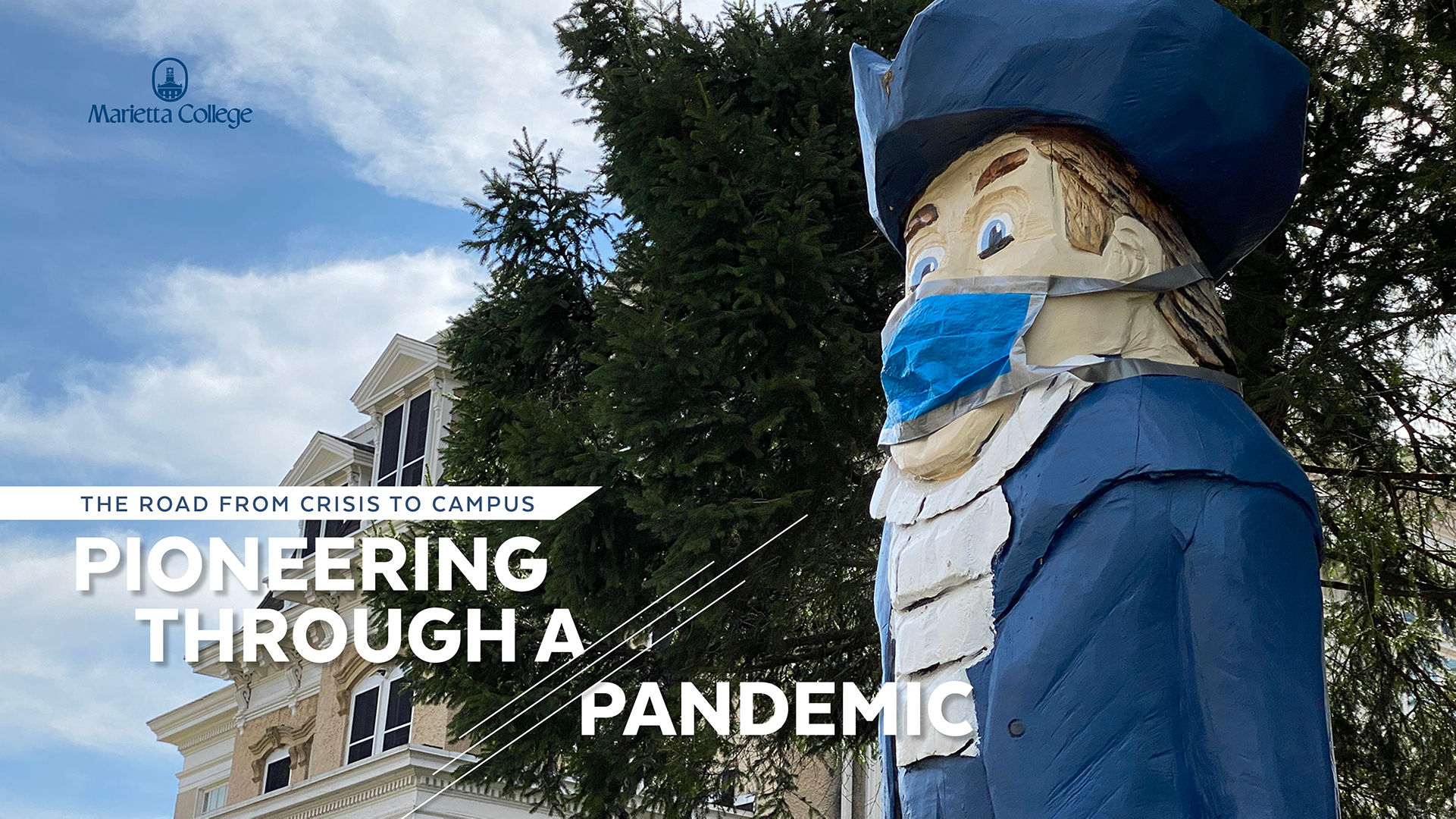 College 194
The Road from Crisis to Campus: Pioneering through a Pandemic
Course Description:
Over the past six months, we have watched the world grapple with big questions as the novel coronavirus (COVID-19) has changed how we live on a day-to-day basis. These big questions are the subject of this course. We will explore how a liberal arts education provides multiple perspectives by which to address the big questions of life.
Marietta College faculty in the sciences, humanities, fine arts and the social sciences will provide insight from each area to help us begin to understand how viewing the pandemic crisis from different disciplines can help us reach a deeper level of understanding.
As incoming Pioneers, you will have the opportunity to meet Marietta College faculty and student leaders, and begin to understand just why you chose a liberal arts college to help you answer life's big questions.
Course Information:
Days & Time - The course runs from June 1 to July 24. Webinar lectures with Q&A are every Monday from 7:00-8:15 p.m. (EST). Small discussion sessions will be held via Zoom meetings on Tuesday, Wednesdays and Thursdays. Students will pick one discussion session that they will attend for 50 minutes each week.
Cost & Credits – The course is FREE to all incoming first-year students including transfers. The course will be graded S/U, which does not impact the GPA, but if passed with an S will provide 1 credit toward the 120 credits required for graduation.
Homework & Assignments – Each week there will be a short reading to do prior to the lecture. The readings will help students prepare to get the most out of the lecture and to get into the habit of reading which is the number one stressor college students cite when asked what is the difference between high school and college-level work. The course will end with each student doing a short reflection paper or creative project to help them synthesize what they have learned over the eight weeks. Integrative learning is at the core of the Pioneer Path general education so the course will give students a head start on this critical skill.
Sessions & Instructors:
Week One – Monday, June 1
Integrative Thinking in the Liberal Arts
Dr. Joe Sullivan, Associate Professor of English
The Biology of Covid-19
Dr. Steve Spilatro, McCoy Professor of Biology
Week Two – Monday, June 8
COVID-19's Impact on Media Content and Consumption
Dr. Linda Lockhart, Assistant Professor of Communication
Lori Smith, Assistant Professor of Communication
Week Three – Monday, June 15
Economics of the Great Shutdown
Dr. Greg Delemeester, McCoy Professor, Milton Friedman Professor of Economics
Leadership Lessons in COVID-19: What Makes a Good Leader During a Crisis
Dr. Bill Ruud, Professor of Management, President
Week Four – Monday, June 22
Integrative Thinking in the Liberal Arts - Part II
Dr. Joe Sullivan, Associate Professor of English
What Happens when our "Social Network" Becomes Disconnected
Dr. Ryan May, McCoy Professor of Psychology
Week Five – Monday, June 29
The Humanities and COVID-19: Law and Ethics of Rationing Resources
Dr. Judy Ruud, Professor of Leadership Studies
Dr. Alexandra Perry, Assistant Professor of Leadership Studies
Week Six – Monday, July 6
Creativity in Times of Crisis: The Case for Art as ESSENTIAL
Dr. Janet Bland, Professor English, Provost and Dean of the Faculty
Dr. Z Zerbe, Assistant Professor of Graphic Design
Week Seven – Monday, July 13
Integrative Thinking in the Liberal Arts - Part III
Dr. Joe Sullivan, Associate Professor of English
Historical Perspectives on the Coronavirus Pandemic
Dr. Matt Young, McCoy Professor of History
Week Eight – Monday, July 20
Going Forward – Scientific and Economic Steps Forward
Dr. Steve Spilatro, McCoy Professor of Biology
Dr. Greg Delemeester, McCoy Professor and Milton Friedman Professor of Economics