S. Durward "Steve" Hoag
Class of 1923
Hotelier, Civic Leader, Photographer, Historian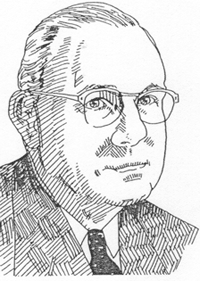 Stephen Durward Hoag arrived in Marietta in 1918 and entered Marietta College the following year. In 1922, he began assisting his father, the manager of the new Hotel Lafayette. Father and son later entered into a partnership as owners and managers of the Lafayette Motor Hotel. Upon his father's death in 1944, Steve assumed control of the establishment.
Hoag engineered innovations and improvements making the hotel a regional landmark. He was a tourism pioneer and visionary recognizing the importance of automobiles and the necessity of hotels to provide parking facilities.
Hoag is credited during his term as president of the Marietta City Council as being the person most responsible for the routing of Interstate 77 near Marietta. One of the city's foremost civic leaders, he served three years as president of the Marietta Chamber of Commerce, was the first recipient of the Marietta Jaycees' Distinguished Citizen Award, and was named Mr. Pioneer Spirit during the city's 175th birthday celebration. In 1977, he received numerous other recognitions and honors, including the naming of a Marietta street after him.
Hoag's writing and photographs promoted Marietta as well as preserved its history. The Marietta Times' readers looked forward to his paid ads that took the form of a newspaper column, "Round and Round Below the RR Tracks," which included commentaries on a variety of subjects. Hoag retired and sold the Lafayette in 1971. He died in Marietta on Oct. 18, 1982.
Vernon E. "Dan" McGrew
Class of 1949
Author, Instructor, Historian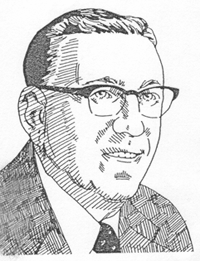 Prior to earning a Bachelor of Arts degree in political science and history from Marietta College in 1949, Vernon E. "Dan" McGrew wrote for the student newspaper, The Marcolian.
Following graduation, he embarked on a 38-year career with his alma mater. During a brief hiatus (1951-54), McGrew accepted a position in the journalism department of California's Whittier College. There he was named Director of Public Relations, capturing the American College Public Relations Association's first-place award for the Whittier College catalog.
Returning to Marietta in 1954 as College editor and journalism instructor, he rose to Assistant to the President for Development (1956-63), and Director of Development (1963-71), followed by three years service as Associate in Development, Assistant to the President and as a development consultant. In 1963, McGrew was named Secretary to the Board of Trustees, serving until his 1990 retirement. During his tenure, McGrew penned an on-going column for Marietta's alumni magazine, Marietta's World.
In 1980, he received the first Alumni Association President's Award in honor of "… distinguished service to the institution." In 1985, McGrew co-created a photographic history of the College, Moments in Time. The Board of Trustees, in recognition of his devoted service, named McGrew an Honorary Trustee in 1990, the fifth such appointment in the College's history.
McGrew authored a volume of College history (1935-89), … In the Various Branches of Useful Knowledge, which was published in 1994, one month after his Sept. 27 death. A scholarship in his memory was established that same year.
Ray Anderson Barnhart
Class of 1950
Civic Leader, Federal Administrator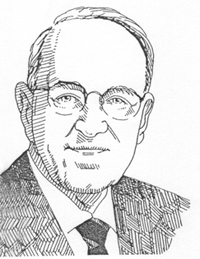 A native of Elgin, Ill., Ray A. Barnhart graduated with a Bachelor of Arts degree from Marietta College. One year later, he received his Master of Arts from the University of Houston in Texas, subsequently returning to Marietta as an instructor in radio, speech, and drama.
Barnhart relocated to Texas in 1956 and in 1965 was the first Republican ever elected to the Pasadena (Texas) City Council. Among other civic activities, he served as a member in the Texas State Legislature (1972-73), was Chairman of the Republican Party of Texas (1977-78), and was one of three commissioners governing the Texas Department of Highways and Public Transportation (1979-81). In 1981, President Ronald Reagan nominated Barnhart to head the Federal Highway Administration (FHWA) in Washington. The U.S. Senate unanimously confirmed his appointment.
Throughout his transportation career, Barnhart insisted that policy be driven by engineering and economic principles, not by partisan politics. Under his stewardship, Congress, for the first time in 23 years, agreed to increase federal motor fuel taxes in order to construct and improve the vital national highway infrastructure, which at the time was in serious disrepair.
Upon his 1987 retirement from the FHWA, the U.S. House of Representatives enacted HR 3734, which noted that "The United States Government expresses its gratitude to Ray A. Barnhart for his honest, effective, and meaningful efforts to preserve and improve the Federal-Aid Highway System …" To date, Barnhart's tenure continues to be the longest in the history of that agency.
Eric S. Dobkin
Class of 1964
Financier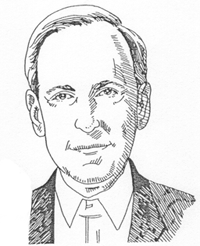 Graduating from Marietta College with a Bachelor of Arts degree with honors in economics, Eric S. Dobkin was the Jewett Orator at the 1964 Commencement. He earned his MBA from Harvard Business School in 1967.
Dobkin joined Goldman, Sachs & Co. in institutional equity sales in Philadelphia, and in 1973 he relocated to Chicago, becoming the manager of institutional sales, leading the firm's equities business in the Midwest. His assignment to Goldman, Sachs' New York headquarters began in 1978 as manager of the Restricted Stock Group handling large block transactions.
As the founder and head of Goldman, Sachs equity underwriting business, Dobkin is widely credited with creating the global equity capital markets. He was responsible for all equity issuance worldwide, managing seven of the 10 largest equity offerings in the U.S. and the privatizations in the United Kingdom, France, Germany, Italy, Spain, Hong Kong, Singapore, as well as CONRAIL, the only U.S. privatization.
In 1998, Goldman, Sachs was named the Equity House of the Past 25 Years by International Financial Review (IFR).
Dobkin was elected a General Partner in 1982 and currently serves as an Advisory Director of Goldman, Sachs and a member of the Commitments and Firmwide Capital Committees.
In 1998, upon his retirement as a Partner, Dobkin was awarded IFR's first Lifetime Achievement Award. In 2004, on the occasion of IFR's 30th anniversary, Dobkin was honored with the Special Award for Equities, highlighting his accomplishments in the world capital markets.
In 1996, he was awarded an Honorary Doctor of Laws degree by Marietta College. He served on the Board of Trustees for 16 years, becoming Emeritus in 2002.
Barbara Berman Dobkin
Class of 1965
Philanthropist, Women's Advocate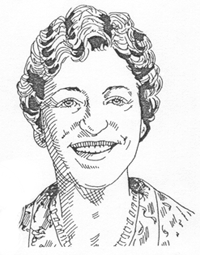 Barbara Berman Dobkin received a Bachelor of Arts degree in sociology from Marietta College and graduated two years later from the Boston University School of Social Work with a master's degree.
Dobkin is a pioneering activist in both the Jewish and general communities as one of the most prominent philanthropists in the United States, putting her energy behind women's causes. In 1993, she founded Ma'yan: the Jewish Women's Project of the Jewish Community Center of Manhattan. She has significantly funded change for women professionally, educationally and spiritually. As founding chair of the Jewish Women's Archive, a national, nonprofit organization dedicated to discovering and preserving the rich history of Jewish women, she has raised the community's awareness of women's contributions.
In 1998, Dobkin received the Woman of Vision award from the New York Women's Foundation and in 1999 a Jewish Book Council prize for Women's Studies was established in perpetuity in her name. The Jewish Funders Network honored her for her innovative philanthropic work. In 2005, she enjoyed an evening of laughter in her honor to celebrate her love of humor and her inspirational work with the Jewish Women's Archive.
She has created and supported a variety of programs for the advancement of women. She chairs the board of the philanthropic foundation established by Hadassah and is a significant supporter of and advisor to a variety of nonprofit organizations, both Jewish and secular, in the U.S. and Israel. She serves on the boards of the White House Project, Lilith Magazine, the Women's Donors Network, the Women's Funding Network and Kolot.