James Lawrence "Larry" Amos
Class of 1928
Inventor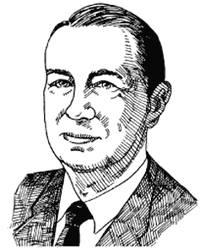 Born and raised in New Matamoras, Ohio, James Lawrence "Larry" Amos worked in road construction to earn money toward his educational expenses at Marietta College. Amos graduated from Marietta in 1928 with a Bachelor of Science degree in chemistry. He went on to the Case Institute of Technology in Cleveland, Ohio, where he earned his Master of Science degree in chemical engineering in 1930. In his honor, a James Lawrence Amos '30 Scholarship Fund is endowed for a student attending Case.
In 1930 Amos joined Dow Chemical Company in Midland, Michigan, in their physical research laboratory. Throughout his career with Dow, he was involved with research, development, and production of petrochemicals and of plastics made from those petrochemicals. The more familiar products Amos invented are synthetic rubber, Styrofoam, and plastic film, but he was credited with being inventor or co-inventor on 64 patents, 236 disclosures, and 106 applications in connection with foreign patents. He retired from Dow in 1971.
During World War II, Amos was recognized for distinguished service to the Naval Ordnance Department. He received an Honorary Doctor of Science degree from Marietta in 1966. He also received the International Award in Plastics Science and Engineering in 1973 and the Distinguished Inventor Award by the Saginaw Valley Patent Law Association in 1983.
Amos helped plan and build the Memorial Presbyterian Church in Midland, where he was an active member.
Amos died in 1984 in Midland, Michigan, at the age of 78. The J. Lawrence Amos Endowed Scholarship at Marietta College was established in 1984 as directed in his will.
Henry J. Jelinek, Jr.
Class of 1968
International Business Innovator, Author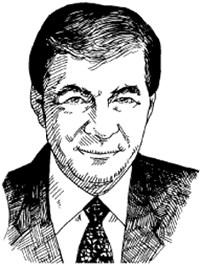 Born in Prague, Czechoslovakia, during World War II, Henry J. Jelinek, Jr. and his family escaped to Canada at the beginning of the Cold War. After graduating from high school in Ontario in 1963, he earned his business certification in Switzerland. He received the Bachelor of Arts in sociology from Marietta College in 1968 and a Master of Arts in social psychology from the New School for Social Research (New York City) in 1970.
While a student at Marietta, Jelinek co-wrote "On Thin Ice." Published in 1965 by Prentice-Hall, Inc., the book chronicles the family's ordeals under Nazi occupation, subsequent Communist takeover, and their escape to the free world.
Active as a student, Jelinek helped establish the first varsity soccer program and scored the first competitive goal for Marietta College. He also worked on the campus newspaper and participated in various organizations including Greek life.
President and CEO of Jelinek Cork Group, Jelinek expanded the family-owned business founded in Europe in 1855 to an international company supplying cork and related products to most parts of the world. After the fall of communism in 1989, Jelinek returned to the Czech Republic restarting the business while helping support young entrepreneurs, their families, and future generations in their transition to the free market system and aiding that country with its rebuilding efforts. Jelinek is also an outspoken advocate for social responsibility by business and business leaders.
The McDonough Center's first Executive-In-Residence in 2004, Jelinek spent two months on campus, sharing his knowledge of international business with students. He served on the Marietta College Board of Trustees for several years and became a Life Associate Trustee while also serving as chair of the Marietta College Alumni Association Board of Directors.
Edward E. MacTaggart
Class of 1892
College Benefactor and Trustee, Patron of Fine Arts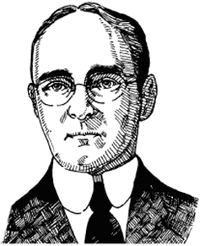 Edward Everett MacTaggart graduated Phi Beta Kappa from Marietta College in 1892. During the oil boom in the early 1900s he was associated with oil companies in Oklahoma. Over time, his successful investments in oil leases made him financially independent.
MacTaggart eventually returned to Marietta, where he continued his involvement with oil companies. In 1918 he purchased "The Anchorage," a Tuscan-style villa built in 1859. MacTaggart restored the mansion and furnished it with treasures from his worldwide travels. A patron of the fine arts, MacTaggart frequently opened his home to host performances by prominent musicians.
After his retirement, MacTaggart was engaged in various civic affairs in Marietta. He served as a trustee of Marietta College for four years. MacTaggart backed efforts to launch crew racing as an intercollegiate sport at the College. He was also a staunch supporter of the Collegeís Delta Upsilon fraternity chapter. He received an honorary Doctor of Laws degree from Marietta in 1946. MacTaggart often aided needy students, as their challenges were made known to him. In 1951, he established the MacTaggart Special Scholarship Fund, an endowed scholarship awarded to "needy, worthy, and all-around" male students.
MacTaggart died in 1952 in Marietta. He never married, and much of his estate ultimately went to Marietta College.
MacTaggart's sister, Sophia MacTaggart Russell, was also a long time benefactor of Marietta College. When she died in 1962, she left a trust to the College in memory of her brother, to be used "for the promotion of the fine arts." Her bequest contributed to construction of the Grover M. Hermann Fine Arts Center.
Kenton C. Tekulve
Class of 1969
Professional Athlete, Trustee, Civic Leader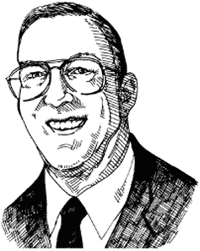 Cincinnati, Ohio, native Kenton C. Tekulve played baseball and basketball during his student years at Marietta College. A 1969 graduate with a Bachelor of Arts in Education, Tekulve went on to a successful career in professional baseball.
A pitcher for the Pittsburgh Pirates for more than a decade, Tekulve retired from professional baseball in 1989 as the all-time major league leader in relief appearances. The Pirates' all-time leader in saves, he gained a World Series record three saves in 1979 and got the final out in the deciding Game 7. In 1982 he led the National League in appearances and relief wins. Tekulve also played for the Philadelphia Phillies and the Cincinnati Reds.
After leaving major league baseball, Tekulve spent seven years as a broadcaster for the Philadelphia Phillies. From 2002-03, he served as director of baseball operations for the minor league team, the Washington (Pa.) Wild Things. He re-joined the Pittsburgh Pirates as an advance scout in 2006.
The long-time honorary chairman of the Myasthenia Gravis Association of Western Pennsylvania, Tekulve has volunteered with the organization since 1979. He also hosts the annual MGA golf outing.
Marietta College and the city of Marietta celebrated Tekulve's achievements on Kent Tekulve Day in 1979. He was named Marietta College Outstanding Young Alumnus in 1980, and inducted into the Marietta College Athletic Hall of Fame in 1984. A Life Associate Trustee, he served on the College's Board of Trustees and on the Marietta College Athletic Founders' Board for five years. Tekulve was awarded an honorary Doctor of Humanities degree from Marietta in 1999.