Kathleen Reddy-Smith
Class of 1971
Diplomat and Humanitarian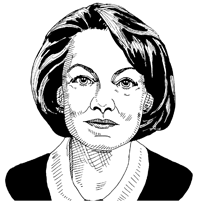 Kathleen Reddy-Smith's involvement as a student provided a strong hint that her future career would be based upon public service. Active as student body president and in the Greek community, she graduated from Marietta in 1971 with a bachelor's degree in history before going on to earn master's degrees at Georgetown, Harvard and the U.S. Naval War College in foreign service and public policy.
Entering the banking industry as a credit analyst for Fidelity Bank, she advanced to serve as an international credit specialist with the Board of Governors of the Federal Reserve before entering the U.S. Foreign Service in 1981.
Her broad international experience has included postings with a variety of U.S. missions, to international organizations and to U.S. embassies working primarily with economic and monetary affairs. Her participation in the Bosnian peace process, role as economic officer with the U.S. embassies in Islamabad and Brussels and as Counselor for Economic Affairs at the American legation in Rome speak to her grasp of international affairs, diplomacy and to her economic expertise.
Most recently, Kathleen has returned from Europe to assume perhaps her most challenging role yet. She serves as the Deputy Director of the U.S. Government Task Force on Avian Flu and coordinates U.S. and international efforts to meet the global threat posed by avian-borne disease.
John Poage Williamson
Class of 1857
Pioneer Missionary and Scholar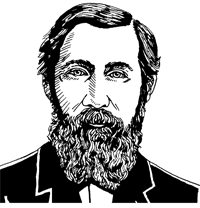 From the frontier of Minnesota, John Poage Williamson came to Marietta College and became a member of its graduating class of 1857. Entering Lane Seminary in Cincinnati, he earned his theological degree in 1860. He returned to The Plains becoming one of only a handful of missionaries working with the Dakota (Sioux) in Minnesota, South Dakota and Nebraska.
After the Dakota uprising in 1862, Williamson accompanied the Dakota women, children and old men into detention at Fort Snelling and was instrumental in advocating for their welfare. Later, at Crow Creek, he intervened with the military commander on behalf of the starving Dakota. It is estimated he may well have saved a thousand lives gaining permission for them to go on a buffalo hunt.
Known as the Dakota's St. John, Williamson founded missions across the region, educated Dakota men to become ordained Presbyterian ministers and promoted preservation of the Dakota culture in the face of westward expansion. He published the Dakota Odowan (Dakota Hymn Book) and the English-Dakota dictionary as well as the Iapi Oaye (Word Carrier), a monthly periodical in the Dakota Language. He received the degree of Doctor of Divinity from Yankton College in South Dakota in 1890.
A special agent for the United States in the Flandreau Agency from 1873-1878, Williamson also served in the South Dakota legislature. He tirelessly argued the Dakota's interests before the government and was a trusted interpreter to all parties during treaty negotiations.
He died in Greenwood, South Dakota, in 1917 at the age of 81.