Ann Waldhorst Muscari
Class of 1951
Advocate for Children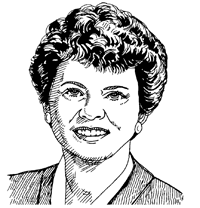 Ann's advocacy for quality child-care and in support of family on a variety of issues worthy of national discussion distinguished her long career after graduating from Marietta College in 1951 with a degree in Education. Hired by legendary Police Commissioner L.B. Sullivan as a social worker with the Youth Aid Division of the Montgomery, Ala., Police Department in 1966, she later joined the Montgomery County Family Court as a valued and innovative probation counselor before becoming the executive director of The Lighthouse, a non-profit youth-in-crisis counseling service.
She is perhaps best known professionally for her singular role as Vice President with KinderCare Learning Centers and as a tireless, compelling advocate for children in every state and all the way to the United States House and Senate. She frequently was asked to testify before government committees about child care issues and was a sought-after and featured guest authority on such programs as "The McNeil Lehrer Report" and "The Oprah Winfrey Show" after authoring the book, Child Care that Works, in 1989. Her book is still an authoritative resource provided to new mothers through public libraries and even from hospital maternity wards nationwide.
Ann's work in the non-profit sector was as remarkable as her entrepreneurial success and she divided her interests and time between both local and national projects. A founding partner of the Montgomery Zoo, she also served as a board member of the American Cancer Society and worked with Jubilee CityFest while also providing support to others as a partner in various initiatives through the Montgomery Public Schools.
For her lifetime achievement, service to others and leadership, she was recognized as a "Woman of Achievement" by The Montgomery Advertiser in 1993.
Robert J. Blendon, Sc.D.
Class of 1964
Educator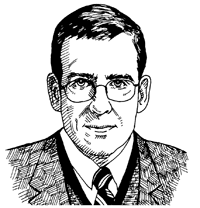 An expert in the field of surveying and evaluating the public opinion of Americans on the topic of health care, Dr. Blendon's innovative initiatives have been instrumental in helping U.S. policy-makers establish national spending priorities and policies.
A professor of health policy and political analysis at both the Harvard School of Public Health and Harvard's Kennedy School of Government, he currently directs the institution's Program on Public Opinion on Health and Social Policy. The project focuses on the dynamics of public opinion and its ability to inform the country's domestic agenda.
As co-director of the Washington Post/Harvard University/Kaiser Family Foundation survey project, his work was nominated for a Pulitzer Prize. His exploration of U.S. attitudes on health care and social policy as part of a National Public Radio and Kaiser Foundation project in 1999 was cited by the National Journal as breaking new ground in the use of public opinion surveys in broadcast journalism.
Prior to joining Harvard in 1987, Dr. Blendon served the Robert Wood Johnson Foundation in a variety of capacities before departing as senior vice president.
Earning his B.A. from Marietta College in 1964, Dr. Blendon went on to become an Indiana University Medical Center Fellow before completing a master's degree at the University of Chicago and an additional master's degree and doctorate at Johns Hopkins University. He has also received an LL.D. from Marietta in 2000.
Dr. Blendon is the recipient of numerous awards for his teaching and research and has been affiliated with a variety of organizations such as the National Academy of Sciences, Council on Foreign Relations and Centers for Disease Control and Prevention.
Douglas La Follette
Class of 1963
Public Servant and Activist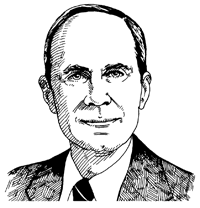 Doug has a long record of public service. He was elected to the Wisconsin State Senate in 1972, and elected Secretary of State in 1974. After a four-year hiatus, he was again elected Secretary of State in 1982 and has held the position ever since then. He also has twice run for federal office.
Doug is a well-known environmental activist and co-founder of Wisconsin's Environmental Decade, now known as Clean Wisconsin. He continues his advocacy for the protection of the state's clean water and clean air resources while promoting clean energy initiatives. Doug helped organize the 1970 and 1990 Earth Day events and authored the book, The Survival Handbook: A Strategy for Saving Planet Earth. In the years following the first Earth Day observance, he gained a national reputation for advancing dialog surrounding the environment-population-resource crisis.
Doug distinguished himself in various roles for the Union of Concerned Scientists in Washington, D.C. and the Mid-American Solar Energy Complex in Minneapolis. He served on the national board of Sierra Club and was a Distinguished American Fulbright Scholar in 2003.
After earning his B.S. from Marietta College in Chemistry and Business in 1963, Doug went on to complete a master's degree in Chemistry from Stanford and a doctorate in Organic Chemistry from Columbia in 1967.
He has remained an active member of the Marietta College community, returning in 2004 to participate in an open forum conducted by the Environmental Science Program and the Career Center. He visited in 2002 as a guest lecturer for Earth Week and on previous occasions to share his perspectives on energy and environmental policy.