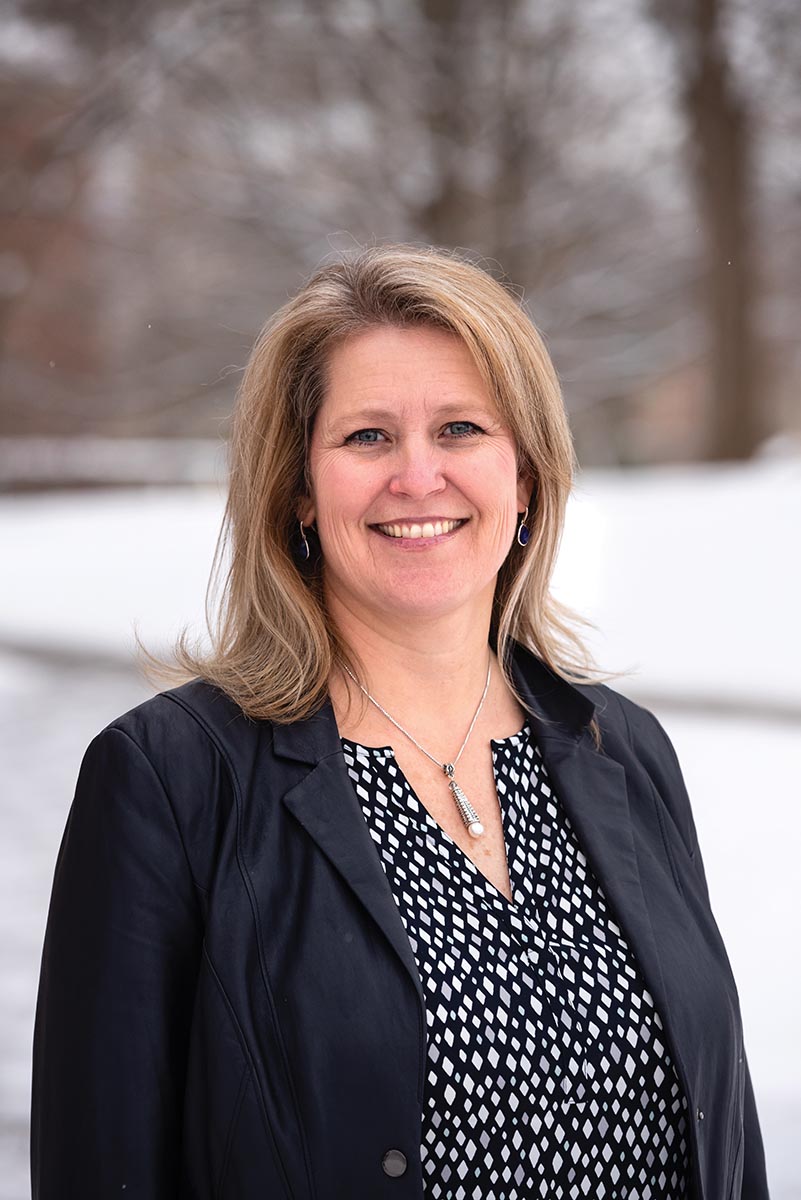 It was an opportunity that Jenni Cushman had to take.
After 17 years with the Iowa State University Foundation in Ames, Cushman joined Marietta College as Executive Director of Major Gifts and Campaign Coordinator in January.
"I appreciate the friendly atmosphere and beauty of the Marietta College campus," Cushman says. "While I've had the opportunity to meet a few of the alumni on campus, I look forward to the opportunity to meet more as I travel on behalf of Marietta College."
Cushman's experience working with volunteers, engaging donors and strategically planning with university administrators over the past 20 years made her the ideal choice for the new position.
"We are excited that Jenni is part of the Marietta College team, and I know our alumni and donors will enjoy getting to know her as she travels to meet many of them, as well as on campus at future events," President Bill Ruud says. "Jenni is a proven leader, fundraiser and collaborative team builder who is going to elevate the overall fundraising efforts of Marietta College."
Cushman was most recently the Senior Executive Director of Development at ISU Foundation. Prior to that, she was the Executive Director of Leadership Gifts for three years. During her career, which also includes stops at Grand View College and Iowa Wesleyan College, she developed a strong foundation in major gifts, strategic planning, management and campaign planning and implementation. Cushman, who has a daughter, Marissa Woodsmall, and a son, Braden Woodsmall, earned a graduate degree from Iowa State and an undergraduate degree from the University of Northern Iowa.
"I am truly delighted to be a part of a wonderful team of individuals who are dedicated to the success of Marietta College and its students," Cushman says. "I look forward to helping advance the mission of the College by working with our alumni and donors to secure the funding necessary to achieve our campaign goals."
Cushman is tasked with cultivating and soliciting high-level gifts, identifying new giving opportunities, and collaborating with the College's fundraising team, while working closely with Vice President for Advancement Angela Anderson.
"I am thrilled to welcome Jenni to Marietta College and the Advancement Office," Anderson says. "She possesses excellent skills and experience in higher education advancement, and we are looking forward to working with her and utilizing her experience to benefit Marietta College. She has an outstanding track record in fundraising, which makes her the right person to help us achieve our ambitious fundraising goals."
- Tom Perry