Bring Forth a Pioneer.
This is the time. This is the place
The Marietta College brand is the story that both College and student create together. The way we express our brand through design and editorial—the feeling we evoke—dynamically highlights who we are and who we aspire to become.
The Core of Our Brand
The Marietta College brand story can be distilled to three essential elements:
THE PIONEER SPIRIT OF OUR PEOPLE
THE SPACE WE OFFER TO EXPLORE
THE NEW FRONTIERS WE OPEN THROUGH OUR PROGRAMS
Positioning
A brand positioning statement is an internal touchstone to guide communications. It clearly defines how we differentiate ourselves from other colleges and universities and the value we bring to students and our community.

At Marietta College, driven, independent people join together in an expansive learning environment with leading- edge liberal arts and professional programs to create a transformative experience that enables studentsto boldly shape their future and the world.
Personality
Every brand has a personality, a way that we can reflect its identity in human terms. These attributes should guide the tone of all Marietta College Communications.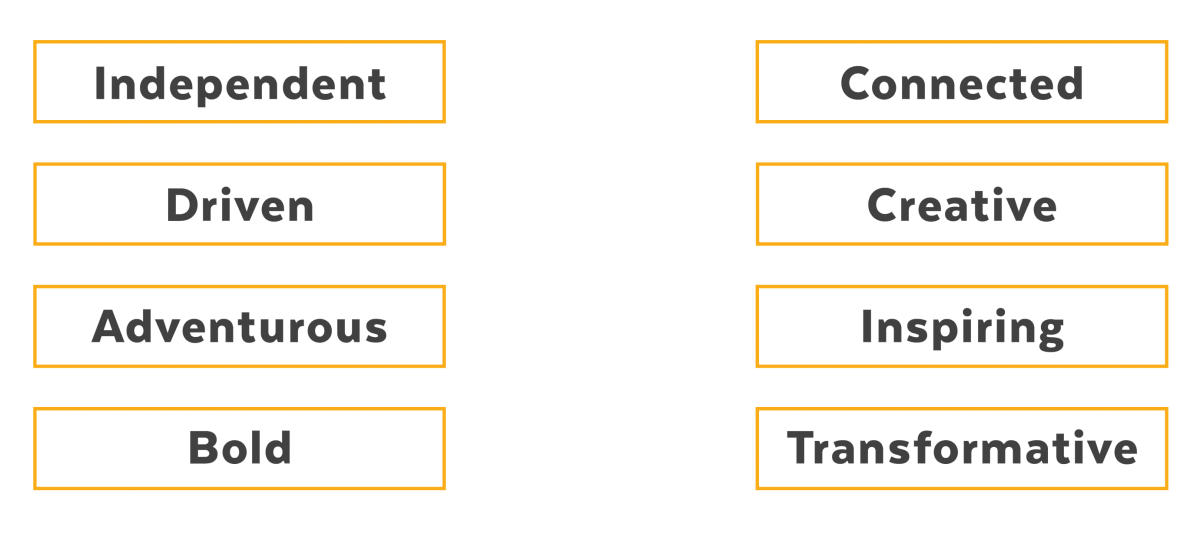 Theme
Marietta College's branding theme is a call to action that communicates who we are in a distinctive way. It provides a framework for engaging all audiences with our value and mission.
It is a rallying cry, a specific call to the next generation of Marietta students—as well as a call for the current Marietta community and The Long Blue Line to unite. It asks all to draw upon their inner pioneer, connecting the College's rich history with its resiliency and ability to provide an exceptional education.

Overview Messaging
What does it mean that Marietta is a small, contemporary liberal arts and sciences college?
That relationships matter. That students gain top-level skills that employers value. That undergraduates and graduate students alike find their calling and make a difference— on campus and wherever they venture from here.