The Ohio Dragonflier Newsletter
*Contact Steve Chordas (Click here to send email.), the Newsletter Editor, with any information you want included in the newsletter, or to request electronic delivery of the newsletter.
Dragonflies and Damselflies of Ohio
Read more about the books and see some of the layout here.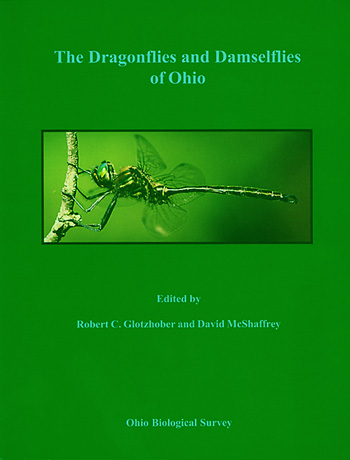 Glotzhober, R.C.  and D. McShaffrey (Editors).  2002.  The Dragonflies and Damselflies of Ohio.  Ohio Biological Survey Bulletin New Series Volume 14 Number 2.  ix + 364 p.  Reprints only! $65 plus shipping and handling and Ohio Tax.
The Ohio Biological Survey is pleased to announce the release of this new book on the dragonflies and damselflies of Ohio.  This volume represents the culmination of efforts by the Ohio Odonata Survey and Ohio Odonata Society over the last ten years to collect and compile information about the odonates of Ohio.  The book contains chapters on the natural history of odonates, a history of Ohio odonate workers, 15 multiple-image color plates, illustrated keys and
species descriptions and distributions.  The illustrated keys are designed for not only the professional but also the serious amateur -- with over 460 line drawings to explain the characters described in the keys.  The species descriptions include a discussion of habitat preferences, behavior and distribution, with county dot maps for Ohio and a flight line showing when adults have been reported in flight in Ohio.  Eleven authors worked on the various chapters, providing a baseline documentation of Ohio's species and a valuable resource for further study.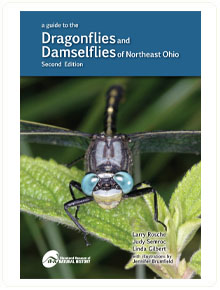 Larry Rosche, Judy Semroc and Linda Gilbert (2008). A Guide to the Dragonflies and Damselflies of Northeast Ohio, 2nd Edition. Cleveland Museum of Natural History.
Dragonfly Society of the Americas Meetings
2002 DSA Meeting - The Dragonfly Society of the Americas held its annual meeting in West Virginia, with lots of Ohio support. 
2003 Dragonfly Society of the Americas Northeast Regional Meeting - Marietta Ohio May 23- to May 25
Click Here For More Information