Members of the Ohio Odonata Society are engaged in a variety of research projects.  Many involve survey work, but some are more applied.  These links will take you to sites highlighting some of that research.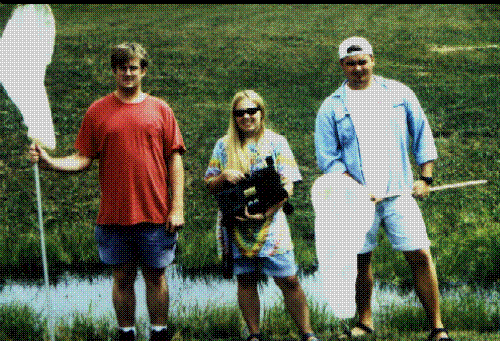 1995-1996 Odonata Team, Left: John Goold, Middle: Gretchen West, Right: Chris Todd. In 1995-1996, John Goold was gathering data on the daily activity patterns of Odonata. He made collections at various times of the day and in different weather conditions to help determine under what condition dragonflies fly. Johnalso used data collected by Dirk Westfall and Chris Todd. John found strong correlations between light intensity and temperature and the number of dragonflies which were active (there are more dragonflies out on warm or sunny days).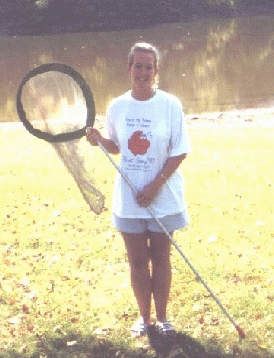 The 1997-1998 Odonata Team. Candace Tuxhorn continued the work begun by Gretchen West on the flight speed of Odonata, and presented her work at the annual meetings of the Ohio Academy of Science, the Ohio Odonata Society, and the North American Benthological Society.
How Fast Do Dragonflies Fly? (About)
Student research is being conducted on the speeds which adult Odonata can reach. This research has been a collaborative effort between 3 different students over the years. In 1994-1995, Amy Wooddell examined the records of the Ohio Odonata Database to look for correlations between length and speed. Her hypothesis was that longer dragonflies are faster fliers. She found that the data in the database were too noisy to test the hypothesis, and presented her results at the 1995 Ohio Academy of Science meeting. In 1995-1996, Gretchen West conducted field observations to test Amy's hypothesis directly. Because of a broken leg early in the season, Gretchen was only able to provide a few tantalizing clues. Gretchen did, however, work out a number of the techniques. In 1997-1998, Candace Tuxhorn used video techniques to test 3 hypotheses: 1) Longer dragonflies fly faster, 2) Dragonflies flie faster at higher temperatures, and 3) Dragonflies fly faster at greater light intensities. Candace made over 20 trips to gather data; with 1/2 hour of videotape exposed at each session she had over 11 hours of video. She analyzed enough tape to record almost 7,000 records of dozensof individuals in 4 different species. Candace presented her findings at the 1998 Ohio Academy of Science Meeting and the 1998 North American Benthological Society Meeting at the University of Prince Edward Island, Charlottetown, Prince Edward Island Canada. Candace is working on publishing her results, so we can't give too much away here. However, this version of her presentation might be interesting
Recent Papers
Chapman, Eric G., Stephen W. Chordas III, and Robert C. Glotzhober.  1999.  Aberrant wing pigmentation in Libellula luctuosa specimens from Ohio .  Great Lakes       Entomologist 32(4): 243-246.
Glotzhober, Robert C. 2006.  Life history studies of Cordulegaster erronea Hagen (Odonata: Cordulegastridae) in the laboratory and field.  Bulletin of American Odonatology, 10(1):1-18.
Glotzhober, R. C. and D. L. Moody. 2002.  Somatochlora walshii (Odonata: Corduliidae), a new state record for Ohio .  Ohio Journal of Science 102(3): 40-42.
Glotzhober, Robert C. and Dan Riggs. 1998.  Adapting the Townes malaise trap for collecting live Odonata.  Bull. American Odonatology 5(3): 43-48.
Glotzhober, R. C. and E. Chapman.  2001. Second location for two rare Odonata in Ohio , Nannothemis bella and Ladona julia, (Odonata: Libellulidae) discovered at Singer Lake Bog, Summit County , Ohio .  Great Lakes Entomologist 34(2):63-66.
Glotzhober, Robert C. and Timothy E. Vogt. 2007. Potential site identification for Hine's Emerald  Dragonfly (Somatochlora hineana) in Ohio . Unpublished report to Ohio Department of Natural Resources, Division of Wildlife, from Grant WDG-2005-05. 16 pages.
---
OOS members - there's room for more research here.  Send your links to Dave McShaffrey