Instructor of Saxophone
Director of Jazz Combo
Music Recruitment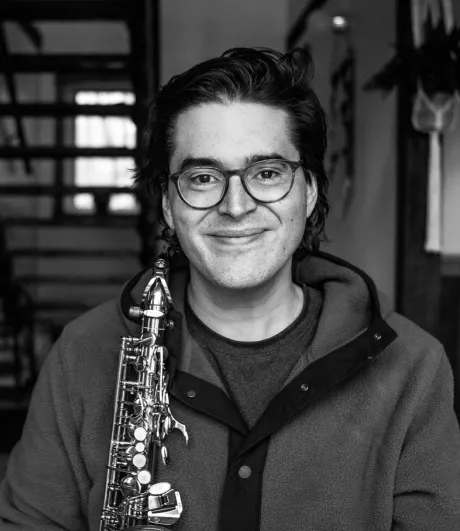 Degrees
BM - Saxophone Performance, Ohio University (2005); MM - Saxophone Performance, Ohio University (2012); ABD - Saxophone Performance, The Ohio State University (2018)
Courses - Fall
Studio Class: Instrumental
Jazz Ensemble
Courses - Spring
Applied Music Preparatory
Ethics in Music
Jazz Ensemble
Biography
A native of Cleveland, Ohio, Jordan Reed is Instructor of Music + Saxophone and Recruitment Specialist for the Edward E. MacTaggart Department of Music at Marietta College and Adjunct Professor of Saxophone at Ohio University. Jordan maintains an active schedule as a performer, collaborator, and clinician throughout Appalachia.
As a concert saxophonist, he has been a soloist with The Ohio State Symphony Orchestra, the Marietta College Wind Ensemble, the Ohio University Wind Symphony, the Ohio University Symphony Orchestra, and the Otterbein Wind Ensemble. Jordan has been regularly attending/performing at the Navy Band Saxophone Symposium and at national and regional conferences of the North American Saxophone Alliance since 2004.
As a chamber musician, Jordan regularly performs with the Sonax Saxophone Quartet based in Southeast Ohio. Jordan is also a founding member of MEMZ, Alea Duo, tweeduo, and Sugar Knife; Chamber Ensembles that focus on composing and performing new music heavily rooted in improvisation and aleatoricism (his happy place). Jordan has also been a collaborator with the Black Swamp Saxophone, Athenian Saxophone Quartet, and Athens Saxophone Duo. He is also a founding member of the Ignis Saxophone Quartet from The Ohio State University and avant-jazz quintet, Radarhill.
In recent years, Jordan has found himself commissioning and performing chamber music for Saxophone from a few Composers that he admires. In the past year or so, has been working closely with UK Composers Jenni Watson and Ben Nobuto, and Ohio-based Composers Eli Chambers and D. Turner Matthews.
When not making music, Jordan can be found living in the middle of the woods with his beautiful wife and their dog, Molly. If you see Jordan in public, at a Saxophone Conference, or anywhere really, he'll talk your ear off about coffee, food, his daily vitamin/supplement intake, and/or the importance of a thorough warm-up routine.
Jordan currently serves as Chair of the Honors Jazz Ensemble for the Ohio Private College Instrumental Conductors Association. Jordan holds a Master of Music and Bachelor of Music degrees in saxophone performance from Ohio University and is ABD in Saxophone Performance from The Ohio State University. Jordan is a MACSAX, SYOS, and Bambu Ligatures Performing Artist. He is also endorsed by Sax Gadgets and Messina Covers.