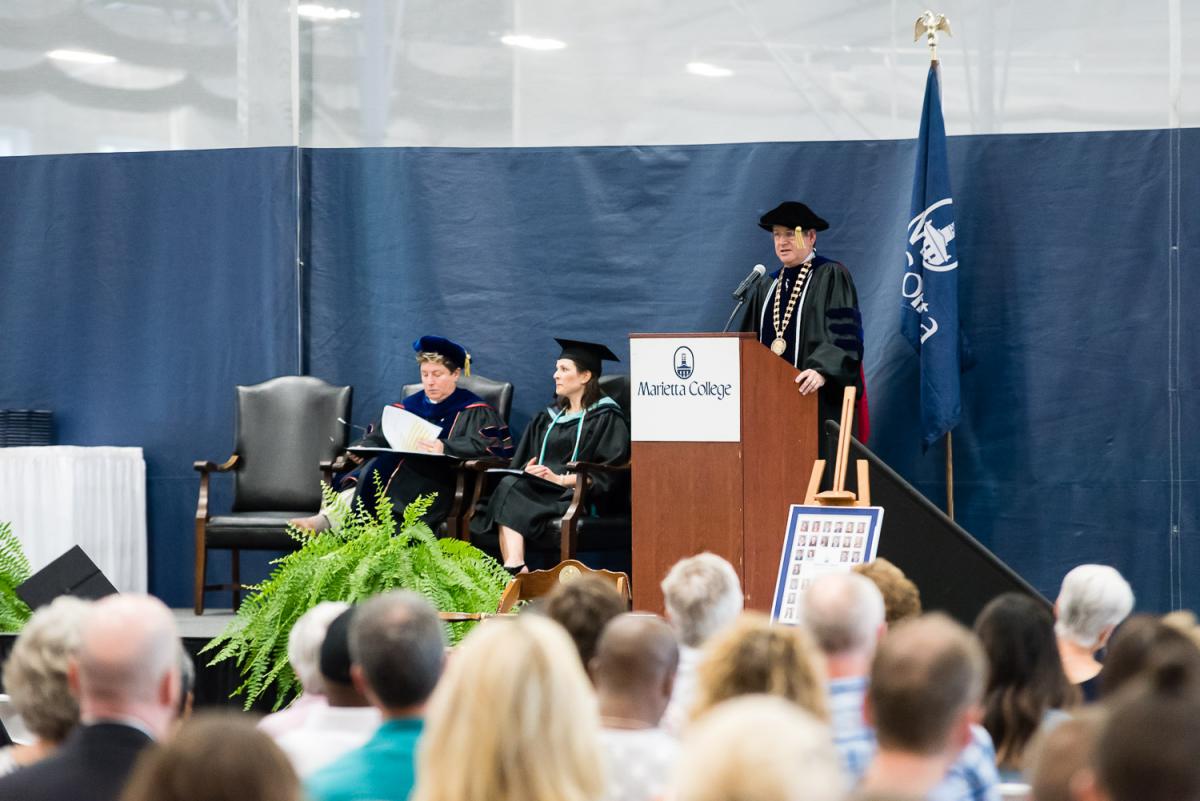 Good afternoon graduates, faculty, administrators, families, friends and guests. I am Bill Ruud and have the privilege of being the 19th president of this great college we all know as Marietta. Welcome again to the 2017 Marietta College Physician Assistant Program commencement ceremonies. Thank you for joining us as we celebrate the hard work by these graduates in their classes, at work and at home. Commencement is a special moment in the life of a college. It is special for the family and friends who honor our graduates by your attendance. It is special for this college and this program that has a rich and remarkable history. It is very special to the faculty who always put students first and whose commitment to learning, discovery and engagement has made Marietta College a prominent center for educational success.
And, finally, it is even more special for our graduates whose hard work and commitment to learning we honor today. You have earned the privilege of being here. We know this commencement will be meaningful and memorable, and we thank you for being with us for this celebration.
When asked why I wanted to be president at Marietta College, the answer has been easy and it is in this center right now — our graduates. These young women and men are the heart and soul of this college. Marietta College is a beautiful place but it is merely a collection of buildings until brought to life by the students, faculty and staff who all join together in this effort we call higher education.
The reasons you wanted to earn a Marietta College Master's degree are as varied as you are. For some it is professional development. For others it will allow you a better opportunity for job advancement For the rest it is all about success in the field of health care and truly making people's lives better. You have gained a tremendous new skill base and enhanced those you already possessed. All of you, however, also share a new opportunity — to make the world better and to make health care better.
According to President Woodrow Wilson:
"You are not here merely to make a living. You are here in order to enable the world to live more amply, with greater vision, with a finer spirit of hope and achievement.   You are here to enrich the world, and you impoverish yourself if you forget the errand."
Or, as inventor, Thomas Edison said:
"I never perfected an invention that I did not think about in terms of service it might give others. I find out what the world needs, then I proceed to invent."
You now have the opportunity to enrich the world – especially the world of health care and the people you will encounter -- to bring to it a new spirit. You also have the opportunity to look at the world, find what needs to be invented — and invent. Your Marietta College Physician Assistant education allows you to do just that, and your experiences here give you the character you need to reach out and serve others.
It is an understatement to say that we live in a world that is changing, in large part due to the wonders of technology. I have no doubt that even now; some in the audience are sending text messages or tweets or pictures to their friends and family wondering when we will start handing out the diplomas. I am amazed at how fast thumbs can move!
One of the other many changes in recent years has to do with the vocations these graduates will soon start. The good news is that the job outlook for these graduates is excellent.
What is different, however, is the jobs and careers you will have.  For many of the parents — and grandparents — in the audience, working meant joining one organization, or maybe two if one was bought out, and staying there for an entire work life.
Today, it is expected that graduates will have multiple careers and numerous jobs in each. I encourage you to accept that challenge, embrace health care, embrace the new opportunities that may arise, and to excel.
At commencement programs around Ohio and the nation, the guest speakers, after many hours or days of work, will deliver messages that they hope will stand the test of time and have an impact on both the graduates and their families. They will have struggled over individual words or trying to turn a phrase that will become a good sound bite on television or radio. They want to leave you with words of wisdom that will change your lives.
I, however, am a realist and I have no illusions that 30 years from now you will remember what I have said. In fact, what I want you to remember is the people you're sitting next to, the faculty members who taught you — and then became your friends — and all of the experiences that have made Marietta College and this great pa program an indelible part of your life forever.
Your years here at Marietta have been, for all of you in your own respective ways, an experience like no other.  You have joined a family bound together by a search for knowledge, a love of learning, and a shared joy in life.
I do not profess to have the answers to all of the world's problems, but I do have a few ideas to share:
Listen to your heart
Listen to those you love and who love you
Do the right thing for the right reason, especially when it's hard and especially when no one is looking
Work hard
Play hard
Live life
Each year, a new group of students enters this program even as others, like you, leave to fulfill dreams. In doing so, you have given of yourself and left a little bit of yourself here. You are now part of the legacy that symbolizes the Marietta College family.
As you may or may not know, we will soon be adding a chair at the table of the Marietta College Alumni Association specifically to be held by a member of the graduates of the physician assistant program. This is an important step in making this program more connected to the college, the program, and its alumni. If asked, I hope you will get involved on this board. And for those who are not on the board, stay involved, stay engaged, come back and visit, remind us of your successes – both personally and professionally. Help this program stay current, help us make sure the next generations of students and graduates have the skills and technology that they need to be successful, and, if you can, help us with those all-important rotation opportunities.
Thank you for making this a memorable day, thank you for allowing Marietta College and its Physician Assistant program to be part of your life, thank you for what you have done for us, and bring forth the pioneer in all of you.