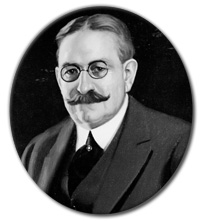 George Wheeler Hinman — 1913-18
A year after the death of Dr. Alfred Tyler Perry, Marietta College's Board of Trustees announced they had attracted famed newspaper journalist and editor, Dr. George Wheeler Hinman, to the College's top spot.
Dr. Hinman, Marietta's seventh president, was the foreign editor of the New York Sun and editor-in-chief and owner of the Chicago Inter-Ocean. For a time he was also on the news staff of the Chicago Tribune and the St. Louis Globe Democrat.
When he arrived at the College, enrollment was still on an upward climb from Dr. Perry's tenure. In 1913 there were 162 students. During the 1916-17 academic year, there were 269 students at Marietta.
In the tradition of previous presidents, Dr. Hinman also made an impact directly in the classroom. "He conducted two courses during the whole period of his presidency, one in journalism in which public questions were discussed as material for editorials, and the other in the French Revolution which was alternated with the study of American diplomacy."
Under the leadership of a newsman, it was natural that a student newspaper on campus would find its start during Dr. Hinman's administration. Though the College had a student newspaper in the 1800s, it went out of publication within a few years. In 1914, under the influence of Dr. Hinman, the literary magazine The Olio had become the new student newspaper. It was renamed The Record during his final year at Marietta.
"His strong and vigorous personality deeply influenced the student body at Marietta College," was written in a personal account of Dr. Hinman after his death. "It was not as a college administrator or an educator, but as a journalist that Hinman impressed his generation most."
In 1922, about four years after he resigned from the presidency, Dr. Hinman entered the world of journalism in full force. He took control of the publishing company that printed the Chicago Herald-Examiner, contributing financial editorial content for years.
Walter Springer '17 wrote a memorial about Dr. Hinman in 1927 following his death at the age of 62. "The quality of his mind was inspirational to our undergraduate body. We were seeking knowledge. His was of a breadth greater than any college president then or now at the head of an educational institution…He came to Marietta ripened by a practical application of his learning and gave us fulsomely of what he had acquired. As our classes were graduated we passed into business and professional life unafraid."