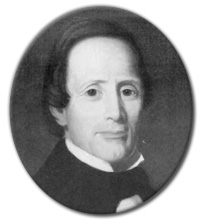 Henry Smith — 1846-55
Along with three other young men who were members of the Andover Theological Seminary at Andover, the Rev. Henry Smith came to Marietta in 1832 to begin teaching at the new public institution, The Marietta Collegiate Institute and Western Teachers' Seminary.
Born in Milton, Vt., in 1805 and a graduate from Middlebury College, Smith was appointed in 1833 the Professor of the Languages. His peers were D. Howe Allen, Professor of Mathematics; Milo P. Jewett, Professor in the Teachers' Department; and Samuel Maxwell, Principal of the Preparatory Department. Nearly a decade after his death in 1879, his Puritanical lifestyle and his extremely close friendship with Dr. Allen were legendary and cause for admiration by his successors at Marietta.
He had aversions to alcoholic drinking and laziness, as his successor President Israel Ward Andrews recalled during the College's 50th anniversary: "He loathed narcotics of all sorts and laziness alike, and once said, quoting Dr. Edwin Hall, 'he would if he could, endow a college free to all comers, but he would expel the first man caught in a lie or evading duty.' In fact he was not a man that indolent or mischievous students loved to encounter. Sometimes his blows fell tremendously on such."
Before assuming the post as Marietta College's second president, Smith helped his stepfather, President Joel Harvey Linsley, build a strong foundation for the College, primarily through fundraising and by establishing a voluminous library rivaled by very few American colleges. Smith was also the first professor to be granted a sabbatical to hone his intellect overseas, which is where many of the books for the library were purchased.
Because of his intellect and knowledge of the College's operations, the Board of Trustees confidently elected him the second president at Marietta. He served in that capacity for 11 years, before leaving to teach at the Lane Theological Society. Though the cornerstone for Erwin Hall was laid a year before he took office, it was completed during his presidency in 1850.
President Andrews wrote extensively on the merits that Smith possessed: "He was regarded the most brilliant man in the Faculty. He was its greatest scholar, teacher, and preacher, so the popular voice declared."