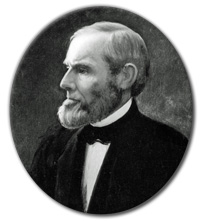 Israel Ward Andrews — 1855-85
During Marietta College's 50th anniversary, President Israel Ward Andrews reflected on the early years of the College and the people who, through faith and dedication, helped shape the fledgling institution.
"We were but a handful of young men, and the most of us poor in all but a vigorous purpose to 'work out our own salvation.' "
The challenges set before Andrews were, at the very least, monumental. For 47 years—30 of them as president—Andrews ardently worked to establish and keep Marietta College's reputation for being a first-class institution for higher learning.
Having been hired in 1838 at age 23 to teach mathematics under then-professor Dr. Henry Smith, Andrews was familiar with the young college and the great deal of work it took to secure its strong foundation. For nine years, Smith, as president, continued the work that his stepfather, Dr. Joel Harvey Linsley, had started but Smith later opted to take a professorship at Lane Theological Seminary.
The Board of Trustees was confident that the right person to carry on the torch lit by Marietta community leaders was Dr. Andrews and he was unanimously elected on July 26, 1855.
The Hon. William P. Cutler, former Congressman and friend of Andrews spoke of the enormous challenges that the new president faced. "He was expected not only to teach several of the most difficult and important studies of the senior year; to undertake the internal administration of the college; to have the chief hand in shaping its policy amidst the difficulties, the experiments and the debates going on in the country in regard to college education; to keep the college before the people in a way to secure the attendance of students, but, in addition, he was expected to devise means by which without a miracle an institution with half an endowment should go right on from year to year, doing strong efficient work."
His leadership is perhaps even more inspirational considering his devotion to the College's success never wavered despite losing all three of his surviving children during his tenure. Marietta's fourth president, Dr. John Eaton, wrote a short biography of Andrews for the October 1888 edition of The New England Historical and Genealogic Register after news of the death of Andrews began to spread. "Professor (Martin) R. Andrews says of Dr. Andrews, when by the last of these deaths "he was left childless in the evening of life, he did not falter in his labors; and those who were near him and saw him going on so bravely with his appointed task, realized with Adam Bede, that 'there's many a good bit of work done with a sad heart.' "
One of his former students, the Rev. William W. Jordan, D.D. 1879, was asked to give a sketch of Andrews' presidency during the College's 75th anniversary. "One of the supreme religious moments during our college life occurred when the sudden, terrible news came of the drowning of the President's son, a talented young surgeon. Several mornings later, President Andrews appeared to conduct chapel services; but in the Scripture lesson his voice faltered, and he sat down, covering his face with his hands. Instantly Professor Beach arose and offered a prayer so marvelous in its faith and tenderness, that every eye was wet and every heart throbbed for the President."
An ordained minister, though he never sought out a congregation to lead, Andrews was known for his strict attention to detail and immense compassion for those around him. His dedication for educational progress was not confined to the growing two-building campus. In 1848 he helped to revise elementary school education in Marietta and was a member of its first organized Board of Education. He held many offices in various teaching organizations, including the Ohio Teachers' Association and the State Board of Examiners. He also served as Marietta's City Engineer and oversaw the grading of the city streets.
Andrews was an avid historian and prolific writer. His Manual of the Constitution was long regarded as the authoritative text on the U.S. Constitution.
In 1884, Andrews, then 70, recognized the College was in need of more youthful leadership and he submitted his resignation to the Board, though he continued teaching political science, writing, and planning the College's Centennial Celebration. Unfortunately, Andrews did not live to see the jubilant celebration. In the spring of 1888, he died at his brother's home in Hartford, Conn., after developing pneumonia. His body was returned to Marietta where he was laid to rest with fellow Marietta giants in the city's center—Mound Cemetery.
"He came to Marietta fifty years ago along the track blazed by pioneers, bringing neither wealth, titles, authority or the prestige of high rank; his capital was principles, ideas, character; his outfit was that of a Christian teacher, his commission was the diploma of Williams College from the hand of President Mark Hopkins," said the Hon. Cutler during Andrews' eulogy. "He found here a college with a charter, a building and a beginning of regular classes—an institution in which its founders sought to give young men the highest literary and scientific culture, with a full recognition of the truths and moral obligation of God's will to man."