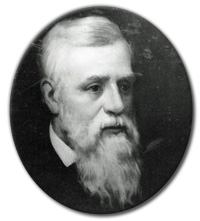 John Eaton — 1885-91
As a boy, John Eaton, Jr., had to hide his studies from his father—studying by lamplight and stepping onto the second story rooftop of his family's Sutton, N.H., farmhouse to chart the night skies.
Eaton's impact on the development of the nation's educational system eclipses his six years that he led Marietta College as its fourth president, though the Pioneer college thrived during his tenure.
When his mother died, Eaton, then 17 years old, was left to care for the needs of his seven surviving younger siblings, thus whittling down the amount of time that Marietta College's future president had to learn. "The elements of Latin and chemistry were mastered at night after John was a-bed and presumably sleeping," wrote Ethel Osgood Mason in the prelude of "Grant, Lincoln, and the Freedmen," which she co-wrote with Eaton and published in 1907, a year after his death.
The desire for an education was strong in Eaton, and he carried his voracious appetite for learning throughout his life. By working extra jobs, he was able to attend Thetford Academy and, later, Dartmouth College. His professional career began in the domain of education, as he accepted the position of principal of Ward School in Cleveland for a brief time and then was named the superintendent of schools for the city of Toledo, Ohio. The decision to leave that post to focus on his religious education may have been a turning point for Eaton.
The day Eaton was ordained a minister he volunteered for the Union army, enlisting in the 27th Ohio Volunteer Infantry, a unit under the control of Gen. Ulysses S. Grant. As Grant's forces moved further south, they developed a massive following of liberated slaves desperate for help. In November 1862, Grant addressed the need to help the freed men, women and children by finding "some honest man, with good sound sense." Eaton was given the monumental task of helping thousands of destitute people become self-sustaining. The only way this could be done, Eaton noted, was through education.
It's estimated that more than 13,000 freed men, women and children were enrolled in the camp schools that Eaton had established during his time as the head of the what eventually developed in 1865 into the Freedmen's Bureau. That winter, he began a Unionist newspaper, The Memphis Post, and used the publication's influence to improve educational conditions in the South for both blacks and whites alike. By 1870, President U.S. Grant appointed Eaton as the U.S. Commissioner of Education, a post he held for 15 years before accepting Marietta College's offer to serve as president.
When Eaton arrived at Marietta, the campus contained the Old Dormitory, the Alumni and Science halls, and the old Academy building. During his administration, funds were raised to build Andrews Hall and the construction of the building began. Enrollment nearly doubled during his first three years, jumping from 51 students to 100 students by 1889. He also proposed putting more emphasis on the College's athletics program.
But Eaton's time at Marietta was cut short after he suffered a stroke and was partially paralyzed. He remained a trustee for several years and was warmly remembered by professors and students. His connection to Marietta was revived when his daughter, Elsie Eaton Newton became the first Dean of Women. The College named the first dormitory built for women's housing in her honor—a building that still stands today.
For about a decade, Eaton's health was restored and he pursued other educational endeavors. When his health began to fail again, he returned to his native New Hampshire, spending winters in Washington, D.C. He died Feb. 9, 1906, and his body was buried with full military honors in Arlington National Cemetery.