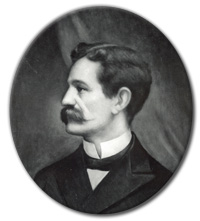 John Wilson Simpson — 1892-96
Marietta's fifth president came directly from his pulpit at Walnut Hills Congregational Church in Cincinnati full of ideas on how to expand the educational frontier of the College and promote its offerings to potential students.
Dr. John Wilson Simpson took office in 1892, after the Board of Trustees spent a year searching for the new president. Preceding his arrival, unfortunately, were financial and social issues that overshadowed his many accomplishments during his four-year tenure.
"President Simpson took hold of college activities with great vigor and a decided advance was made in many ways during his administration," wrote English Professor Arthur Beach in his 1935 book, "A Pioneer College."
Some of those changes included creating a museum out of one of the rooms in Alumni Hall, refurbishing the literary society halls, and upgrading and enlarging the science labs. Simpson's tenure also oversaw the increase of elective courses being offered and pushed for better results in the classroom.
"But this expansion was accompanied by financial difficulties, so that by 1896 the College faced a serious situation," Beach wrote. "It had accumulated a large floating debt and severe retrenchment was necessary as well as heroic efforts to secure additional endowment."
Also on Simpson's plate was a long-running issue regarding women in pursuit of higher education.
In 1893, Marietta College took over the Elizabeth College, a college for women located at Fourth and Putnam streets. This move resulted in The Marietta College for Women, which, rather than being a co-educational system, was a coordinate education plan that allowed the women to use the main library and to be taught by some of the faculty. The class of 1895 consisted of 13 men and two women. Two years later, women's college closed and Marietta College began accepting women to the main campus. It was a change that Simpson did not witness, as he had resigned the year before the women's college closed to pursue a career in insurance.
"Though brief [Simpson's administration] brought many changes; notably the enlargement of the Science Department; the wider and more persistent and varied advertising of the College's creation of the office of dean, the employment of a stenographer, and the introduction of intercollegiate football," wrote Joseph H. Chamberlin, who was appointed the College's first dean in 1894 and who served as interim president for four years after Simpson's resignation.