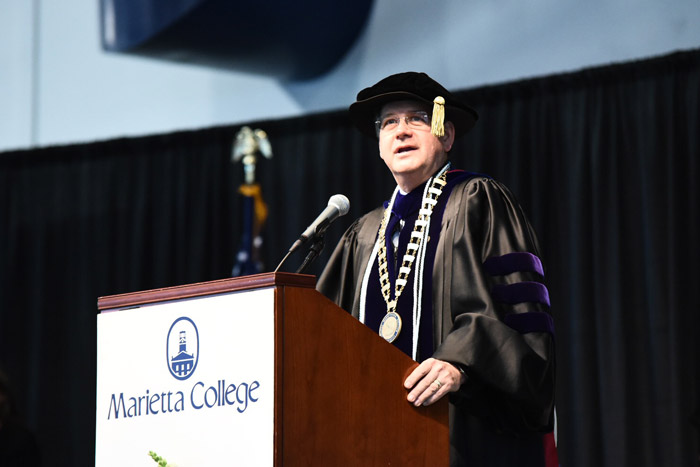 To the graduates:
Today is the first day of the rest of your life.
The longest journey begins with a single step.
Never put off until tomorrow what you can do today.
You have heard these and many other clichés over the years about the future and it was always hoped that these little lessons might serve to inspire you to success. Well, it must have worked because today you have reached yet another milestone in what I know will be a life full of achievements.
This is also the part of the program where I am supposed to give you sage words of advice. It is where I read a quote like this by Eleanor Roosevelt:
"The purpose of life, after all, is to live it, to taste experience to the utmost, to reach out eagerly and without fear for newer and richer experiences."
or one from Dr. Seuss:
"Be who you are and say what you feel because those who mind don't matter and those who matter don't mind."
It is also where I am supposed to inspire you to greatness by telling you about your responsibility to others and to society, and how you are the future of our world.  I could, but you know, you are now Marietta College graduates and you already know all that.
You know that without your talents, your skills and your spirit, our nation and world will not be able to overcome current and future challenges. You know that one person truly can make a difference and each of you is just the one person to do it. And you know that what you have learned here has made you the person you are — and the person you will become.
When you started at Marietta College, you entered a new world of knowledge, a new world of exploration and, I know, some fun as well.  We challenged you, and you challenged us. You saw many changes during your years here on campus, in the community, in the US, and the world, and, yes, even to a new president.
During those years, you continued to work toward your dreams no matter what challenges you faced. For some, you are the first in your family to graduate from a college or university. For others, you earned your degree even as you managed the difficult task of balancing academics with work or family responsibilities.
While your individual circumstances were different, your commitment, your enthusiasm and your love of Marietta College were common threads among you. In a few short months, the class of 2021 will be here to begin its journey toward where you are now. Like you, they will become part of the continuing legacy that symbolizes the Marietta College family and The Long Blue Line.
Let me leave you with words from Bonnie Mohr.  She said:
Life is not a race — but indeed a journey.
Be honest and work hard.
Be choosy.
Say "thank you", "I love you", and "great job" to someone each day.
Let your handshake mean more than pen and paper.
Love your life and what you have been given, it is not accidental — search for your purpose and do as best you can.
Dreaming does matter. It allows you to become that which you aspire to be.
Laugh often.
Appreciate the little things in life and enjoy them. Remember, some of the best things really are free.
Do not worry, less wrinkles are more becoming.
Forgive, it frees the soul.
Take time for yourself — plan for longevity.
Recognize the special people you have been blessed to know.
Live for today and enjoy the moment.
From this member of the Marietta College family, thank you for making this a memorable day, thank you for making Marietta College the wonderful place it is, and thank you for giving me the wonderful privilege of serving you.
[]