Dear Marietta College Campus Community and The Long Blue Line,
It is a great feeling to see how many of our students, faculty and staff take a moment to step outside to enjoy a bit of sunshine during the day. On Tuesday, some of our talented students spent time creating impressive chalk art on the sidewalk surrounding the Kremer Amphitheatre.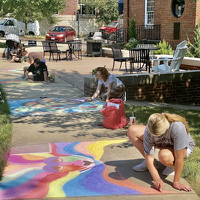 This is a testament on how we, as a campus, can remain engaged with each other this semester and still follow the Marietta College Cocktail of wearing our facemasks, keeping safe physical distancing, washing our hands frequently, monitoring for symptoms and taking the proper health care steps when feeling under the weather. Remember to complete your daily health assessment before engaging with campus.
We are in Week 4 of in-person learning and we must continue to be vigilant with following the Marietta College Cocktail in order to complete this semester in person.
As you know, we had our second student with a confirmed positive COVID-19 test last week. You can stay updated on Marietta College's COVID-19 data through our daily updated dashboard www.marietta.edu/covid-19-cases-reporting, which contains the previous full day's information. We will continue to monitor and care for students who are in quarantine on campus. Students who are in quarantine and who choose not to have their meals delivered to them can access the College's Food Pantry. Rather than having food packages sent to the mailroom, they will be delivered directly to the student's residence hall room.
Other items of note:
Academic Resource Center (ARC) Services:
Tutoring — We have peer tutors who can assist students with classes and writing support via Zoom tutoring sessions. Tutoring appointments are available Sunday-Thursday at various times throughout the day and evening. Simply visit the ARC website, register for an account, then book appointment times. Students can book up to two weeks at a time, so feel free to plan ahead to take advantage of this support. www.mywco.com/marietta. The Tutoring and Learning Center is located in Bartlett 370, and the Writing Center is in Thomas 222. Contact Claire Crane at cac005@marietta.edu if you need any support OR if you are interested in getting a job as a tutor.
Academic Coaching — Our professional staff are happy to hold Zoom meetings or in-person sessions to touch base and see what students may need assistance with. From motivation, to reading strategies and study skills, to time management — we are happy to help. Amanda Haney-Cech, Donna Fenton, Jeff Walker, Sarah Jacobs, Todd Comer, and Amber Smrek are all available to meet individually with students to discuss their goals and needs. Contact Missy Gandor, Administrative Coordinator, by email at arc@marietta.edu or call (740) 376-4700 to request a meeting, and she will set something up with one of our supportive staff members.
Disability Services — Students with documented disability needs may qualify for accommodations to support access to success in the classroom. Contact the ARC at arc@marietta.edu or (740) 376-4700 to set up an intake meeting with Kristin English to begin the process.
Food Pantry — Students who experience food insecurity may request a box of non-perishable food items from the campus Food Pantry. Items are packaged and sent to the mailroom once each week, and can help campus individuals in need. Complete the request form at  https://docs.google.com/forms/d/e/1FAIpQLSeUv5bB8WR2Kc8P4FBOuLb2rhT3GISKU9DIfd0Ffu88vC42oQ/viewform.
Planners — There are FREE academic planners available in the ARC on the third floor of Andrews Hall. Stop by and grab one from our resource table located in the hallway.
Elevators:
Elevators are crucial services to members of our community who have special mobility needs. If you are able to use the stairs, please do so.
Dining Services:
Parkhurst Dining's mobile ordering system, which uses the Food U app, has been operational for a week. The campus community can use the mobile ordering system at Red Brick BBQ (mcredbrick.yourorder.io), Izzy's (mcizzys.yourorder.io), and The Gathering Place (mcgathering.yourorder.io) through the app. Faculty and staff who wish to use the online ordering option must have a declining balance on their College ID card. You can add money to your account at https://mariettadining.catertrax.com/menunavigation.asp?categorygroup=1#c:1|m:1|p:2
Keeping Campus Clean:
Physical Plant staff continues to disinfect academic buildings, high-traffic areas and public restrooms with our electrostatic sprayers twice each day, and they also work hard to refill Self Help Cleaning Kits and to keep trash receptacles empty.
We are all working hard to make this semester a success and it shows. Thank you for being committed to doing your part.
Bring Forth a Pioneer!
Bill Ruud
President and Professor of Management