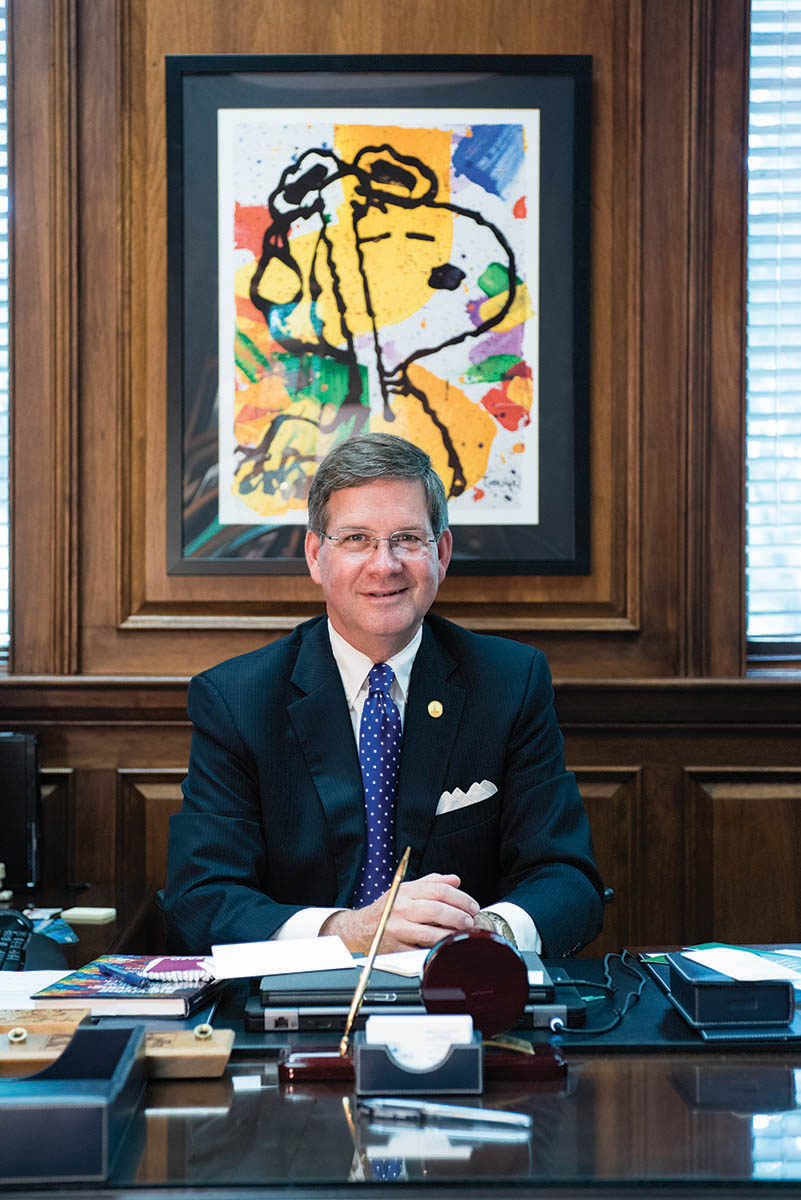 Bring Forth a Pioneer!
I know that is normally how I end my message in each issue of the magazine. After everything we have gone through and the astonishing job we have accomplished so far this semester, it just did not seem proper to wait until the end!!
Six months ago it was hard to comprehend what the fall semester of 2020 would look like. We were coming to grips with sending everyone home, the stoppage of in-person learning and the cancellation of most, if not all of our events on campus.
We all agreed that we needed to do everything we could to make sure we could be as normal as possible for the fall semester.
Thankfully, I am surrounded by amazing, intelligent and compassionate people at Marietta College. I have tried countless times to express how proud I am of them, but I never do them justice. After our virtual graduation in May, I told our faculty and staff to enjoy some time off so they could recharge a bit.
You know what they did? They showed up the next day wanting to talk about how we were going to welcome back 1,200 students to campus for in-person learning for the fall semester. You see why we have been named a "Great College to Work For" three years running.
So, we got to work. There was an abundance of great ideas (and a few bad ones, but I've always said the bad suggestions help us make the good ideas that much better). We worked at it every day. Plans changed. We kept meeting. Normal work had to get done. But we never wavered in our belief that we could do it.
Now that we are back — and doing quite well, I would like to say — we are still working through the daily issues that can arise during a pandemic. We have had some students test positive for the virus and all of them have thankfully recovered and are back in class. In reality, though, our numbers have remained low and we are showing the world how this small, liberal arts college tucked away in Appalachia manages a pandemic.
Why have we been able to pull this off so effectively, while larger universities failed to mitigate the spread of the virus and had to stop in-person learning? Of course, our well-executed plan was critical, but even that would not have worked if our students had not cooperated.
Like true Pioneers, our students wanted this to work. Instead of throwing large parties with students gathered around without masks, Marietta's student body challenged each other to do the right thing. When I asked a group of students recently why they thought the semester was going so well, the answer was eye opening.
"President Ruud, we hated having to leave campus in the spring and no one wants to be the reason why we have to go to virtual learning again." Pretty impressive!!
This feeling is almost universal across campus. If it is not clear to you yet, we have unbelievable students who are going to become reliable and valuable employees — so if you are in a position to hire a Marietta College graduate, I encourage you to do it.
We still have about five weeks left in the fall semester, and believe me, we have been hard at work on what the spring semester will look like as well. But rest assured, we got this.
Join me this time, but let's say it a little louder: BRING FORTH A PIONEER!!!
Bill Ruud
President and Professor of Management