The inSPIRE award was created by the College's Staff Advisory Council to recognize a staff member who has been inspiring or who has
gone above and beyond the call of duty
helped someone on a project
helped a student, co-worker, or member of the public while on campus
demonstrated outstanding customer service
Recipients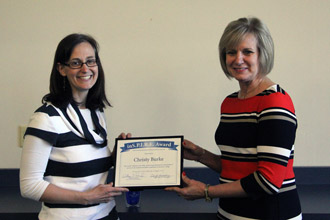 April 2017 — Christy Burke
Since 2007, Christy Burke has played an integral role in assisting international students adjust to life at Marietta College. She has organized countless events and met one-on-one with hundreds of students as the Director of Education Abroad.
This spring, Christy led a fun and well-received initiative called #luv4MC. Students, employees and alumni shared what they love about Marietta College, and those sentiments were shared on blue hearts around campus. For her efforts, Christy was recognized as the April 2017 inSPIRE Award winner.
A person who nominated Christy said the following: "The hearts were on display for Founders Day and the Board of Trustee meetings. She worked to document the online messages to paper hearts and we received so many positive comments. It was a great project and Christy was a great partner."
All inSPIRE Award winners receive a number of prizes for the honor, including a personal parking space for one month, a free lunch at Gilman Dining Hall, a gift card from the bookstore and a certificate to display at their workspace.
---