The inSPIRE award was created by the College's Staff Advisory Council to recognize a staff member who has been inspiring or who has
gone above and beyond the call of duty
helped someone on a project
helped a student, co-worker, or member of the public while on campus
demonstrated outstanding customer service
Recipients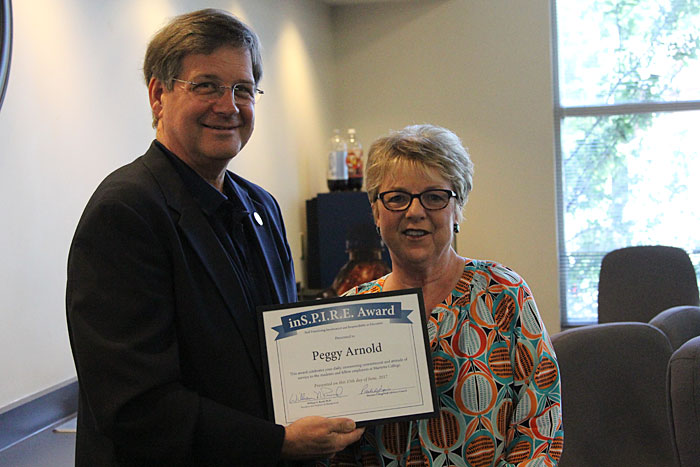 June 2017 — Peggy Arnold
For nearly 30 years, Peggy Arnold has been helping families understand and navigate the world of financial aid. As a student loan coordinator, she counsels students and families with financial aid questions. During this process, she has developed long-standing relationships and it's a job she loves doing.
Peggy's dedication to our students and their families has always been appreciated, but she was honored recently as the June 2017 inSPIRE Award Winner.
A colleague who nominated her for the award said the following, "(Peggy) has an excellent attitude daily and a willingness to serve others by helping in any way she can. (She) has a huge amount of responsibility but is always willing to put the needs of others before her own."
Another College employee said, "She has been gracious enough to share her vast amount of knowledge of any and all things related to helping our students. ... On days when I am overwhelmed she is the first person to say I am doing a great job and reassure me that even when I feel inadequate I can do this."
All inSPIRE Award winners receive a number of prizes for the honor, including a personal parking space for one month, a free lunch at Gilman Dining Hall, a gift card from the bookstore and a certificate to display at their workspace.
---