Marietta College Alumni Association
The mission of the MCAA is to build upon the common bond of enthusiasm, loyalty and service of alumni and friends of Marietta College to establish a community of support for the academic, campus life, fundraising and enrollment efforts of the College. Marietta College alumni can elect to volunteer their time and expertise by serving on the MCAA Board of Directors.
Board of Directors
Tim Bennett
Class of 1985
Tim graduated with a BA in Public Relations from Marietta College in 1985. During his time on campus, Tim was a Varsity Rower, Student Body President, and Staff Member of The Marcolian. He is a member Lambda Chi Alpha and was honored as Greek Man of the Year in 1985. Tim worked in the Admissions Office all 4 years and received the Adair Prize at graduation.
Professionally, Tim is a partner of Tribury Productions and Co-Host of The Focus Group on Sirius XM Radio. Tribury creates unique content and integration opportunities for brands seeking to have a dialogue with niche and diverse market segments. The Focus Group is satellite radio's first original business show dedicated to the world of advertising and marketing. As Sirius XM's resident Mad Men, Tim Bennett and his co-host John Nash, offer up their point of view with sharp wit and fluid banter on this first-of-its-kind talk programming reaching 400,000 listeners each week across North America.
Prior to Tribury, Tim was Director of Marketing Communications at Subaru of America where he pioneered innovative niche marketing programs that created the idea of speaking directly to consumers "for who they are, not what they are". This groundbreaking marketing approach had a significant impact on the automaker's sales and brand loyalty. His work at Subaru is a Harvard Business School Case Study.
Tim was honored by his peers in 2006 as the recipient of the first Visionary Executive Award by the Commercial Closet (now part of GLAAD). Mr. Bennett was recognized by the Advertising Club of New York and the California State Legislature with the Corporate Vision Award that cited his leadership in diversity marketing.
Tim resides in the Philadelphia area. He is a member of The Malta Boat Club and Charter Member of the Board at the GreensGrow Philadelphia Project.
---
Jamie Brady
Class of 1992
Jamie Brady is senior director at Genzyme, a Cambridge, MA-based biotechnology company, where he is responsible for leadership and organization development in the company's manufacturing and quality divisions.
Prior to his current position at Genzyme, Jamie's work experiences have included leadership roles in urban economic development, high tech professional services, financial information, and news & media. He has also taught leadership studies at the university level including a role at Marietta College in 1993-94.
In 1992, Jamie graduated magna cum laude from Marietta and the McDonough Leadership Program majoring in History with minors in English literature and Leadership Studies. He earned his master's degree at The Harvard Divinity School.
Jamie is married to Susan MacKenty Brady ('94) and has two daughters, Caroline and Abigail. He lives in Needham, Massachusetts.
---
Lori Oslin Cook
Class of 1982
Lori graduated with a BA in Accounting from Marietta College in 1982. During her time on campus she was an active member of Tri-Sigma sorority and honored as a Sophomore Scholar and member of Omicron Delta Upsilon and Tau Pi Phi honorary societies. In addition, she competed as a coxswain for the 1980 Dad Vail Gold Medal Frosh Four.
Her professional accomplishments include attaining her CPA credential and joining Arthur Anderson directly after graduation. Her career has also included employment with Blue Cross/Blue Shield of Cleveland, St. John Westshore Hospital, and Progressive Insurance.
Currently, Lori consults with small businesses seeking to consolidate their accounting systems and is working to become an Enrolled Agent for the Internal Revenue Service.
She spends a considerable amount of her time as a community volunteer serving on the Strongsville PTA, as a Girl Scout leader, peewee soccer coach and treasurer for a number of organizations. As an athletic booster/board rep, she has worked to raise money for the cross country and track teams at Strongsville High School.
She lives in Strongsville with her husband, Dave, a VP of Finance at University Hospitals in Cleveland. Lori and Dave have three children; Brian, a high school senior, Jennifer, a sophomore, and Steve, currently a student at Marietta College.
---
Andrew Ferguson
Class of 1995
Andrew D. Ferguson is an Account Vice President for UBS Financial Services Inc. located in San Jose, CA. Prior to joining UBS in 2002, Andrew worked as a Global Account Manager in the telecommunications industry for AMP Incorporated, ADC Telecommunications and Gould Electronics, Inc.
At UBS, Andrew manages the investments of corporations, charitable foundations and high net worth individuals. With his clients, Andrew emphasizes asset allocation and total portfolio management with a focus on retirement income planning. He also provides guidance regarding education funding, structures for charitable giving and estate planning.
Andrew grew up in Northeast Ohio where he attended Mentor High School in Mentor, Ohio, a suburb of Cleveland. After high school, he followed in his father's footsteps and attended Marietta College where he holds a Bachelor of Arts degree in Business Management '95. While at Marietta, he was a 3-year varsity soccer letterman. In 2001 Andrew went on to earn an M.B.A. degree from Golden Gate University in San Francisco, CA.
In 2006, Andrew formed Threshold Racing, LLC where he specializes in event management of races to benefit charities. Threshold has raised monies for multiple charities including Alzheimer's Foundation, Jenny's Light, The Hoyt Foundation, YMCA Camp Campbell, the Crohn's and Colitis Foundation, the Livestrong Foundation, and the San Jose Leadership Academy.
Andrew resides in Los Gatos, CA where he stays busy raising his daughter, Josette Marietta.
Andrew still tries to find time to pursue his passion for fitness and his hobbies of triathlon and crossfit.
---
Frank Fleischer
Class of 1971
Frank Fleischer is a retired administrator with the Ohio Association of County Behavioral Health Authorities and provided leadership for the Older Ohioans Behavioral Health Network. His responsibilities included coordination of physical and behavioral support services with the delivery systems in place to assist older Ohioans. Prior to that, Frank's career included various administrative roles within the Ohio Department of Mental Health including CEO of Woodside Hospital in Youngstown, Fallsview Hospital in Cuyahoga Falls, and Heartland Behavioral Healthcare in Massillon. In addition, Frank served as a psychiatric and recruitment coordinator for genetic family research projects for the University of Pittsburgh Medical Center. Frank's son Corey is a 2009 graduate of Marietta College.
---
Tia Lane
Class of 1998
Tia Knowlton Lane was recently named Associate Director of Admissions at The College of Wooster bringing her back to Ohio after spending seven years in Atlanta. She worked both at Oglethorpe University for six years and Stein Communications for a year after departing Marietta College in 2005. She has remained active in the several higher education professional organizations such as the National Association of College Admission Counseling (NACAC) and Georgia Association of Collegiate Registrars and Admission Officers (GACRAO).
Tia graduated from Marietta College in 1998 with a Bachelor's degree in Management. While a student, she was inducted as a member of Tau Pi Phi, a business honorary and was active in Alpha Xi Delta sorority and many vocal ensembles. She also earned her Masters of Liberal Learning with concentrations in communication and counseling in 2002 while working in the Office of Admission and has continued her education by attending the Harvard Institute for Higher Education and completing a certificate in strategic enrollment becoming a Registered Enrollment Professional in 2010.
Beginning her thirteenth year in higher education admissions, Tia and her husband Mark, a 2001 and 2004 Marietta College graduate, currently reside in the Akron area.
---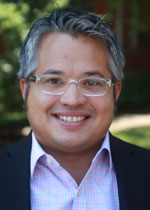 Matthew Macatol
Class of 1997
Matt is currently a pathologist at Marietta Memorial Hospital, but combines his dedication to his profession with a passion for support of his friends and colleagues through his active volunteer work and service to his hometown. A 1992 graduate of Marietta High School and 1997 graduate of Marietta College, Mathew went on to earn his MD from the Northeastern Ohio University College of Medicine in 2003. A board-certified pathologist, he completed his residency in Pathology at Summa Health Systems in 2007 before becoming the Chair of Surgery at Marietta Memorial Hospital. In addition, his credits include medical directorships at Selby General Hospital, Physicians Care, Belpre Strecker, and Blood Bank. Matt has also been on the board of the Memorial Health Foundation since January 2011. Matt has been a special contributor to his alma mater's Physician Assistant Program giving a presentation in January 2011 and he continues to enjoy his collaborations with faculty, staff, and students.
---
John R. Murphy
Class of 1963
John earned his undergraduate degree in Political Science from Marietta College in 1963 and a master's degree in Counseling from the University of Bridgeport in 1966. He advanced his professional development with completion of the Harvard University Management Development Institute in 1986.
For thirty-seven years, John served Penn State University in a variety of capacities before retiring as director of student affairs on the Wilkes-Barre campus in 2004. His many contributions were recognized with the dedication of the John R. Murphy Student Services Center in October, 2008.
Actively involved in a variety of professional and campus organizations, John provided leadership for strategic planning, budget, and assessment groups within the Penn State system while winning several awards including the Lifetime Achievement Award from the Student Government Association in 2003.
John's appreciation and respect for the quality of his undergraduate experience at Marietta prompted him to encourage no fewer than eight other family members to join The Long Blue Line. He is married to Shawn (Wilska) '64 and they reside in Dallas, Pennsylvania.
---
Kathleen Mitchell Murphy
Class of 1982
Kathleen Murphy joined the Maryland Bankers Association in 1999 as President and CEO of the only professional association representing commercial banks and thrifts in Maryland. The mission of the Maryland Bankers Association is to make Maryland banks stronger and more successful.
With a career spanning state and national banking trade associations, Kathleen served for 13 years as Director of Community Banking for the American Bankers Association in Washington, D.C, as Director of Communications for the Ohio Bankers Association and in the Financial Card Services Division of Bank One, in Columbus.
Among many volunteer positions, Kathleen serves on the Executive Committee of the Maryland Coalition for Financial Literacy, as past president of the Maryland Government Relations Association, on the Board of Directors of the Maryland Association of CPAs, on the State Comptroller's Business Advisory Council and on the Maryland State Department of Education's Financial Literacy Advisory Council. She was elected by her peers as Chair of the 55-state Alliance of State Bankers Associations and served on the Board of Directors of the American Bankers Association in 2009-2010. She is also a former member of the National BankPAC Committee.
Kathleen earned a bachelor of arts degree from Marietta College in Marietta, Ohio, and has completed Executive Education Programs from the Darden Business School of the University of Virginia in Charlottesville. She is a 2001 graduate of Leadership Maryland and was named an Influential Marylander by The Daily Record in 2009.
An artist and avid sailor, Kathleen and her husband Mike reside in Annapolis.
---
Jennifer Offenberger
Class of 1986
Jennifer is a 1986 alumna currently working as the Director of Marketing and PR for at the Memorial Health System. She is a current member and past president of the Kiwanis Club of Marietta, current board member and past president of ReStore Marietta, past president of the Marietta Tiger Athletic Boosters, current board member and past president of Alpha Xi Delta Corporation Board, and current chapter advisor for Alpha Xi Delta Beta Xi Chapter. She is the former Vice President of Operations at Offenberger & White, Inc. and a former Assistant Communications Supervisor at White Castle System, Inc. Jennifer has been a generous contributor of her time over the past several years within the Marietta College Community.
---
Paula King Pitasky
Class of 1996
Paula's professional resume includes various management and global marketing responsibilities. She was selected upon graduation from Marietta College, to join the Geon (now PolyOne) Leadership Program. During that time, she was put into various leadership and training positions throughout the company. She was ultimately responsible for global marketing and sales development in the new medical segment for PolyOne corporation. That experience led her to Abbott Laboratories where she was the Western Region and International Sales manager for the components division.
Paula has served as a class agent and a guest speaker for the Political Science Department and the McDonough Leadership Program.
Paula and her husband Seth Pitasky (class of '93) reside in Cleveland, Ohio with their son.
---
Jason Rebrook
Class of 1996
After graduation, Mr. Rebrook was employed by Chevron and held various engineering, business development, and leadership roles, both domestic and international. His international tenure included France, Germany, Australia and Africa.
In 2006, Mr. Rebrook accepted a Vice President position with General Electric and within a short time was promoted to Senior Vice President, Oil and Gas, managing over $1 billion in equity investments, with responsibilities that include deal origination, various negotiations, structuring, asset development, and technical oversight at GE Energy Financial Services in Stamford, CT.
In 2008, Mr. Rebrook joined Hilcorp Energy Company in Houston, TX, as the Asset Team Manager for the Gulf of Mexico. In October 2009, he was promoted to As Executive Vice President, managing Hilcorp's acquisitions, divestitures, business development, and land activities.
Previously, while at Marietta College, Mr. Rebrook was President of the Marietta Chapter of the Society of Petroleum Engineers, President of Pi Epsilon Tau, and was named Outstanding Senior within the petroleum department. He was also a student member of the Academic Standings Committee. Academically, he was designated as a Freshman Scholar, Alpha Lambda Delta Honorary, and graduated with departmental and college honors.
A native of Clarksburg, WV, Mr. Rebrook holds an MBA from Duke University. He is a volunteer for Habitat for Humanity, Relay for Life, United Way, and coaches Little League Baseball. He is married to Erin Conroy Rebrook, Marietta College Class of 1999 and they have three children, Jacob Charles (2003), Katelyn Grace (2005) and Justin Charles (2009) and reside in The Woodlands, Texas (a suburb of Houston).
---
Frank Schossler
Class of 1986
Frank is a Certified Public Accountant with over twenty years of experience. He is a Financial Executive and most recently served as Chief Financial Officer for Payliance. He has provided financial management for various companies including Installed Building Products, Basic Plastics, Ltd., O-Cedar Brands, Inc., and Worthington Foods, Inc. Frank began his career with the accounting firm of Ernst & Young LLP, and is a current member of the Ohio Society of Certified Public Accountants. Frank received his bachelor's degree in Accounting and Management from Marietta College. In 1992 he obtained his MBA from The Ohio State University. He was a four-year member of Marietta College's baseball team, including the 1986 National Championship team. Frank was named All-OAC, Academic All-OAC, and All-Mideast Region. He and his wife Amy reside in Hilliard, Ohio with their two children, AJ and Emma.
---
Todd J. Stevens
Class of 1980
Todd Stevens is currently Vice President for ExxonMobil's Sub-Sahara Africa Upstream Ventures Company. He is located in London, United Kingdom where he is responsible for new business acquisitions in Africa. He is a 1980 graduate of Marietta College, holds a Bsc in Petroleum Engineering and is a member of the Pi Epsilon Tau Petroleum Engineering honor society. He has 31 years of experience in the upstream oil and gas business where he began his career as an Area Production Engineer in the Permian Basin, Texas.
Mr. Stevens has worked for Mobil Oil and ExxonMobil in various Facilities Engineering, Project Engineering and Project Management positions. Over the past 16 years he has led several Offshore/Deepwater projects from Nigeria and Houston in various capacities including Technical Manager, Development Planning Advisor and Sr Project Manager for several West Africa Deepwater Projects. He was the In-Country Deepwater Development Mgr for ExxonMobil's 1st Nigeria deepwater project, Erha, which achieved first oil in 2006.
Mr. Stevens has served in his community in various capacities as a school board director and in association with the Chamber of Commerce, Junior Achievement, Texas Minority Engineers, United Way, and as an Engineering Consultant professional. He has been married for 29 years to his wife Rachelle who is a graduate of Incarnate Word University San Antonio and an Interior Design Professional. His first son, Julian, graduated from Purdue University in 2011. His other son, Christian, is a sophomore Petroleum Engineering major at Marietta College.
---
Jazmyn Stover
Class of 2006
Jazmyn is an associate at the law firm of Seeley, Savidge, Ebert & Gourash (SSE&G) in Cleveland, Ohio where she is actively engaged in the Complex Litigation Division. Her practice focuses in the areas of product liability, toxic/mass torts, commercial, insurance coverage and labor and employment matters. Prior to joining SSE&G, she served as an Assistant Attorney General in the Labor Relations Section of the Ohio Attorney General's Office. Her work with the Attorney General's Office involved representing and advising the Ohio Department of Commerce in regards to statutory compliance with Ohio's wage and hour laws. She also served as statutory counsel for the State Employment Relations Board (SERB) on matters relating to labor law. While at Case Western Reserve University School of Law (2006-2009) she was a teaching assistant for the Appellate Advocacy course, a participant in Dunmore Moot Court competition and a member of the Milton A Kramer Civil Litigation Clinic where she served members of the community unable to afford legal services. At Marietta College (2002-2006) Jazmyn was one of the first students to pursue the International Leadership Studies Major offered by the McDonough Leadership Program. Jazmyn and her husband Raishaun Stover reside in the Old Brooklyn neighborhood of Cleveland with their son.
---
James J. Tracy
Class of 1979
James J. Tracy earned his Bachelor of Arts in Management and Accounting from Marietta College in 1979. He was also a four-year letterman and an All-American baseball player. He currently serves as the Director of The Consulting Group at Morgan Stanley Smith Barney and is responsible for operating the firm's Managed Account Solutions, Investment Advisory and Institutional Consulting businesses. He has been with Morgan Stanley Smith Barney and its legacy firms for more than 22 years. He serves as the Chairman of MMI (Managed Money Institute) and participates on multiple boards that focus on philanthropic giving and donor advised funds. James volunteers his time to raising money for charitable causes such as the Special Olympics. He lives in Powell, Ohio, with his wife Joey and has two children, Lauren, 22, and J.J., 8.
---
Matthew B. Weekley
Class of 1981
Matt is a partner and CPA with Plante & Moran PLLP, the nation's 11th largest certified public accounting and business advisory firm. Matt leads the firm's Health & Human Services practice that serves nearly 2,000 clients, including hospitals and healthcare systems, senior care facilities, physician practices, and not–for–profit organizations.
Plante & Moran, named to FORTUNE Magazine's "Top 100 Companies to work for in America" for the past 11 years, provides clients with financial, human capital, operations, strategy, technology, and family wealth management services. Plante & Moran has a staff of more than 1,600 located in offices throughout Michigan, Ohio and Illinois, as well as internationally in China and Mexico.
Prior to Plante & Moran, Matt worked for two international accounting firms and was the CFO of a hospital system for more than 11 years. He has served on the College's Business & Economics Advisory Council.
---
Tracy L. Zuckett
Class of 1996
Tracy Zuckett is a principle of the law firm of Moser & Marsalek where she focuses her practice on professional liability. She joined the firm in 1999 after obtaining her JD from Saint Louis University School of Law. Tracy is a member of and holds leadership roles in several legal organizations and publishes and presents to her peers and clients on various legal issues.
Tracy obtained her BA in English with a minor in theater from Marietta College where she actively participated in theater productions on and off stage, various instrumental and vocal ensembles, was a cheerleader and served on the Student Senate and Student Athletic Council. Tracy was also a member of Omicron Delta Kappa, Alpha Psi Omega, and Sigma Tau Delta.
Tracy lives in St. Louis, MO, with her husband, Hugh O'Sullivan, and enjoys volunteering with Habitat for Humanity and participating in recreational softball, volleyball and football leagues.