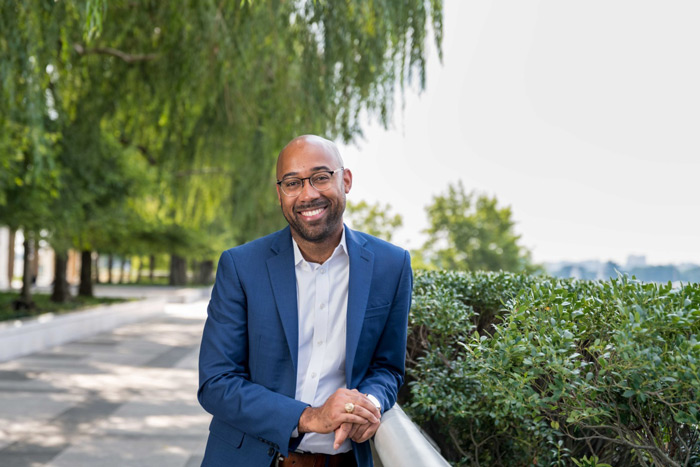 Finding Success
Phil York '10
Connecting the dots is something Phil York '10 has always felt was one of his biggest strengths. After graduating from Marietta and while attending graduate school, Phil started to focus on a career path that included non-profit organizations. He quickly surmised that non-profits need robust and focused fundraising to flourish.
Since then he has successfully spearheaded fundraising efforts from Texas to Washington, D.C. "I started by doing some volunteering at non-profits when I was in graduate school, and I was fortunate enough to secure some big grants, including one for $300,000 for a local health clinic."
He leveraged that experience to secure his first job as the Director of Development for Habitat for Humanity in Waco, Texas. "I was attracted to the job because I knew that homeownership wasn't something that was free, and I loved the mission of the organization."
Phil also knew that Habitat was a global brand that could eventually lead him back home to Frederick, Maryland. In 2016, he returned to Maryland as the Director of Development for Habitat for Humanity of Carroll County. He has also served as a Development Manager for National Children's Alliance and Manager of Designated Campaigns for The John F. Kennedy Center for the Performing Arts.
In 2020, he was named Development Manager for the National Community Reinvestment Coalition in Washington, D.C.
"I have no doubt my time at Marietta College helped prepare me and is why I have realized this arc in my career. One tool, in particular, is the ability to learn. It sounds cliché, but that is a competitive advantage. It wasn't until I saw it in action that I understood. From Habitat for Humanity to the Kennedy Center, you wouldn't think someone with a Political Science degree should be doing fundraising for those organizations. But I could always pick up a book and learn how to speak to the people who are passionate about housing or the arts. Knowing how to prioritize based on my audience is what is most important."