Become an Effective Communicator!
Good communication skills help you to more effectively share communication with others in class, in team or group projects, and professionally. The purpose of the Communication Resource Center (COMM Center) is to empower all Marietta College students to become better, more confident, and more engaged communicators.
What We Offer
Peer Consultation and Coaching Services
Communication is an interactive pursuit! Work with our peer consultants — Marietta College students recommended by faculty members — who have completed training to provide effective communication coaching!
Facilities and Resources
The Communication Center is on the second floor of Mills Hall in room 205. The Center includes a rehearsal area, the ability to record your rehearsal for critique, a quiet study area, computers for research and designing presentation aids/posters, and space to work on group communication projects.
Hours: Monday – Friday hours are posted each semester at the door
Faculty Support
The Communication Center assists faculty members by providing support for students outside of the classroom and through workshops, classroom visits, and consultations on ways to include and assess oral communication projects/assignments in specific courses. Students may be referred to the Center by their professors.
Contact Us
Email: crcenter@marietta.edu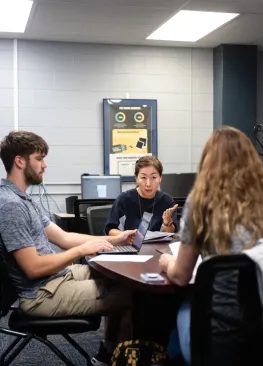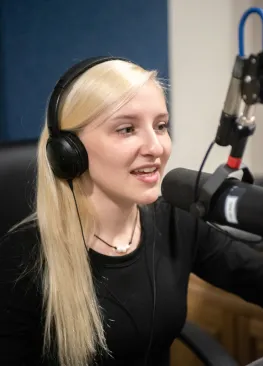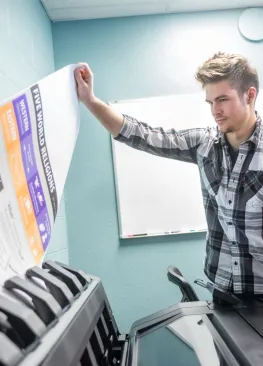 What to Expect
Our peer learning consultants provide personalized consultations to help you consider how to communicate more effectively in the situation you are preparing for.
During the consultation, you can expect a receptive, encouraging, and empathetic listener that is ready to ready to discuss your speaking engagement and, more specifically, discuss your speaking engagement and, more specifically, to discuss your assignment or interview, your concerns, where you are at the preparatory phase, and what you hope to accomplish. Meet with a consultant to:
Brainstorm
Review or work on developing a draft outline for a presentation
Create and execute a research plan in preparation for a public presentation
Rehearse your presentation
Videotape your speech
Design effective visual aids
Reduce speech anxiety
Practice for an interview
Discuss and practice how to effectively facilitate a group discussion or give tips on ways to be an engaged participant in a class discussion
Presentation Consultations

You do not have to have a presentation ready; we love working with people in the early stages of their preparation. Based on the initial assessment, you can expect your consultant to structure the appointment in a way to help maximize your success. For students who are in the initial process, your consultant will serve as a sounding board to help you brainstorm, narrow down your topic, and/or outline your presentation. If PowerPoint is new to you, consultants can provide technical support and discuss best practices.

Record or critique a presentation rehearsal, providing tips for improvements in delivery

For students who already have a presentation, your consultant will record and time your presentation. This footage will be used to give you focused and empowering feedback on your delivery, your presentation design, and the structure and focus of your content. Your consultant can also provide you with immediate feedback based on best practices.

Interview Consultations

Discuss how to prepare for an upcoming interview and conduct a practice interview

For practice interviews, we request that students prepare an overview of the interview purpose (i.e., job interview, media interview, etc.). During this consultation, you can expect the consultant to ask you what you hope to accomplish, what concerns you have about your communication skills, and how you want to conduct the mock interview. In general, the consultant will role-play the interview process. These sessions can be recorded, and after several questions, the footage can be reviewed for feedback on delivery (how you communicate verbally and non-verbally) and on the content (how clear, concise, and structured your responses were).

Communication coaching is a supplemental resource, not a replacement for classroom attendance, keeping up with homework, or rehearsing a presentation. Our goal is that a client leaves the Communication Center with not only a stronger communicator for a specific assignment or situation, but also with a stronger understanding of how to apply these sharpened skills in other situations.

How to Get the Most Out of Your Appointment

Give yourself an edge by giving yourself time: don't wait until the last minute to sign up for a consultation!

If you are developing a presentation, meet with a consultant in the early development stages at least 2-3 weeks before the scheduled presentation date.
If you are rehearsing a presentation, meet with a consultant at least a week before the scheduled presentation to allow yourself time to make changes and rehearse them adequately.

Get specific on your appointment form! Instead of noting that you would like to "work on my speech," share the specific areas you would like to focus on—the outline, the delivery, the language used, etc., so your consultant can prepare for your session.
Bring your assignment guidelines and notes! Consider bringing your laptop if your professor puts resources on Canvas.
A coaching session is a conversation between you and your consultant, so come prepared with questions or topics you'd like to review (ex. "How do I know when to cite a piece of information orally?" or "I want to make sure I can present the introduction without notes.").

How to Schedule an Appointment

Register for an account using your MC email (first visit only)
Log in and select the Communication Center to see the consultant schedule
Scroll down and review available times (white slots are available, blue slots are taken, and dark blue slots are not available)
Click on a white time slot and complete the appointment form
Meet with your consultant in person (Mills 205)

If you need to meet via Zoom, note that in the appointment form and contact your consultant at CRCenter@marietta.edu to obtain a meeting link