Campus Life
All of Your Best Friends — Within Two City Blocks
Eighty-six percent of Marietta College students live on campus in traditional or apartment-style residence halls. Working and living with your best friends will be one of the best parts of your Marietta journey.
Take it all in
With its diverse range of activities and vibrant campus life, Marietta College offers students numerous opportunities to have fun and create lasting memories during their time at the institution. From pop-up ice cream giveaways to de-stressing with dogs before final exams — you never know what you might come across on The Christy Mall. Also, students can attend campus events like concerts, guest lectures, and cultural performances, enhancing their intellectual and social engagement.
Brick-paved streets, pubs, coffee shops, two rivers, galleries, live music, and more!
Ready to stretch your legs? Students can explore the scenic surroundings of the College by hiking or biking along the picturesque River Trail or participating in outdoor adventure activities such as kayaking and canoeing on the Ohio River. Marietta was named one of the Best Small Towns to Visit by Smithsonian Magazine — and a stop at one of the many outdoor festivals hosted by the city will show you what makes this riverboat town so special.
Housing on Campus
With everything happening around campus, you won't want to spend much time in your room. But the lounges in our 13 traditional and apartment-style residence halls will still host some of your fondest memories with friends.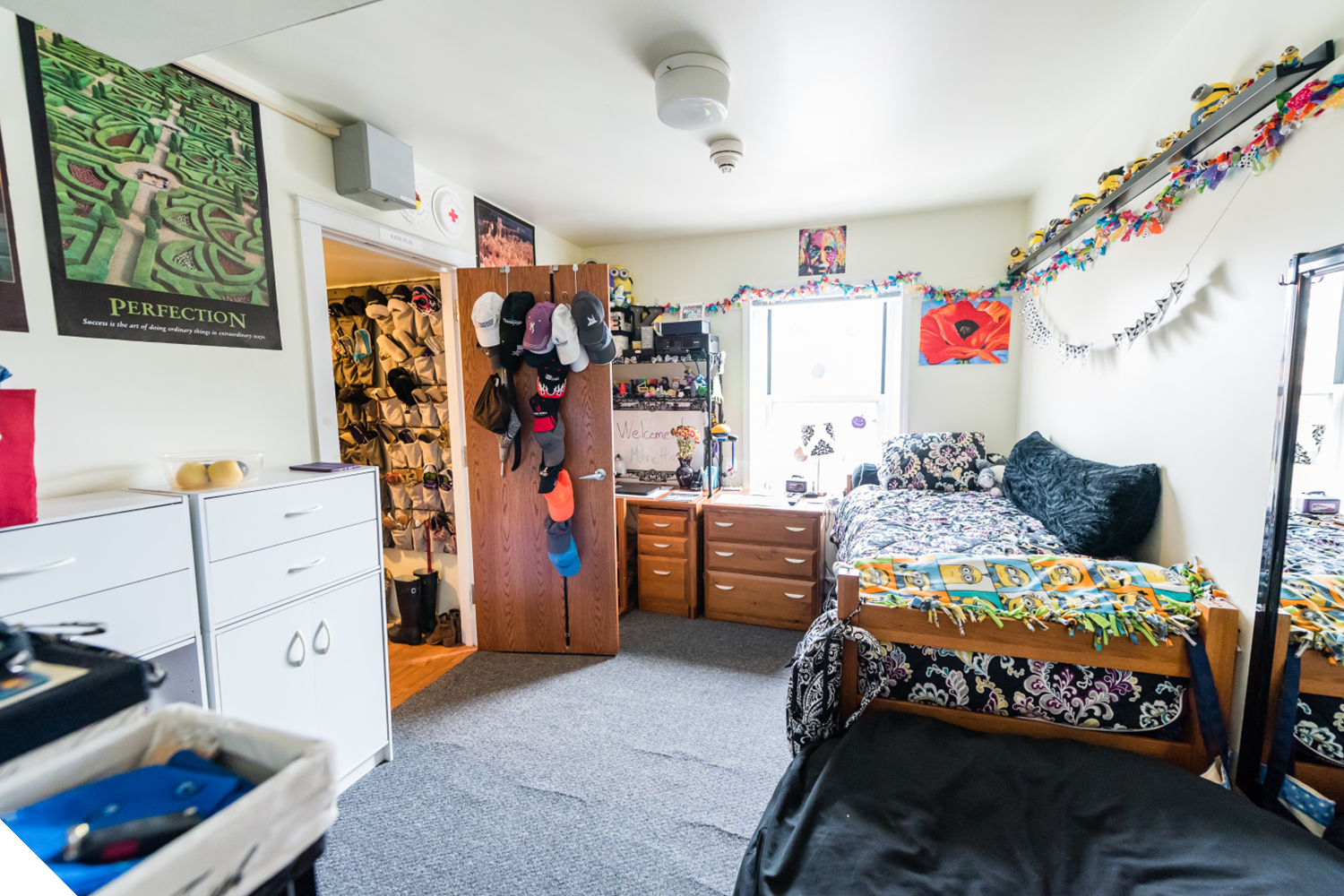 Housing FAQs
Roommate Questions

When will I know who my roommate is?

Roommate assignment letters are mailed in late July, or in January for the spring semester. If you do not receive your letter by one week before the semester begins, please call the Office of Community Living at 740.376.4784 or email us at OCL@marietta.edu.

How well does the room and roommate assignment process work?

Each year the Office of Community Living assigns hundreds of new students to rooms and roommates. This task is done by matching students based on the answers given on the New Student Housing Application. Therefore, it is extremely important that new students fill out the New Student Housing Application and are honest when answering the questions. While the Office of Community Living works hard to match students who request to live with each other, it is not possible to meet every request of every student. A crucial part of living in a residence hall and getting along with your new classmates is making an effort to get to know your roommate(s) and adjusting to each other's habits and lifestyles. Your Resident Assistant and Area Coordinators can help you to navigate this process and help ensure you have a positive residential experience.

What if my roommate doesn't show up and I end up in a room by myself?

The Office of Community Living may assign you a roommate, or you can find a roommate on your own. Students in this situation will be presented with their options at the beginning of each semester, as well as prior to housing new students for the spring term.

What if I don't like my roommate and want to move?

The Office of Community Living conducts a room freeze during the first two weeks of each semester and does not permit moves during that time. After the first two weeks of each semester, you can contact your Resident Assistant to discuss issues with your current roommate and any options that may be available to you. Room changes are never guaranteed and are done by a case by case basis. It is important to speak with your Area Coordinator and gain permission to change rooms, students who change rooms without permission by their Area Coordinator will be required to return to their previous assignment and may be referred through the student conduct process.

Room Questions

What is the size of a typical student room?

Elsie Newton: 16' by 16'  
Marietta Hall: 16' by 12'  
Mary Beach: 16' by 15'  
Russell Hall: 16' by 14'  
Dorothy Webster: Rooms Vary

What furniture does the College provide in my room?

Each room is furnished with single beds (extra-long, 80" mattresses), desks, chairs, chests of drawers, closets for each resident and window screens and window blinds. First Year Complex has one MicroFridge in every room.

What size are the beds?

All mattresses are 39" by 80". To ensure that your sheets fit properly, we recommend that you bring extra-long twin sheets.

Can I have an air conditioner in my room?

Air conditioners are not permitted in the residence halls.

If you have a documented medical condition that necessitates an air conditioner, you must submit the Residence Hall Air Conditioner Application along with the corresponding medical documentation to the Non-Academic Accessibilities Coordinator. You will need to supply your own air conditioner and we require our Physical Plant to install it. Students who are assigned to a first-floor room or a room with a security screen will require a free-standing floor unit. The Office of Community Living can advise which type of air conditioner is required for your room assignment after approval has been granted.

May I have a refrigerator, microwave, or other appliances?

Students may have a microwave (700 watts max) and mini-refrigerator (3.4 cu. ft. max) unless they live in the First-Year Complex. All rooms in the First Year Complex have a MicroFridge provided. The following items are not permitted: toasters, toaster ovens, personal grills (i.e. George Foreman-type grills), hot plate-type cookers, crock pots, or any open-coil appliances.

What is a Room Condition Report, and why must I complete it?

Resident Assistants will complete these forms prior to your arrival. After checking in, you will be able to view the Room Condition Report that was filled out for your room and make any additions to the form that you feel are necessary. At checkout, this form is used again to note any damages or maintenance concerns. You may be charged for any changes (aside from normal wear and tear) to the room.

If you discover damage in your room after you have completed your Room Condition Report, please email your Area Coordinator.

If something is broken in my room, what do I do?

If you break something in your room or notice any damage that must be repaired, you must complete a maintenance request. Your Area Coordinator will see your request, approve it, and the information will be forwarded to Physical Plant so that they can make the repairs. Depending upon the nature of the damages, there may be charges. If someone breaks something in or around your room, it needs to be reported immediately to your Area Coordinator so an incident report can be completed.

I would like a loft in my room. Is there anything special I need to do?

Homemade lofts are not permitted. In Harrison and McCoy Halls, students can request lofting pieces to raise their beds. The beds in the First Year Complex may not be lofted but may be bunked, or the mattress on the bed frame may be raised to permit up to 38 inches of space under the mattress. Resident Assistants are available to assist students with acquiring lofting pieces or with raising or lowering the mattress on their bedframe. 

What do I do if I lose my room key?

Report the loss immediately to your Area Coordinator. Your Area Coordinator will request a lock change to your room and will get you and your roommate(s) new keys. There are charges associated with losing keys:

Fayerweather Single Room: $60
Fayerweather Single-Suite: $170
First-Year Complex Double Room: $70
First-Year Complex Triple Room: $80
Fourth Street Double Room: $70
Harrison Apartment: $190
Harrison or McCoy Double Suite: $70
Harrison or McCoy Single Suite: $60
McCoy Apartment: $260
McCoy Double Room: $70

What size sheets do I need for my bed?

All of the College mattresses are extra-long twins. We recommend bringing extra-long twin sheets to ensure that your sheets will fit properly.

What about window coverings?

Each residence hall room is equipped with mini-blinds. Non-College-owned window coverings are not permitted as they may pose a serious fire hazard.

May I bring extra furniture, carpet, etc.?

Yes, you may bring extra furniture for your room; however, the original beds, bedsprings, wardrobes, dressers, desks, and chairs must remain in the room. You are welcome to bring a rug or carpet. Many students do so, since most student rooms in the residence halls are not carpeted. The Office of Community Living encourages you and your roommate to get in contact and discuss who is to bring what to campus. Personal chairs and/or sofas are permitted if they do not constitute a fire or health hazard.

Residence Hall Questions

Are the halls coed?

Yes.

What is the visitation policy? Can I have an overnight guest?

Students should feel welcome to invite a guest to their room for a visit. The College has guidelines to help ensure that visits from guests are a pleasant experience for all involved.
Before the visit, the resident must discuss having a guest(s) with his or her roommate(s), and gain permission for a visit.
After a student gains permission, his or her roommate(s) reserves the right to ask the guest(s) to leave.
No guest may stay more than two consecutive nights without the resident notifying the complex Area Coordinator and their Resident Assistant.
The maximum occupancy of a room is at the discretion of the residence hall staff. Resident Assistants and Area Coordinators may limit the number of guests based on College health and safety standards.
Hosts are responsible for guests' behavior. Guests are expected to abide by all College rules and regulations.
Non-Marietta College guests must register their vehicles and can only park in lots designated by the Marietta College Police Department.

What are the bathroom facilities like?

In the First Year Complex, McCoy, and Fourth Street, each floor has a common bathroom with a number of sinks, toilets, and showers. Building Services staff cleans the bathrooms each day. Shower shoes, a robe, and a carrying case for your toiletries are recommended. Harrison Hall and McCoy Hall have suites and apartments with bathrooms that are only shared by the students living in the individual suite or apartment. The students living in the suites and apartments are responsible for providing toilet paper and cleaning their bathrooms. 

Is there supervision in the residence halls?

A professionally trained Area Coordinator supervises each residence hall, and an Area Coordinator is on-call to respond to emergencies. Each residence hall has at least one Resident Assistant on duty each night. The Marietta College Police Department is also available to assist students.

What type of security exists in the residence halls?

Each residence hall is locked 24/7 and has key-card access. Students can only access the residence halls they are assigned to live in. Your College ID, which you will receive during orientation, will be coded for your residence hall. In addition, Community Living staff and the Marietta College Police Department make rounds during the evenings each day the residence halls are open. Residence Halls also have security cameras at entrances and in the building to provide additional security.

Are there substance-free halls that prohibit alcohol, tobacco, etc.?

The entire First Year Complex is substance-free. Students are prohibited from consuming or possessing alcohol in the First Year Complex. Per state and federal law, individuals can only drink alcohol once they reach the age of 21. Controlled substances, tobacco, and e-cigarette/vape use are prohibited in residence halls.

Whom do I call if I have a question after the Office of Community Living is closed for the day?

If you need immediate assistance, you may ask your Resident Assistant using one of the duty phone numbers.

Miscellaneous Residence Questions

Where will I do laundry?

Several washers and dryers are located in each residence hall. The facility is open 24 hours a day, and there is no charge to residents. Student must provide their own laundry detergent.

Should I bring all of my belongings at once?

The Office of Community Living staff encourages you to contact your roommate and discuss who is bringing the TV, carpet, etc., so you do not have two of everything. Making contact with your roommate before arriving helps make for a smooth transition to college life. After your arrival, small packages may be sent to you through the College mailroom if you have seasonal items you do not wish to bring in August.

How can I get involved on campus and meet people?

Welcome Week, known as H.O.M.E., is packed full of things to do and people to meet. Shortly thereafter, the Campus Involvement Fair is held, where students from most campus organizations offer information about their groups to new students.

May I bring my bicycle?

Yes, bike racks are located near all residence halls. Harrison Hall, McCoy Hall, Hopewell House, and Fayerweather Hall also provide indoor bike storage. Bicycles should be locked at all times. For safety reasons, stairwells, hallways, corridors, or other public areas may not be used for bicycle storage.

What should I do to ensure the security of my property?

Keep your room locked at all times. If you lose your key, report it immediately to your Area Coordinator.
Do not leave cash, jewelry, or other valuable items in the open.
To guard against theft, record the serial numbers of your personal property and mark all items, such as electronics, cameras, etc., with your name.

If you notice anything or anyone unusual in your residence hall, please report this immediately to the Marietta College Police Department. In the event that you are the victim of a theft, please notify your Area Coordinator and the College Police Department.

Does the school have insurance for the property I bring to school?

No. Please be sure your parents check their homeowner's insurance to have your property adequately covered or acquire renter's insurance.