Marietta College's traditional graduation ceremony takes place in May. A commencement speech offers encouragement to the students before they receive their degrees and become members of Marietta College's Long Blue Line.
Marietta also has an informal December Graduation ceremony for students who complete their academic requirements before the spring.
Marietta College will celebrate the Class of 2019 with a traditional academic Commencement ceremony at 1:00 p.m., Sunday, May 5th, in the Dyson Baudo Recreation Center. Tickets are not required for the ceremony and doors to the facility open at 11:00 a.m.
Receptions will follow the ceremony on The Christy Mall and on Fenton Court in Ban Johnson Arena of the Dyson Baudo Recreation Center.
The weekend leading up to Commencement will provide students and their families multiple opportunities to celebrate their academic achievement. Information on select events appears below, as well as the letters and information packets mailed to graduates and their families.
For family and friends unable to attend Commencement, Marietta College will be live streaming the Commencement ceremony.
For commencement-related questions, please contact the Records Office by email at records@marietta.edu or by phone at 740.376.4723.
Commencement Speaker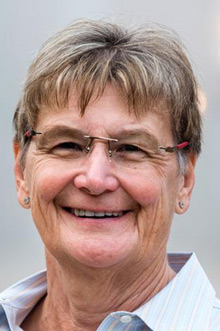 Barbara Perry Fitzgerald '73, former PetSmart executive and a member of the College's Board of Trustees, is the 2019 Commencement speaker at Marietta College. The former Board chair endowed the Executive-in-Residence program that now bears her name, along with her husband, Paul. In early 2000, Barbara was named President of Harmon AutoGlass, then the nation's second-largest installer of replacement windshields. She joined PetSmart at the end of that year as Senior Vice President of Store Operations where she led the strategic focus on customer service, launching a company-wide service initiative: PetSmart Unleashed. To learn more about this year's Commencement speaker, read our story about her.
Commencement-related activities are outlined below. More details will be added as they become available.
Mandatory Senior Class Meeting
All enrolled May graduates and enrolled August and December 2019 graduates who will be participating in Commencement must attend the Mandatory Senior Class Meeting. The meeting will be held on Monday, April 15 from 12-12:50 p.m. in the McDonough Auditorium.  An alternate meeting time will be announced for students who are unable to attend the noon meeting on April 15.  At the Senior Class Meeting, students will receive specific information about the Commencement ceremony and information from various offices about graduation-related procedures and post-graduation plans.
Graduates must attend the Senior Class Meeting or check in with the Records Office before they will be permitted to pick up their regalia from the Bookstore.
Strawberries and Crème
The Marietta College Alumni Association invites you and your family to attend the traditional Strawberries and Crème Luncheon honoring the Marietta College Class of 2019 as you transition from student to alumnus/ae and join The Long Blue Line. We are so excited for you to become a member of The Long Blue Line and join our unbroken continuation of support, interest and involvement from Marietta College graduates! Here are all of the important details:
Strawberries and Crème Long Blue Line Luncheon
Saturday, May 4
noon-1:30 p.m.
Dyson Baudo Recreation Center
Welcome to the Long Blue Line by a member of the Marietta College Alumni Association Board of Directors
Congratulations by President Bill Ruud
Tickets: Graduating seniors will receive complimentary lunches, courtesy of the Marietta College Alumni Association. Additional tickets for family or friends may be purchased for $25 per person.
Registration: All attendees — including students — do need to register. Graduating students and their guests are asked to register by April 26, 2019.
Please register online by clicking here.
The luncheon is open seating, should you have a large party arrive early to accommodate your guests.
If you have questions, please contact the Office of Alumni Engagement at 740.376.4709 or alumni@marietta.edu
Baccalaureate Service
The Baccalaureate Service will be held in the Alma McDonough Auditorium on Saturday, May 4th from 2:00–3:00 p.m. No tickets or reservations are required for this event. Academic regalia and procession are not part of the Baccalaureate Service. Dr. and Mrs. Ruud will host a family reception immediately following the service on The Christy Mall, weather permitting. Rain location will be Fenton Court in the Dyson Baudo Recreation Center.
Academic Regalia Orders
The navy blue caps and gowns required for all graduation ceremony participants are available for purchase, along with formal invitations, through the Campus Bookstore.  Please visit http://www.herffjones.com/college/marietta to order your regalia. Online orders must be placed before March 4. After March 4, please visit the Bookstore to place your order.
Payment of $30 will be due when regalia is picked up at the Bookstore beginning April 15, after the Senior Class Meeting. The remainder of the cost is covered by the College. (Graduates must attend the Senior Class Meeting or check in with the Records Office before they will be permitted to pick up their regalia).
In addition to cap, gown, and tassel, undergraduates will also wear white satin stoles embroidered with "Class of 2019" and the College seal. The cost of the stole is included in the amount noted above. Students have the option of purchasing additional embellishment(s) to reflect participation in College-recognized campus activities. If you do not wish to add any embellishments, you do not have to do anything further. To customize your stole, please visit https://pridesash.com/marietta before March 16. Payment for any customization will be due at the time of placing your online order.  All participants who do not order customizations by March 16 will receive the standard stole. Stoles will be available for pick up with your academic regalia beginning April 15.
Class rings can be ordered at https://www.jostens.com/apps/store/customer/1049053/Marietta-College/
Please contact the Bookstore at 740.376.4528 for additional information.
Community Resources
Places to Stay
Things to See & Do
Dining
Travel to Campus
The following locations have extended hours or are opening Sunday to meet the needs of our graduates and their families.
Retail
Wit & Whimzy: Open to 4:30 p.m. (& beyond as people are downtown)
Attractions
The Castle: 1:00-4:00 p.m. Saturday and Sunday

Restaurants
Buckley House: 4:00-9:00 p.m.
Emanuel's: Open until 8:00 p.m.
The Original Pizza Place: Noon-9:00 p.m.
Marietta Brewing Co.: Noon-8:00 p.m.
Jeremiah's Coffee House: 8:00 a.m.-5:00 p.m.
Tampico Mexican Restaurant: 11:30 a.m.-9:00 p.m.
Star of India: Noon-9:00 p.m.
Boathouse BBQ: 11:00 a.m.-9:00 p.m.
River Town Grill: 11:00 a.m.-8:00 p.m.
Riverfront Bar & Grill: 7:00 a.m.-11:00 p.m.
Jewett Speech Competition
The Jewett Speech Competition is one of the oldest commencement traditions at Marietta College. The two winners of the Jewett competition present their speeches at the Commencement ceremony, while the third-place contestant speaks at Baccalaureate. The contest to choose the two Jewett speakers for the Class of 2019 will be held Thursday, April 4th, at 6:00 p.m., in Mills 107. A brief informational meeting about the competition will be held on Tuesday, March 5, at 5:30 p.m., in Mills 107. Additional Information concerning the competition can be found on the Jewett Prize page.
Bookstore Hours — Finals/Graduation Week
Monday, April 29th to Friday, May 3rd — 8:00 a.m.-5:00 p.m.
Saturday, May 4th — 9:00 a.m.-5:00 p.m.
Sunday, May 5th (Commencement) — 9:00 a.m.-1:00 p.m.
Legacy Library Hours — Commencement Weekend
  Saturday, May 4 — 10:00 a.m.-3:00 p.m.
Sunday, May 5 — 10:00a.m.-1:00 p.m. and 2:30 p.m.-4:30 p.m.
The Legacy Library is hosting an exhibit entitled Ohio Pioneers: "From such beginnings, much may be expected" focusing on the establishment of Marietta, the "first permanent settlement in the territory northwest of the Ohio." The exhibit presents historical documents and artwork from the Library's Special Collections, as well as a series of museum-quality panels featuring interpretive text with additional images and documents.
Chlapaty Café Hours — Commencement Weekend
Saturday, May 4 — 10:00 a.m.-2:00 p.m.
Sunday, May 5 — 10:00 a.m.-2:00 p.m.
Important commencement documents