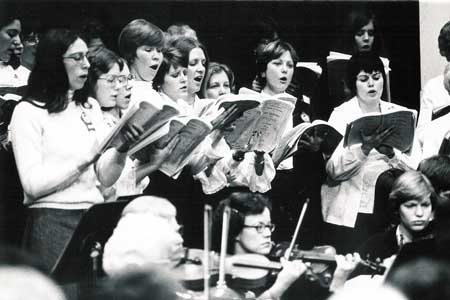 Fresh from post-graduate studies at Boston University, Assistant Professor of Music, and Musical Director of the College, Gerald L. Hamilton arrived at Marietta College in time for the fall semester of 1926.
He immediately set to work with the glee clubs and college orchestra and by the time the holidays arrived that December, Hamilton's efforts contributed to the production of a community Christmas Service at the Hippodrome that drew more than 1,400 to listen to the rendering of the Christmas portion of Handel's Messiah. A chorus of sixty voices joined together with the Little Symphony to provide much enjoyment and appreciation.
Within a matter of only a few years, the performance of the "Messiah" became a community tradition that remains a highlight of Marietta's community life to this day.
Sources: A Pioneer College: The Story of Marietta, by Arthur G. Beach, The Marietta College Alumni Quarterly