Support Your Pioneer Community
Your gift to the Marietta Fund ensures that the College has the flexibility to meet the needs of students while allowing faculty members to teach and innovate.
Your gift today will help to secure a bright future for today's students while preserving and enhancing the values and traditions of The Long Blue Line. Please use the form below, or contact the Office of Alumni Engagement at 740.376.4709 to make a gift over the phone. Thank you!
Give Online
Giving Opportunities
Marietta College was and continues to be an important place to learn and a time to grow. As the years pass, it becomes easier to realize what those years provided you, and it's only natural to want to return the favor. Financial support of Marietta College, through various ways, is critical in helping make the Marietta College experience possible for the next generation of The Long Blue Line.
Donations from Alumni, Parents, Faculty, Staff, Students, and Friends are vital to colleges and a great way to give back to the campus community. Whether you choose to support the overall College with a gift to The Marietta Fund, help students get the aid they need to attend by establishing an endowed scholarship or giving to The Student Aid Fund, support your favorite team, help our academic programs flourish by providing equipment, leave Marietta in your estate or more your gifts make a tremendous impact of Marietta for generations to come.
Supporting your alma mater financially can be a particularly rewarding component of your philanthropic activities.

Annual Support
Did you know that your support, no matter the amount, every year is critical? Agencies such as US News and World Report utilize giving statistics in their rankings each year. Additionally, corporations and foundations look at participation when considering their support as well.
The Marietta Fund (unrestricted) - Each year, our students rely on the generosity of our alumni, parents, faculty, staff, and friends to help achieve their dreams. Whether you support at $100, $1,000, $10,000, or more, you help today's students receive a distinctive Marietta College education. Each year, The Marietta Fund supports every aspect of the College – from student aid and student life to academics and athletics. On behalf of every student and our faculty and staff members, we thank you for making a difference!
The Marietta Fund consists of the following designations:
Highest Priority - Providing support for key components of a Marietta College experience
Pioneer Club - Helping to support our 22 sports, 1 TEAM
Student Aid Fund -Ensuring everyone can have access to a Marietta College education
Annual Funds (restricted)  - Does a certain department, team, or program stand out when you look back at your Marietta experience? Do you want your gift to go to a particular program? You are welcome to give to this special program by making a designated annual gift. Each department or program will use the funds as needed.

Endowed Support
Endowment growth is a priority at Marietta College.  Each year, our endowment funds important initiatives like scholarships, programs and faculty support and other areas.  A larger endowment would increase the funds available to deliver a world-class education for our students and support our talented faculty each year. 
Named Scholarships - Did someone make a significant impact on your time at Marietta that you would like to honor? Was your Marietta experience only possible because of a scholarship?  Marietta is seeking major gift support to build permanent named scholarship funding based on an area of study, academic achievement, financial need, geography and student diversity, study abroad and more.
Endowed Faculty Positions (Chairs and Professorships) - Named gifts support the appointment of endowed faculty positions like Chairs and Professorships for faculty who demonstrate exceptional scholarship and leadership.
Other Named Funds - Named funds will help us build excellence in areas such as academics, athletics, international programs and the arts.

Gift Planning
Alumni, parents and friends have consistently given to ensure that Marietta College remains strong forever. As you consider what Marietta College means to you, there are many ways to guarantee that the things you love about the College are continuously supported for years to come. Planned gifts include leaving Marietta in your estate plans but also could be a gift that helps you plan for your future.
Invest In Marietta College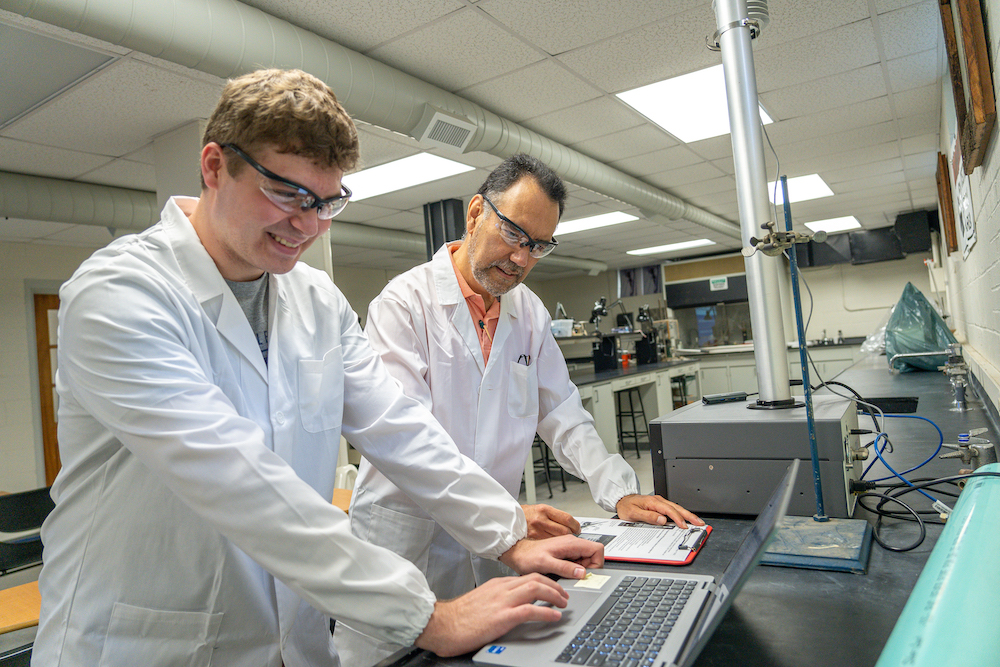 Your gift has an immediate impact
Last year alumni and friends came together to provide over $3,581,083 in support for the Marietta Fund. These donations have an immediate impact and collectively had a spending power equal to more than $83,400,000 in endowment! Annual Fund gifts support top priorities, including student aid, supporting student-athletes, and ensuring the College has the flexibility to address its most pressing needs.
Your gift counts
Did you know that alumni giving makes up a full 5% of a college's ranking in US News and World Report? Our goal is to ensure 20% alumni participation, and your gift, no matter the size, helps ensure Marietta remains one of the best institutions in the Midwest. About 76% of Annual Fund gifts in the 2021-22 academic year were under $250, but together, they added up to over $175,140 in support for students and faculty. No matter what amount you give, every dollar helps!
Your gift makes a difference
When you make a gift to Marietta College, you create opportunities for today's students to succeed. You provide scholarships, offer updated technology and facilities, and ensure Marietta College continues to blaze new trails.