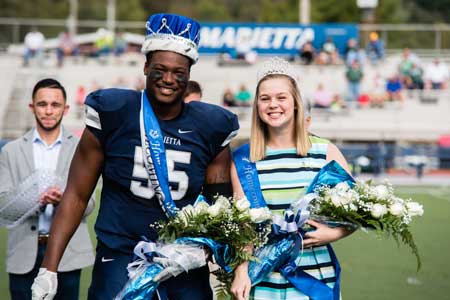 Homecoming is one of the oldest traditions at the College despite not having started until 1926. According to Vernon E. "Dan" McGrew's In the Various Branches of Useful Knowledge:
"Its genesis is unclear, but the spreading use of automobiles surely contributed to its growth. So did the popularity of football, the traditional centerpiece of festivities. Highlights of early homecomings were 'Illumination Night,' father-and-son and mother-and-daughter banquets, a semblance of a parade, the football game, all followed by a dance with a live orchestra."
By 1934, fraternities and sororities were well into house decorations and open house activities. Students pressured the administration to add a homecoming queen and king, but by 1937 the practice started, and the College continues to recognize a queen and king at halftime of the football game.
Now it is Homecoming weekend and begins on Friday and runs until Sunday with class reunion, the MCAA Awards ceremony and a pep rally.