Have you heard about those with curious minds?
They packed up. Got out. Broke free of conventions. They found adventure.
The status quo doesn't cut it at Marietta College. In an environment where we celebrate curiosity, inspire independence, and praise perseverance, you couldn't possibly stay the same. At Marietta College, Pioneers emerge ready to changed the world.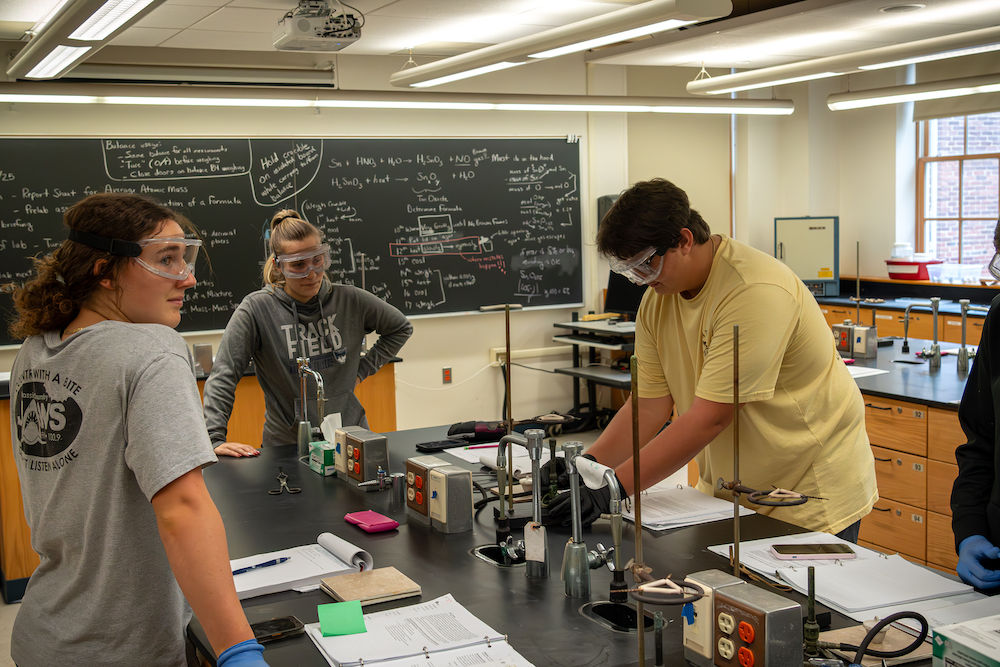 Pioneering the Liberal Arts
Marietta College is a private, coeducational, nonsectarian, undergraduate, residential, contemporary liberal arts founded in 1835. One of America's 37 "Revolutionary Colleges," institutions with origins reaching back to the 18th century. Established initially as the Muskingum Academy in 1797.
Total enrollment for the 2023-24 academic year is 1,122 students from 32 states (including Washington, D.C.) and 14 countries.
The College's picturesque 90-acre campus is in Marietta, Ohio, just two blocks from downtown. The campus includes a state-of-the-art recreation center, planetarium, and library.
Our River City
Marietta, Ohio, packs a lot of charm between two rivers. Lucky for us, we're right at its heart.
Established in 1788 by Revolutionary War veterans led by Gen. Rufus Putnam, Marietta is the oldest organized city in the Northwest Territory. Marietta (population 13,178) is a river town situated at the confluence of the Ohio and Muskingum rivers. Marietta is part of a much larger Mid-Ohio Valley metropolitan area that includes nearby Parkersburg, West Virginia. This area sustains a combined population of around 133,000. Marietta is only a few hours from Columbus, Cleveland, and Pittsburgh. In 2019, the Travel Channel selected Marietta as the most charming small town in Ohio to visit.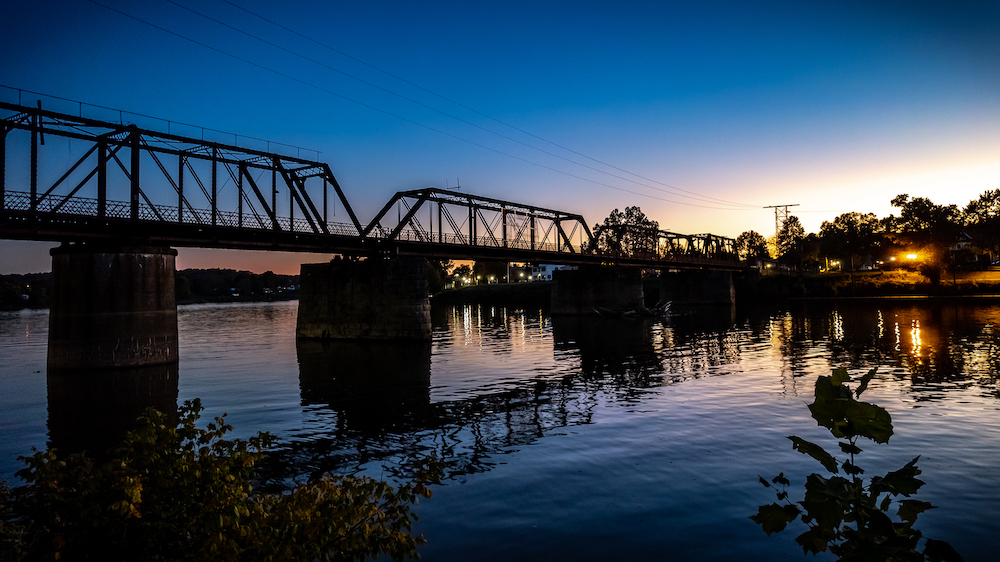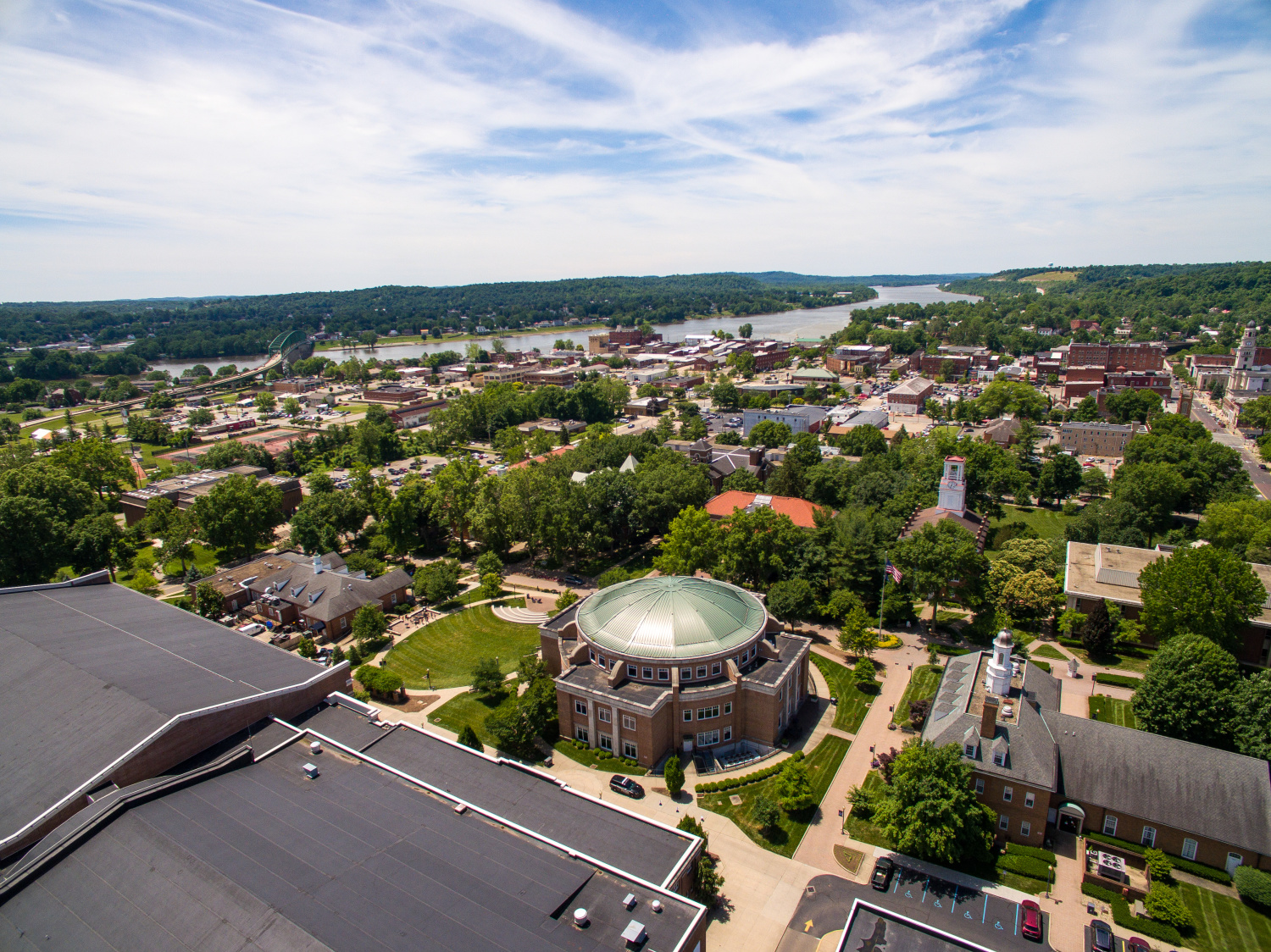 Visit Marietta
There is no better way to see firsthand what Marietta College is really like: A college that never stands still in a city that has always been a place for leaders. A campus visit satisfies your curiosity and makes it all real.
This is the time. This is the place.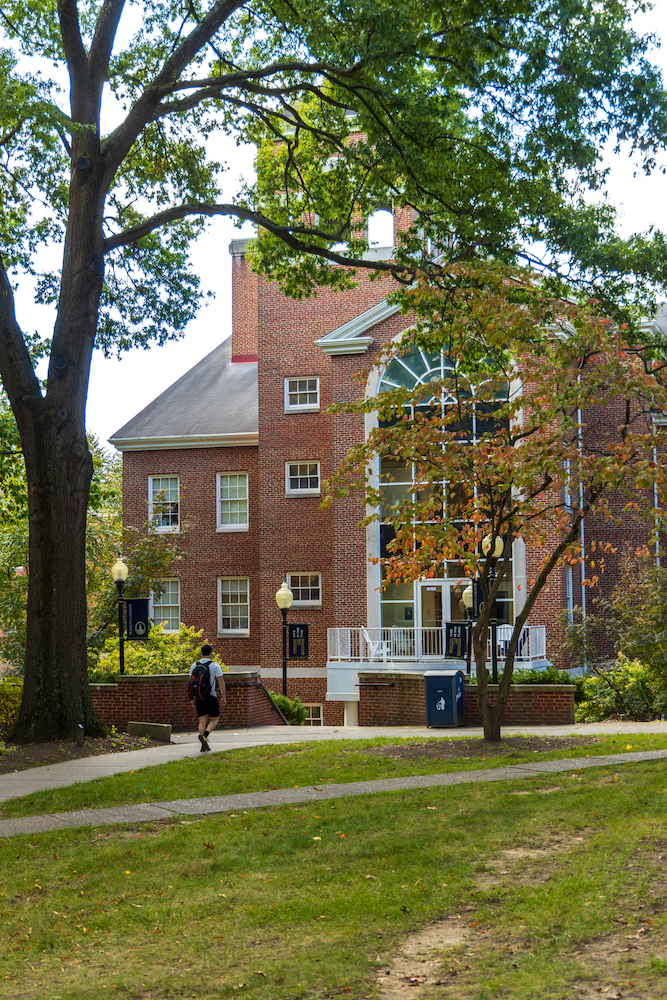 Fall 2023 Profile
Faculty
Full-time faculty: 105
Part-time faculty: 72
Total: 177
Undergraduate enrollment
Full-time students: 1,019
Part-time students: 66
Total: 1,085
FTE: 1,041
Graduate enrollment
Full-time: 80
Part-Time: 6
Total: 86
FTE: 82
Incoming First-Year Students
Women: 45.6%
Men: 54.4%
Diverse students of color: 14.8%
Average SAT for first-year students: 1128
Average ACT for first-year students: 21.6
Average high school GPA for first-year students: 3.89
Top U.S. Geographic Regions Represented for Traditional Students
From Ohio: 73.5%
From West Virginia: 8.7%
Great Lakes states other than Ohio (Illinois, Indiana, Michigan, Pennsylvania): 6.8%
New England/Mid-Atlantic (Massachusetts, Maryland, New Jersey, New York): 2.6%
Southeast (Alabama, Florida, Georgia, Kentucky, North Carolina, Virginia): 6.8%
All Other States/Regions: 1.6%
Affordability
We hear it all the time — "How am I going to pay for college?"
Rest assured, you will be able to afford to attend Marietta College. We are dedicated to making sure our highly respected, contemporary liberal arts education will fit your financial plan. Our goal is to welcome talented, hard-working students to campus. We have created a financial aid program to help ensure that admitted students can afford a Marietta College education. We also promise that our financial aid team will work closely with your family to understand your financial situation, and then develop a comprehensive financial aid package that fits your needs.
We know that each individual student's financial circumstances are unique. Our goal is to provide you with the best possible financial aid package we can. We are a willing partner with you in making Marietta possible. Approximately 82% of students receive need-based financial aid — more than $27 million of Marietta College's funds are committed to financial assistance in the 2023-24 academic year. Our program is extensive and includes merit-based scholarships; federal, state, and Marietta College need-based grants; state and federal loans; and student work-study.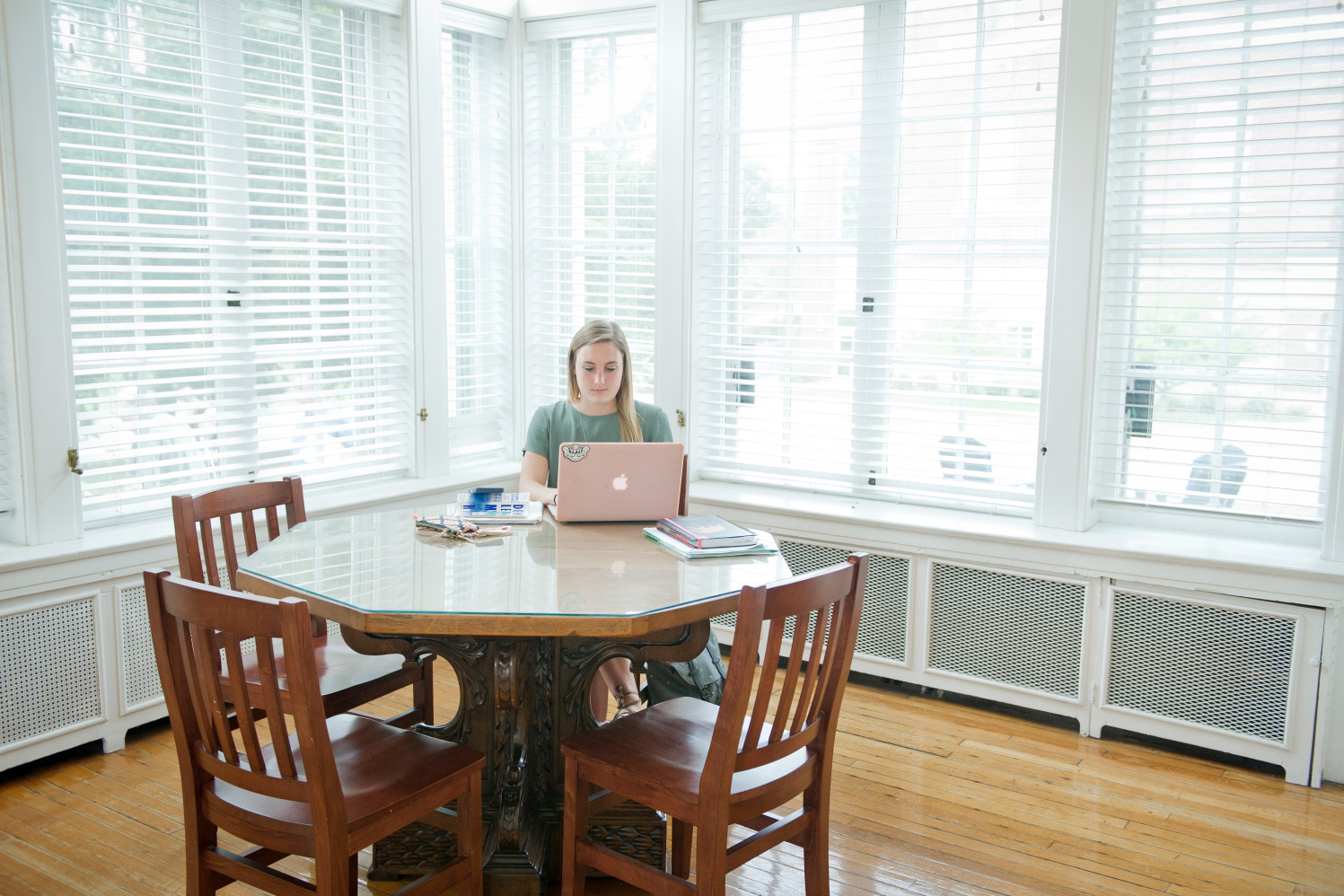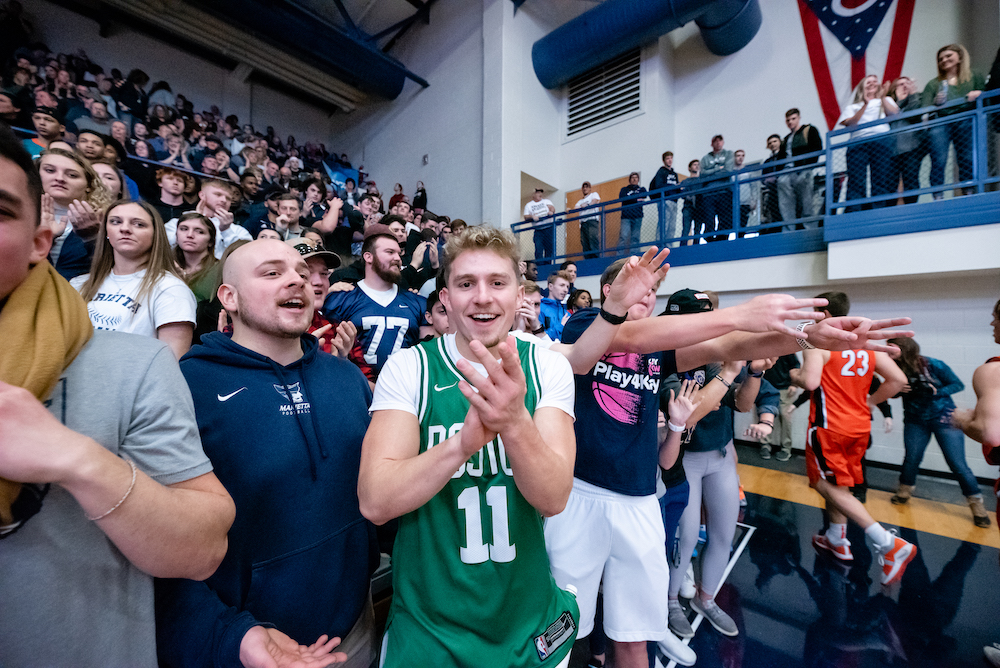 Athletics
Marietta's a pretty quiet town — unless it's game day.
Our 23 varsity athletic teams compete in the Ohio Athletic Conference, facing some of the top programs in NCAA Division III.
More than a third of our students are student-athletes. And the rest are still athletes. That's why they fill up all 84,000 square feet of Dyson Baudo Recreation Center: four multipurpose courts, two racquetball courts, a two-story fitness center and a climbing wall where you can hang 35 feet off the ground.
School Colors
Navy Blue & White
Nickname
Pioneers
More
Information
Academic Programs
Marietta offers more than 50 undergraduate majors. Programs include leadership, petroleum engineering, fine arts, sciences, athletic training, education, and music therapy. Students have boundless opportunities for field experience, professional internships, and study abroad. 
Graduate Studies
More than 80 students are working on master's degrees in either Athletic Training, Physician Assistant Studies, or Psychology.
Admission Profile
Percentage of applicants accepted: 75.9%
Average ACT score for an admitted student: 21.3
Average SAT score for an admitted student: 1035
Undergraduate application deadline: Early Action and Rolling Admission
College Mission
Marietta College provides a strong foundation for a lifetime of leadership, critical thinking, and problem-solving. We achieve this mission by offering undergraduates a contemporary liberal arts education and graduate students an education grounded in advanced knowledge and professional practice. Intellectual and creative excellence defines the Marietta experience. 
President
President's Cabinet
Accreditation
The College is accredited by the Higher Learning Commission and is a member of the North Central Association.
Please review Marietta College's Assurance Argument to the HLC (2015).