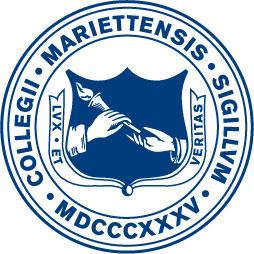 While various College administrations of the nineteenth and early twentieth centuries debated the most appropriate founding date of the College using both 1797, (the founding date of Muskingum Academy), and 1835, (the date upon which Marietta College was chartered by the State of Ohio), over the last one hundred years or so, the seal has been a relative constant in its use and design.
The issue of a college seal was first taken up by the trustees in 1833 at which time they authorized the president of the board to use the "Eagle side of an American Dollar" to make the mark of the institution on leases, deeds and other legal documents.
With some minor adjustments, it remained mostly unchanged until 1853 when the words "Marietta College, 1835" were inscribed and that version was maintained until 1877 when the seal, much as we know it today, was adopted. It varies from the 1853 design at its center and by including Roman numerals and the Latin words for Marietta College.
Watch that Seal!
An interesting sidebar to the story of the seal is to be found on campus to this day. A rendering of the seal sunken into the steps of the Legacy Library is believed to hold the key to how many years it might take for an individual to graduate. Avoid stepping on the seal, and it requires only four. Step on the seal, and it adds an extra year.
Sources: "In the Various Branches of Useful Knowledge." by Dan McGrew, A Pioneer College: The Story of Marietta, by Arthur G. Beach, The Marietta Daily Times, The Marietta Alumnus.