Born Leaders: 1980s alumni take over Chair, Vice Chair posts on Board of Trustees
As the May meeting of Marietta College's Board of Trustees was coming to a close — on Zoom of course — Matt Weekley '81 added a few final remarks.
"I want to thank George Fenton for his outstanding leadership as Board Chair during some up-and-down times at the College," Weekley says. "I am also pleased to know that he will remain on the Board as I begin my time as the Chair."
Weekley, who served as Vice Chair for the past two years, is excited to take over the top spot on the Board, but it is something he never envisioned.
"The College has always had a special place in my heart, providing me a strong liberal arts education and blessing me with life-long friendships and memories," he says. "I'm in a position now where I can give back to an institution that has meant so much to my family and me. Both of my parents graduated from Marietta in 1956 and my sister graduated two years after me. The timing is right too — my retirement date of June 30, 2020, enables me to spend the time to support MC."
As colleges and universities around the nation are navigating the COVID-19 pandemic, Weekley says he is looking forward to helping lead Marietta College.
"I'm confident that President (Bill) Ruud, the faculty, and our staff are prepared to lead us forward and actually make us stronger than before," Weekley says. "Over the last several months, I've watched firsthand as we plan for the future and I've witnessed the creativity, energy, commitment, and smart ideas exhibited by all."
Weekley, along with Fenton, has remained engaged with daily discussions by joining members of the College during Zoom meetings as campus closed to in-person learning and now as Marietta works to have students return in the fall.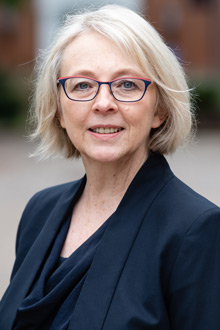 "I've been very impressed by what I've seen and heard from President Rudd and his leadership team," Weekley says. "The Midwest has many fine colleges and universities and I've been keeping tabs on how they are responding to the COVID-19 situation. I can confidently tell everyone who cares that Marietta College is at the front of the pack in terms of proactively and creatively developing solutions that are in the best interest of our students, parents, faculty and community — both in the near term and long term."
Ruud, who begins his fifth year at Marietta in July 2020, is looking forward to working with Weekley.
"Marietta College is fortunate to have someone with Matt Weekley's strong and varied leadership experience as our Board Chair," Ruud says. "Matt has a strong connection to his alma mater, as well as a wide network of Marietta alumni that he remains in contact with. He is also a well-respected member of the Board whose opinions are sought out when we are talking about the bright future of the College."
Weekley, who is beginning his seventh year on the Board, has spent his entire career in the healthcare field, most recently serving as leader of Plante Moran's national healthcare practice, where he was responsible for strategic planning, revenue growth, development of the partners and staff, and client service excellence.
"My retirement plans include spending time with my family, volunteering at church, traveling and exercising," he says. "My wife, Joanne, and I will split our time between Ohio and Florida, with me sneaking away from time to time for golf in Arizona."
Taking over his spot as Vice Chair is Mary Studders Korn '82, who is starting her fourth year on the Board.
"This is an opportunity to give back to an organization that I love so much," says Korn, who lives in the San Francisco Bay Area with her husband, Thomas. "There is a huge opportunity for the Board, under the outstanding leadership of President Ruud, to continue building connections with the faculty, staff, students, parents and alumni. Serving on the Board is both a privilege and a responsibility."
Korn has more than 25 years of experience as CFO/COO working with public and private technology and consumer products companies. Mary is the CFO for Linear Labs, a smart electric motor company based in Fort Worth, Texas. She travels between California and Texas. Her career focus is on building venture capital-backed technology companies and growing them through the exit stage.
"The education experience at Marietta College led me to a career in finance and technology. The life-long friendships I developed while a student are endearing and the stories enduring. … Marietta was the right choice for me at 17," Korn says. "I enjoy every visit back to our beautiful campus, seeing the people I know and also meeting new people. I love interacting with students at events, going to a crew race, softball, or soccer game, and of course going downtown to support local shops and restaurants."
Weekley and Korn are both excited to lead a talented and diverse Board.
"Not only do (the Board members) have great résumés, but their thoughtful and articulate contributions to the strategy and direction of the College are immeasurable," Weekley says. "Their time commitment for Board meetings, committee calls and attending Marietta College events is extremely impressive. But it's more than that — it's the esprit de corps, the energy and always wanting to do the right thing that makes it such a pleasure to be a part of this Board."