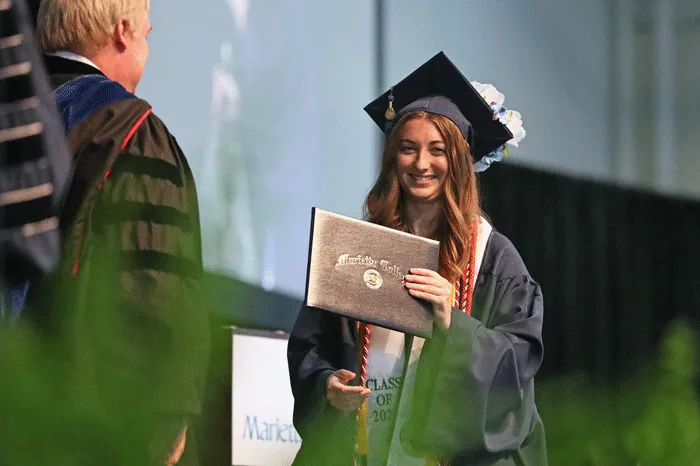 For most of Marietta College's Class of 2023, their careers are off to a fast start just four months after graduation, demonstrating the value of an MC education.
According to Dr. Andrew Smith, Assistant Dean of Outcomes Data and Accreditation, Marietta's placement rate is 97% and will only get better over the next two months. The six-month mark is when most institutions, including Marietta, officially count the final success rates.
"Despite some economic uncertainties, the job market remained fairly robust for our 2023 graduates," Smith said. "While hiring reports were mixed throughout the year, our alumni ultimately fared very well in securing positions and matriculating into top graduate programs. This continues to demonstrate the versatility and adaptability afforded by a liberal arts education. Our graduates enter the workforce equipped not only with expertise in their chosen fields but also with the critical soft skills employers seek, such as communication, collaboration, and problem-solving abilities. It is exciting to see that the well-rounded foundation provided by Marietta College continues to prepare graduates for success."
Marietta calculates the placement rate on the number of graduates who are employed, enrolled in a graduate school, serving in the military, or volunteering with an organization like the Peace Corps. 
Marietta's four-year placement rates (data collected six months post-commencement):
2023 = 97% (at four months)
2022 = 91%
2021 = 93%
2020 = 87%
"This positive trend demonstrates the value of Marietta College's first-class education," said Dr. Jacqueline Khorassani, Senior Director of Entrepreneurship & Career Development. "At Marietta, student success is a team effort. The dedicated faculty go above and beyond to provide an exceptional educational experience, mentoring students both inside and outside the classroom. Research opportunities allow undergraduates to develop critical skills. Supportive staff lead programs and activities that complement coursework and promote well-rounded growth. This holistic approach nurtures graduates who are prepared to excel in their careers and make meaningful contributions to society."
This quick career launch highlights the preparation and opportunities Marietta College provides its students. The average salary for those working is $61,202. All seven Biochemistry graduates are in a graduate program, including medical school and master's programs for physician assistant studies.
"Marietta College has long been committed to fostering excellence in Biochemistry and guiding students toward rewarding careers in healthcare. The Biochemistry program boasts an exceptional track record of preparing undergraduates for acceptance into top medical, dental, and physician assistant programs," said Dr. Jim Jeitler, Chair of Chemistry and Biochemistry. "Our faculty are dedicated to providing a strong undergraduate experience that includes research opportunities, critical lab skills, and amazing mentorship."
The Petroleum Engineering program also has a strong track record, with graduates routinely recruited by top energy companies. Presley Palmer '23 is an associate gas field engineer with Columbia Gas in Columbus, Ohio. She is one of the 21 graduates who secured their first jobs within four months of graduating.
"I think the biggest way Marietta College prepared me for my first job was through the petroleum program having faculty members with experience in the industry," Palmer said. "They gave very helpful guidance and advice since they had experienced the same things we were about to. My experience at work is great, and I feel like I was able to transition smoothly into the role upon graduation."
Marietta's Education Department has consistently ranked among the best in Ohio, and seeing 100% job placement is not new, according to Dr. Tanya Judd, Chair of the Education Department. There were 17 May graduates with a teaching license, and all were working in schools this fall.
"Marietta's Education graduates are highly sought after by school districts around the state and the nation," said Dr. Tanya Judd, Chair of the Education Department. "The Education Department is dedicated to student success, and we have consistently had high placement rates for our graduates. I consistently share our success metrics with prospective students and parents because I want them to know that we are going to prepare them for a successful future."