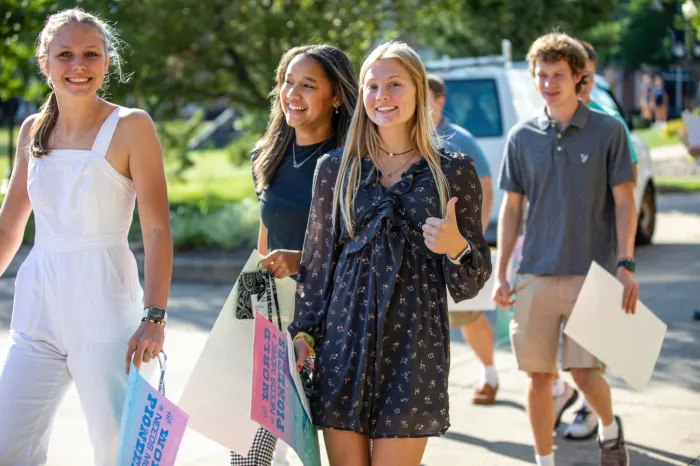 Marietta College announced today that it will give at a minimum an $18,000 scholarship to all Ohio residents who are new enrollees as an undergraduate starting in Fall 2023. The scholarship will be renewed each year the student is enrolled at Marietta, which will equate to a $72,000 savings over four years.
To be eligible, the accepted student must have an overall high school grade point average of 2.95 or higher when they apply. Students are also eligible to earn larger scholarships, including full-tuition scholarships, based on their academic performance. To learn more, please visit www.marietta.edu/scholarships.
This initiative is part of the College's strategic plan to embrace being a Student Ready College.
"Throughout my career in higher education, I have witnessed many families make a decision about applying or visiting a school strictly based on the tuition listed online or in a publication. What they did not comprehend was that this price is typically lowered through scholarships and financial aid," said Dr. Bill Ruud, Marietta College's 19th President. "What we are doing with this scholarship program is enabling Ohio students and families to obtain an amazing and highly valuable Marietta College education at a price they know they can afford."
Marietta has consistently been ranked as a top college by many publications and outlets, including U.S. News & World Report. The College has also fared extremely well on multiple lists that compare mid-career and overall career salaries.
"We are setting students up to experience successful careers, while also helping them find a sense of purpose in their lives," Ruud said. "By offering at least an $18,000 scholarship, we are allowing the student and the family to make a decision that is based on the best overall fit and not strictly on what it will cost. That is a win for everyone."
Marietta College will not set the undergraduate tuition rate for 2023-24 until October, but applying the $18,000 scholarship to the 2022-23 undergraduate tuition ($36,956) would mean the base tuition this year for an Ohio resident would be $18,956 this year.
"We want high school students and transfer students in Ohio to think of Marietta College as their top choice for continuing their education," said Scot Schaeffer, Vice President for Enrollment Management. "Through our own research and by reviewing data that is available, Marietta College graduates are more likely than graduates from many of the schools that we compete with to find meaningful careers and earn larger salaries."
Room and board and general fees for 2023-24 will also be determined in October, but to help families calculate the potential first-year price, the 2022-23 cost for those items is $12,168.
In addition to this discount for Ohio Residents, Marietta College has multiple tuition payment options and boasts a full-service team of financial aid and enrollment experts to ensure that students who want to attend college can do so at an affordable cost.
To find out how you can save on tuition at Marietta College, contact the Office of Admission at (740) 376-4600 or at mcadmit@marietta.edu.