Ask almost any faculty member, and they will share with you the challenges of teaching in a post-COVID environment.
The biggest impediment is how months and even years of remote learning negatively altered how new students have adapted to traditional academic expectations in college.
Two Marietta College faculty members — English professor Heather Sowards and Communication professor Marilee Morrow — have embraced Marietta College's strategic initiative to become a student-ready college, and view teaching to be a constant work in progress.
Their hard work and dedication to helping students succeed were recently recognized as Sowards and Morrow were named the 2023 McCoy Professors — the highest faculty honor at Marietta College. They increase the number of different faculty members to receive the honor to 44 since its inception in 1995.
 "I have worked to revitalize some of my course content to make it more accessible to students who may be entering college without a certain skill set or even level of confidence," Sowards says. "So, in my writing classes, I delayed grading writing assignments until the third paper. Students worked hard to fine-tune papers and meet the requirements of a rubric, but they only received a participation grade for meeting the workshop requirements and visiting the writing center. I think this new approach was very successful, and I was able to share those results with the McCoy committee."
Morrow believes her teaching approach has benefited students in the short and long term.
"The Applied Production classes I teach can be very scary for some students because they are really putting themselves out there," she says. "They learn how to accept constructive criticism. I find it rewarding when they go through the process and develop these transformative skills. You never know when you have to kick it into gear in a job interview or in a meeting, but I know these classes prepare them for these moments."
The late John G. '35 and Jeanne McCoy established the four-year recognition plus stipend in 1993 as part of the McCoy Endowment for Teaching Excellence. After Sowards and Morrow were identified as award contenders, a group of nationally recognized teachers working outside of the Marietta College community reviewed their portfolios and observed their classes.
"I was actually nominated by a very supportive colleague. I think the prestige and honor associated with this award is what influenced me to go through the process," Sowards says. "To begin, you must compose a portfolio. In the portfolio you must include two letters of recommendation, a teaching philosophy statement, and the breakdown of a few assignments."
Morrow was nominated by a colleague as well.
"There is a lot of work that goes into this," Morrow says. "You have to think about what you are going to choose to share, and you are guessing at what you think the committee is going to want to see. You put all this time in before you know you are a finalist. Then the committee comes in and observes classes and interviews students. I am never nervous teaching a class, but I will admit I was nervous when they arrived. However, they were friendly, and that made it easier."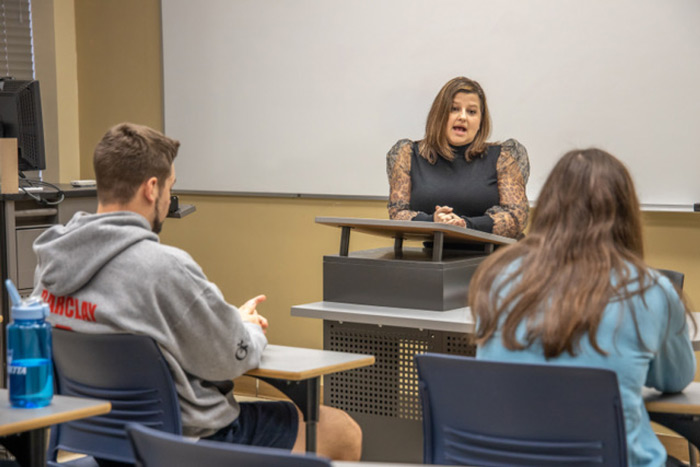 Dr. Chuck Stinemetz, Interim Provost and Dean of the Faculty, surprised the two winners when he delivered the news as they began to teach their first class of the day in early December.
"We were screening the students' work, and we just started watching the first student's project when Chuck entered the room," says Morrow, who joined the faculty in 2002. "As soon as I saw him, I had an idea that it might be about the McCoy Award. He was so good at announcing the award, and it was so exciting that the students all clapped."
Sowards, who joined the faculty in 2016, appreciated the way she learned about the honor.
"It was such a shocking, exciting moment. I was elated and emotional," says Sowards, who has taught a variety of classes, including British Literature, Concepts of Gender, and Business Writing. "I appreciate that he delivered the news in person and shared that with one of my classes. It definitely ranks in the top five moments of my career."
Stinemetz says both faculty members exhibit the very best teaching traits of what Marietta College faculty are known for — being creative, caring, knowledgeable, and engaging. 
"The outstanding teaching of Marietta College faculty forms a special learning relationship between our faculty and students," he says. "I thought it best if I shared this news with both the faculty and the students in their classes. The response of the students to these announcements clearly demonstrated that these faculty were well-deserving of this award."