Tim Catalano and Kevin Pate were part of the same faculty cohort that arrived at Marietta College in the fall of 2001.
Both of them are respected "veteran" faculty members today — Catalano in the English Department and Pate in the Chemistry Department. Recently, they learned how much their efforts and contributions in and out of the classroom are valued as the two were named the 2018 McCoy Professors — the highest faculty honor at Marietta College.
"It goes without saying that this is as big of an honor as I could receive at Marietta," Pate said. "There are many outstanding faculty on this campus who have received the award in the past, and many others who probably deserve to. Thus, being selected as a McCoy Professor again is a great honor."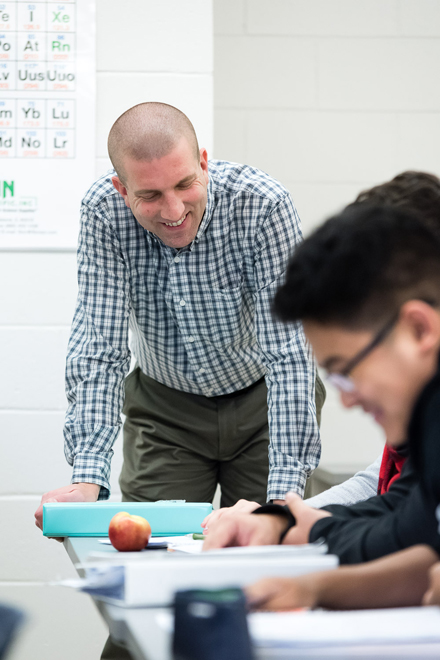 Catalano was humbled to hear he had received the McCoy award.
"You feel very fortunate. It's not just that year, but the years of work that you have put into teaching, advising and getting better at what you do," he said. "You feel fortunate to get recognized, and you feel lucky too because there are a lot of good faculty members at Marietta College."
Catalano and Pate join a prestigious group of faculty who have received this honor. Since its inception in 1995, the award has been earned 41 times. Only four have earned the honor twice, including Pate.
"I had won it previously in 2005 and hadn't intended to apply again, but I was encouraged by some of my colleagues to reapply, so I did," Pate said. "Receiving the award the first time was amazing, and receiving it again is hard to describe."
The late John G. '35 and Jeanne McCoy established the four-year recognition plus stipend in 1993 as part of the McCoy Endowment for Teaching Excellence. After Catalano and Pate were identified as award contenders, a group of nationally recognized teachers working outside of the Marietta College community reviewed their portfolios and observed their classes.
Catalano is a McCoy Associate Professor of English, and he believes he gains more confidence and patience with each passing academic year.
"Every year you are making adjustments, but now I feel a little smarter and more focused," he said. "I love the opportunity to work with new students every semester. Every semester, you come in you have 75 to 80 students you've never had a chance to work with before. As the semester goes on, you get to know them better. After a few weeks, I make it a point to know all of my students' names and where they live. Since I teach writing, I get to see more of their personality."
One of those students was Derek Hennen '12, who graduated with a Bachelor of Science in Biology and Bachelor of Arts in Spanish. Hennen took a Rhetoric of Science course with Catalano in 2011, and the class had a major impact on him.
"It was easily the best course I took as an undergraduate," said Hennen, who is a third-year Ph.D. student at the Marek Lab of Systematic Entomology at Virginia Tech. "It made a big impact on me as I've been training to be a scientist. It would be great if every scientist had to take a class like that."
Pate is a McCoy Professor of Chemistry, and he credits his students with helping him receive the award.
"They're the reason I work so hard," he said. "They're what makes my job fun."
He also feels his flipped classroom approach to teaching organic chemistry was another key reason he was named a McCoy Professor for a second time. A flipped classroom is a pedagogical approach that involves delivering course information outside of class, usually in the form of videos, while using in-class time to discuss and solve problems. Pate spent a sabbatical in Spring 2015 creating all of the videos for his class, and has employed the flipped classroom approach for the last three academic years.
"I think I have the ability to make a very complicated subject understandable to both introductory and advanced students," Pate said. "I also think my students benefit because I'm probably one of the most approachable and accessible faculty members you will find. My students can set their own office hours with me using a website that allows them to book appointments that fit their schedules."
Adam Garlow '17, a first-year graduate student at Brown University, and one of his former students said Pate was a "phenomenal mentor."
"Early on at Marietta, I made it clear of my intention to pursue a Ph.D. in chemistry and become an organic [chemistry] professor," Garlow said. "He took it upon himself to offer outstanding advice and guidance from the lab to the classroom gained over his years of teaching. He also selected me to be his (Teaching Assistant) for his organic [chemistry] lecture, which allowed me the opportunity to lecture both with him, and occasionally independently, to get his feedback on my strengths and weaknesses."
Catalano and Pate agree that while the McCoy honor is a recognition of the individual, there are many other people who help make it happen.
"Linda Roesch (Instructional Technologist) and Gary Bosworth (PC Technician) were incredible resources throughout my journey to 'flip the classroom' in organic chemistry," Pate said. "The primary reason I reapplied for the McCoy was because of the tremendous amount of work that went into that process. I thought it was such a huge change from what I was doing the first time I won the award that it justified reapplying for the McCoy. However, there is no way I could have done all of the work on flipping the classroom without the support from Linda and Gary. They helped me immeasurably along the way by providing resources and feedback on the work I was doing. They are outstanding at what they do."