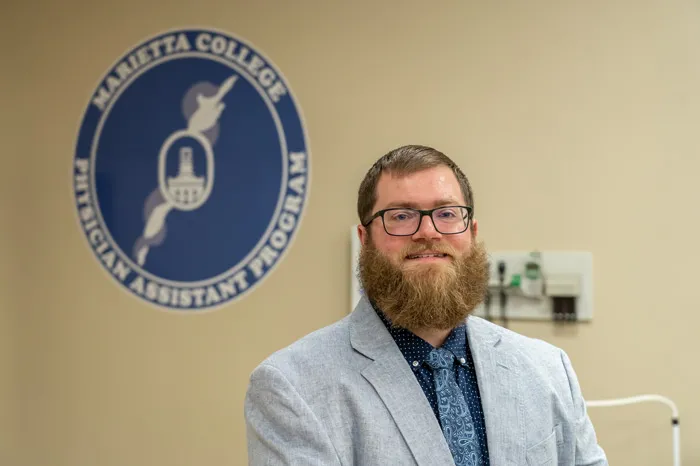 Dr. Stephon Poulton cherishes the opportunities he gets to do multi-disciplinary collaborations — especially when the project is conducted locally and has an impact globally.
In December, he joined four other researchers to present their findings regarding the implementation of a pharmacist-led COVID-19 pre-exposure prophylaxis program in a community-based health system ambulatory oncology clinic. The poster presentation was at The American Society of Health-system Pharmacists' Midyear clinical meeting in Las Vegas.
"Regarding the research itself, in summary, is that a pharmacist-led multi-disciplinary team was able to offer COVID-19 directed therapy to an at-risk population," he said. "This process can be applied to future treatment modalities. Multi-disciplinary or interprofessional collaboration is the backbone of a project like this."
Poulton, an adjunct faculty member in Marietta College's Physician Assistant Studies Program, is a full-time clinical pharmacy specialist in hematology/oncology at Genesis Healthcare System in Zanesville.
The presentation was based on a program that provided tixagevimab/cilgavimab (Evusheld), an infection-prevention therapy targeted against COVID-19 to immunocompromised patients. With physician approval, pharmacists counseled and offered patients Evusheld. If patients agreed, pharmacy technicians prepared the medication, and nursing staff administered the therapy in the cancer center.
"This multidisciplinary process being driven by pharmacists is unique," Poulton said.
Poulton is a Board Certified Pharmacotherapy Specialist (BCPS) and Board Certified Infectious Diseases Pharmacist (BCIDP) through the Board of Pharmacy Specialties. He hopes his involvement in the study and presenting his research sends a positive message to his current students.
"Stephon has been a valuable member of the Marietta College Master of Science in Physician Assistant Studies program as an adjunct faculty since 2017," said Christi Gierhart, Director of Marietta College's Physician Assistant Program. "He currently teaches Pharmacology I and II as well as Human Physiology I and II for our program. His commitment to his profession as well as our students and future health care providers, is a true testament to his character, and we are so grateful to have him as a part of our team."
Poulton is proud of how the project showed a real-world example of how the healthcare team worked together to achieve a goal.
"Having a pharmacist teach in the PA program itself is interprofessional," he said. "The project provided a discussion point in the classroom for my current students. We discussed how the medication worked and what it took to roll this process out. At the conference, I could share with other pharmacists the interprofessional process and my students. The topic of the project also showed the students how their professor is not just keeping them up to date on processes and treatments but a practicing clinician as well."
Poulton prides himself on connecting his experiences with his students, who are future healthcare workers.
"The whole experience hopefully shows my students that no matter where you practice geographically, you can contribute to the advancement of your profession," he said. "The more colleagues know how each other's profession works, the more effective the team can be. … I will always encourage students to participate professionally as my professors did to me. Submit for publication, submit to present a poster or give a lecture or go and attend the meeting. You never know where the experience will lead you. You never know how it can help you in the future." 
Marietta College's Physician Assistant Program started in 2003 and is considered one of Ohio's top programs. There are currently 36 students in the 12-month didactic phase (classroom) and an additional 36 students in the 14-month clinical phase (rotations). In June, the College will welcome 36 new students, while the students in the didactic phase transition to the clinical phase.
"I always try to bring what I am doing and seeing in the real clinical world into the classroom," Poulton said. "Students need to know the information but also how to use it. My goal is to show them how to use it through my own actions and help create a clinical process that improves the care of an at-risk population, and sharing it at a national level should be an ideal example."