You won't be the same after your four years at Marietta. 
The status quo doesn't cut it here. In an environment where we celebrate curiosity, inspire independence and praise perseverance, how could you possibly stay the same? Professors will challenge you to dive deeper through independent projects and internships. Coaches will demand extra reps after practice. Friends will support your every step. At Marietta, you will emerge ready to change the world.
Our Admission Philosophy
Marietta encourages all qualified students to apply for admission. We make our admission decisions on a rolling basis. Admission is competitive. That's why we carefully consider each application.
Marietta College seeks students prepared to meet the challenge of a rigorous college curriculum. The Admission Committee considers the applicant's high school record, including the college preparatory courses taken, grades received, and scores on national examinations. Furthermore, the Committee evaluates each applicant's energy, motivation, potential, emotional maturity, seriousness of purpose, and attitude toward learning.
We seek students who are more than just academically prepared. Marietta College prides itself on its strong sense of community and its students' diverse backgrounds and varied interests. The Committee considers how each applicant will bring quality and vitality to the Marietta community. Such things as extra-curricular activities, non-academic interests, and creativity all become part of the admissions decision.
Marietta College is a National Association of College Admission Counselors (NACAC) member and endorses the Statement of Principles of Good Practice.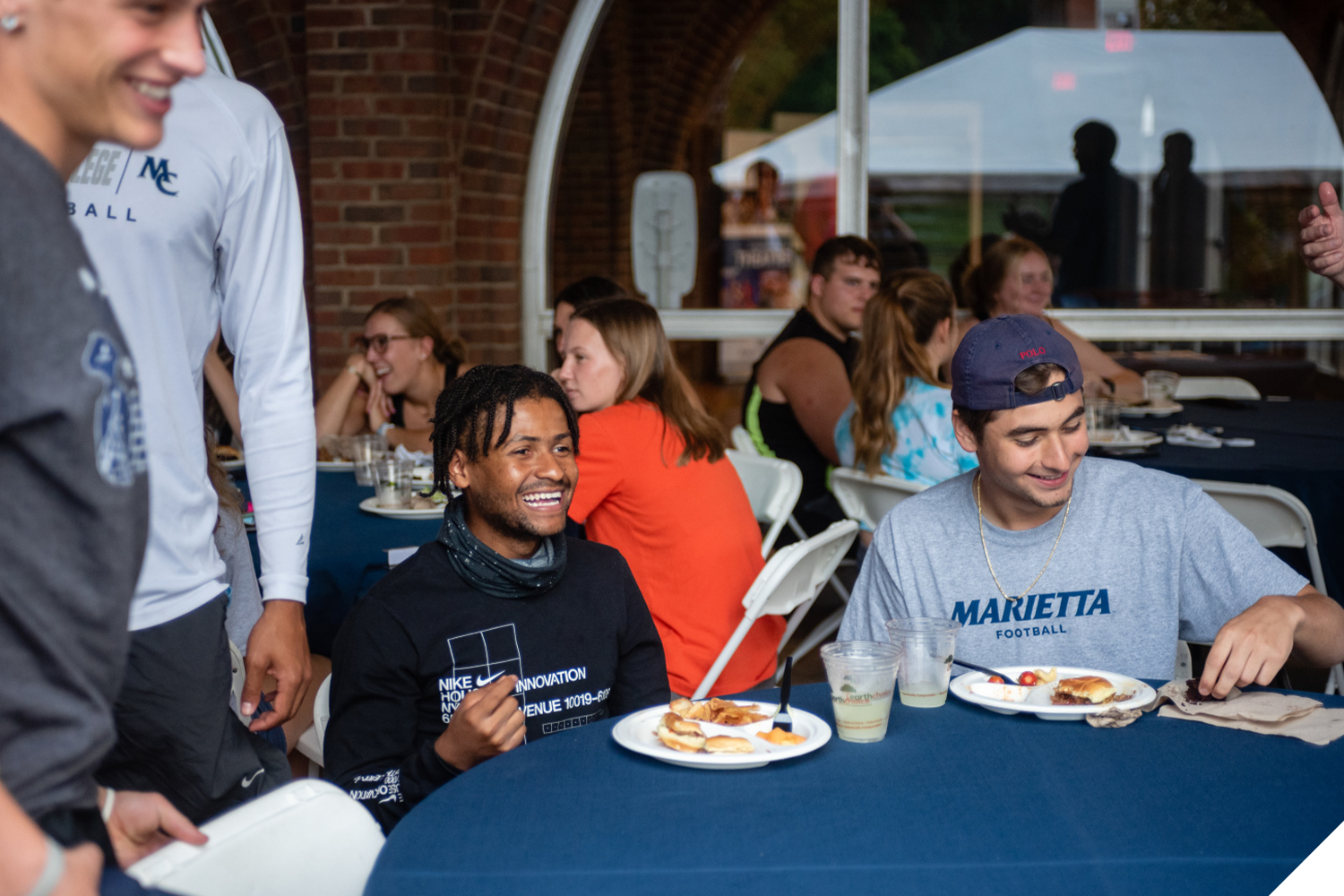 You value quality education.
We make it attainable.
Our approach to financial assistance is simple: We want to make Marietta College affordable to every qualified student who desires to attend. A high-quality, private education is expensive to provide, and we will expect you to pay your fair share of its cost. However, we are a willing partner with you in making Marietta possible. Each year we commit more than $24 million of our funds to financial assistance. Our program is extensive and includes merit-based scholarships; federal, state, and Marietta College need-based grants; state and federal loans; and student work-study.
Make your college experience memorable.
FAQs
How much does Marietta College Cost?

A general breakdown of tuition, room, and board can be found here. Also, about 91% of freshmen & transfers receive some form of financial aid. For more information, see the Financial Aid website.

How many students attend Marietta College?

Total enrollment for the 2022-23 academic year is 1,198 students from 32 states (including Washington, D.C.) and 14 countries

What degree programs does Marietta offer?

Marietta offers more than 40 undergraduate majors. Programs include leadership, petroleum engineering, fine arts, sciences, athletic training, education, and journalism. Students have boundless opportunities for field experience, professional internships, and study abroad. Learn More

What if I haven't decided on a major yet?

Students can enter Marietta College in one of two ways. You can declare a major or come in as Exploratory with interest areas. Many students choose the latter option to give themselves time to explore the various majors and minors available. For more info about entering as an Exploratory Student, visit the Exploratory Student page.

What do students do for fun?

We have more than 80 active clubs and organizations on campus. They include academic and professional clubs, community service organizations, honor societies, governing bodies, media and publications, religious offerings, sports and recreational clubs, Greek organizations, and various multicultural and special interest groups such as Brother 2 Brother and Global Connections.

And if you can't find what you are looking for already on campus, you can start your own organization. New student organizations are formed throughout the year, and the Office of Campus Involvement staff will provide you with the guidance and materials needed to start a new organization at Marietta College. Check out the Office of Campus Involvement page for more info.

What sports does Marietta offer?

Plenty! From our National Championship - winning Baseball and Gold-Medal winning rowing teams, to intramural ultimate frisbee, cheerleading, and pickup racquetball games, Marietta has your sport. 

Visit the Athletics Department website for more info.

What are the Residence Halls like?

In a word — excellent! Check out the Housing website for general info about Marietta's sleeping arrangements, or start at the housing FAQs for specific frequently asked questions. Also, the Campus Life section will give you an overview of other facets of Marietta life, including dining, parking, campus mail, and more!

How safe is the campus?

Marietta is a small community and a closed campus. Our students feel very safe, even at night. For more info, the College Police Department publishes annual information on Campus Crime Statistics.

How can I learn more about Marietta College?
Contact Us
If you have questions about Marietta College and would like to receive more information or speak to an admission officer, please complete this form or contact our offices by phone or email at 1.800.331.7896, 740.376.4600, or admit@marietta.edu.
At Marietta College, we respect your privacy. Any information you provide to us will be used solely for admissions purposes. Marietta College will strive to protect your privacy. If you are concerned about privacy and confidentiality, you may call our Visit Coordinator in the Office of Admission at 740.376.4600.
---
Statement of Nondiscrimination
Marietta College admits students of any race, color, national or ethnic origin, disability, gender orientation, or religious affiliation to all rights, privileges, programs, and activities generally accorded or made available to students at the school. It does not discriminate on the basis of race, color, national or ethnic origin, disability, gender orientation, or religious affiliation in administration of its educational policies, admissions policies, scholarships and loan programs, and athletic and other college-administrated programs. If you have any questions regarding our non-discrimination policy, please contact Marietta College's Office of Human Resources.
---