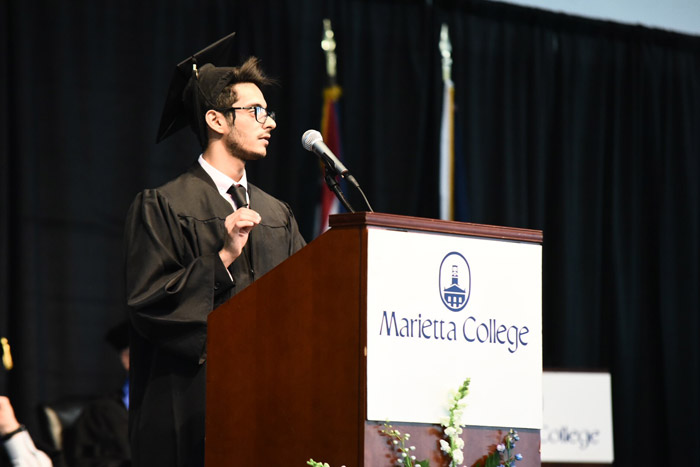 President Rudd, distinguished faculty, fellow graduates, families, and friends, thank you for this opportunity to speak today.
Honored graduates, it is my great privilege and solemn duty to inform you this afternoon that each one you is a Zizzer Zazzer Zuzz. Whether male, female, rich, poor, happy, sad, or…confused – each one of you is Zizzer Zazzer Zuzz and I stand before you to declare with all warmth and sincerity that you need be nothing else to enjoy this moment of great accomplishment. You need be nothing else to make unlimited discoveries about your talents and ambitions. Of course, you're wondering: what is a Zizzer Zazzer Zuzz? And whatever it is, what does it have to do with me and my future? The answer is: the letter Z.
Most of us think of the letter Z as the end-stop of the alphabet. A rare letter that's so rarely used you can play it as a triple letter score in Scrabble and instantly turn your friends to enemies. Play a word like "agatize" some time and watch what happens. Then there's the word "zyzzyva" that in a lot of old print dictionaries is the very last word you'll find. Three Z's for a word that is the name of a species of a Brazilian beetle makes the letter Z  exotic and weird and let's face it: there's something about Z that we find exciting and intriguing. Z represents the end for most people, but at the same time its exotic nature opens up the imagination and suggests beginnings, discoveries and even mysteries.
That said, I will remind you of the exact meaning of the term: Zizzer Zazzer Zuzz since most of you seem to have forgotten its magical connotation. But before I define the term for you, I must praise its creator, the great Dr. Seuss. In his infinite creativity and wisdom, the good Dr. chose to end his early reader book Dr. Seuss's ABC: An Amazing Alphabet Book! with a word so original it literally has no meaning. Millions of children all over the world, learning about the letter Z, now encounter an unidentifiable creature lying around in a strange forest who states: "I'm a Zizzer Zazzer Zuzz" as you can plainly see." (Seuss 12). This creature, which holds no resemblance to anything in any zoo or wilderness on earth, is quite definite of its own identity. Placing a mysterious and lazily confident creature at the end of the alphabet was a stroke of genius by Dr, Seuss. He understood the inherent power of the letter Z to stand for endings and beginnings simultaneously.
This strange creature symbolizes the precise moment each of us face when we graduate from one age to another, whether it is learning the alphabet, or graduating from college to a career in science, athletics, business, or the arts. Each of us at this moment is that creature: satisfied and joyful about ourselves, branded with a self-earned, individual identity and degree, but still mysterious in many ways to both others and ourselves. What is important in this moment of transition is to embrace the joy of accomplishment and celebration while remembering that each end marks a new beginning and with new beginnings emerge new challenges and responsibilities.
In this spirit it is essential that we keep the fire of discovery and learning alive in our hearts even as we graduate. We must remember that our actions are consequential not only for the future they create for ourselves, but for the reality that is experienced by others. As a past graduate of this institution, the writer Joy Williams famously stated: "Nothing we do is inevitable, but everything we do is irreversible." (Williams). Her observation that nothing is inevitable marks the reality and responsibility of our personal freedom. Her caution that actions are irreversible reminds us that thought always precedes action, so it is essential to maintain a capacity for critical thinking even after our formal studies have ended.
Moving forward from today we remain Pioneers, both as alumni of this prestigious college and as individuals empowered by a first-rate education, privileged to enter a free and democratic society that exists only at the price of the unforgettable sacrifice of the millions who have fought and died to defend it. As a native of Kuwait, I understand firsthand how essential the role of freedom, diversity and democracy is to the world. In 1991, The United States and Saudi Arabia devised a coalition that saved Kuwait from hostile invasion by Iraq  through military intervention. Since that time, the United States has become an unrelenting force for freedom and democracy in the Middle East. It is our responsibility, as graduates of this great school, to individually uphold and revere the ideals of liberty and cultural tolerance and diversity that make this country the leader of the free world. We must all unite together socially, economically and politically despite our outward differences. Within us, beneath stereotypes, headlines, and conflicts is a common bond of humanity, creativity, fellowship and hope. That bond is what makes this College and this great country possible.   
Each of us here today understands the grave issues that currently face our nation and the world at large. One thing each of us can do in our own lives to make facing these challenges easier is to surround ourselves with those who believe in the future and who believe in finding sustainable solutions to the problems we face, whether they are cultural, political, or economic in nature.
As former First Lady Michelle Obama once said "Choose people who lift you up." (Obama). Of course, in turn, it goes without saying that you should always do your best to lift others up, because joy, like sorrow, is contagious.
I'd like to end this little talk by referencing the Anderson Hancock Planetarium because referencing galaxies, planets, and nebulae would be the most badass way ever to end a speech. But since I can't do that, I'd like to leave you with this startling fact: The DNA material in your body, if uncoiled, would stretch from here to Pluto – and back again – more than fifteen times. That's how much information is intrinsically part of your design. You are unique, fantastically original, with dreams and ambitions that are literally coded into your thirty-trillion cells. Go now and be the best Zizzer Zazzer Zuzz that you can be.
[]