I had the good fortune of being a member of the Pioneer Crew from 1964 to 1967 under the coaching leadership of Ralph Lindamood. 
My defining Marietta Moment was on May 21, 1966, in Philadelphia at the finals of the Dad Vail Regatta. I was in the stroke seat of the Junior Varsity boat affectionately referred to as Mad Manny's Marauders after our No. 4 seat, Pete Frankel's father.
The freshman boat had just won their race as we headed up to the starting line. We had a decent start and were rowing comfortably down the course. During the course of the race, we were staying in second place, pushing Georgetown. Georgetown was rowing at 38 strokes per minute. We were at 34 and holding them. With about 100 meters to the finish, Bill Barnes, our coxswain, called for our sprint. I ripped my oar through the water and shot up to the catch. All of the seven other oarsmen were right with me. We all caught at the same instant. For a fraction of a nanosecond the whole boat quivered then virtually shot ahead through the water. We had just gone from 34 strokes per minute to 42. We literally stormed by Georgetown to cross the finish line by a half-length ahead of them.
The varsity promptly went out and blew the entire varsity field out of the water. Marietta College had just swept the 1966 Dad Vail Regatta. No other school has done that since.
I'll always remember Coach Ralph telling us: "They may be bigger than you. They may be stronger than you. And they may even have better equipment than you. But they'll never out-work you!" That was proven with our final sprint. I'm sure all of Mad Manny's Marauders will take that sprint to our respective graves.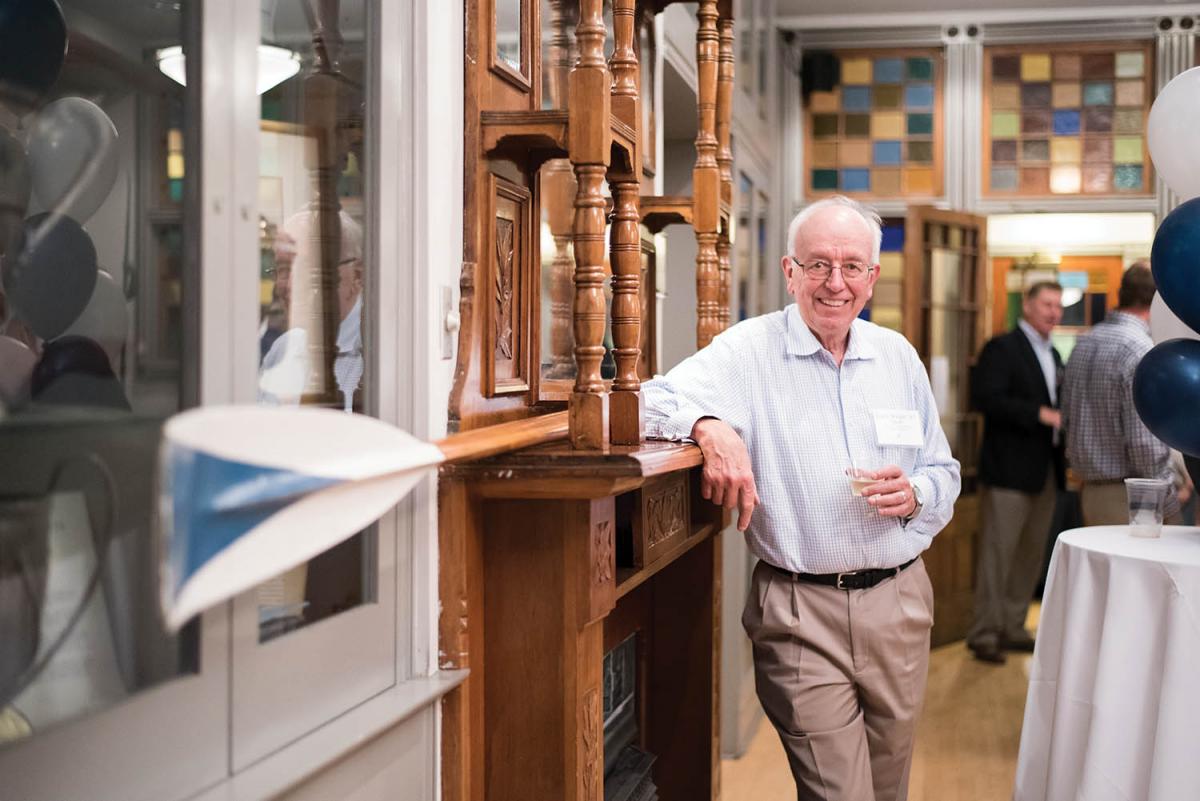 > The oar that Frank Wright '67 used during the 1966 Dad Vail Regatta hangs proudly in the renovated Lindamood/VanVoorhis Boathouse. Frank came to Marietta College from his hometown north of Boston and he majored in Economics and History. "My freshman year, I didn't row at all, but spring of my freshman year, my friend Tim Jenkins '67 and I decided to go out for crew. I was 225 pounds in September, and by March I weighed in at 185. When we got to the starting line, no one was in better condition than us." Frank worked in banking and is now retired in Cape Neddick, Maine. 
---
Do you have a defining Marietta Moment you would like to share?
Send us a description of your experience.
Email: marketing@marietta.edu
Mail: Editor, Marietta Magazine, Office of Communication and Brand Management, 215 Fifth St., Marietta, OH 45750