Here are some resources students and faculty can use when delivering and taking courses online
Microsoft Office Word
Every student may download up to 5 copies of the Microsoft Office suite on their personal computers - the suite includes a fully functioning version of Word, Excel, and Powerpoint as well as other Microsoft programs. To get your download log into your email. Look for the 9 dots (box) upper right:
Click on this and look for the Office 365 link:

After clicking on the link, look in the upper right, click on Install Office - this works for Macs as well as PCs. You need to install the Microsoft Office App for phones and tablets.      
Take a photo of handwritten documents
Need to handwrite work for a class or an exam? If you do not have scanning capability,  take photographs of the pages, preferably by using one of the many (free) document scanning apps available for smartphones and tablets.  CamScanner, TurboScan, and Adobe Scan, for example. In general, these apps make it easy for you to stitch multiple photographs into a single PDF document, which will make it much easier for uploading your document to Moodle or emailing it.
Use OneDrive to share files instead of emailing them
As an Outlook 365 user we each have a OneDrive space that allows us to not only share files securely but allows us to share files generally too large for email. To access your OneDrive space, click on the 9 dots box upper right of your email and click on OneDrive.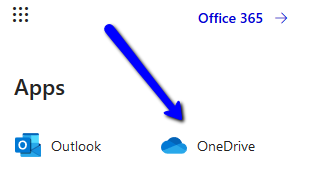 Drag and drop or upload your file to OneDrive and then to share; click on the radio button in front of the file name and choose share in the menu at the top of the page.
Zoom!
If your faculty member or coach is using Zoom and you do not have a WebCam no worries; you do not need one to participate in Zoom! If you do not have a microphone use one of our phone numbers to access the Zoom room - you must know the meeting ID which should be given to you by the person who sets up the room. By the way - logging into Zoom using a Smartphone or tablet is a snap. All you need is the Zoom app and the meeting ID number.
        +1 312 626 6799 US
        +1 301 715 8592 US
        877 853 5257 US Toll-free
        888 475 4499 US Toll-free
Outlook
This is an important time for email. If you keep 'losing' emails in your Focused Inbox, consider turning it off for now.