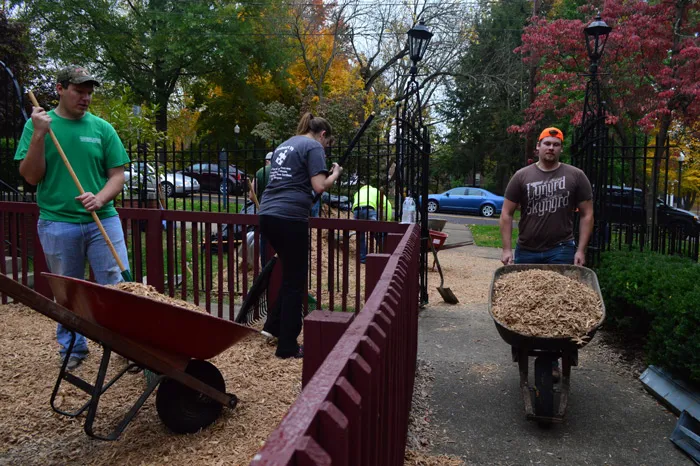 Spending time at the local Boys & Girls Club is a pretty common occurrence for members of Marietta College's baseball team, so when coach Brian Brewer learned the entire campus was encouraged to participate in the campus's first Martin Luther King Jr. Day of Service, he knew exactly where his players would want to be.
"Along with the fact that community service is one of the College's core values, our program has long believed in the importance of giving directly back to the local community and this is a great way to do that," Brewer said. "More specifically, the Boys & Girls Club gives us an opportunity to positively affect not only the local youth but also the entire family unit. We also believe this is a great way to insert our guys into the local community, help to continue to promote 'town and gown' relations, and in a small way show our appreciation to the local folks for making us feel so at home and supported."
Rather than having a regular class schedule on January 21st, students, faculty and staff are invited to participate in one of the organized direct service projects on campus and throughout the community, followed by a campus-wide celebration that includes a reflection and discussion, and service workshops for faculty and staff.
"In one of Dr. King's most well-known sermons, 'The Drum Major Instinct,' he famously said that 'everybody can be great, because everybody can serve,' " said Maribeth Saleem-Tanner, Director of the Office of Civic Engagement, which has partnered with the Office of Diversity & Inclusion to organize the College's first-ever MLK Day of Service. "We've created lots of different opportunities so that every student, from first-year to senior, along with every member of the faculty and staff, has the opportunity to serve during this campus-wide event."
Brewer and his family are close friends with Gary "Moose" Murphy, who owns the Harmar Community Center, which houses the Boys & Girls Club. Murphy's group runs the concession stand at Don Schaly Stadium in the spring. Brewer's players volunteer at the center in many different capacities, including moving furniture/equipment, assisting with some reading programs, and aiding with cleanup projects.
"The folks at the Harmar Community Center and the Boys & Girls Club have combined to present some wonderful opportunities for local families and anything that we can do to not only support that but be a part of it, we will," Brewer said.
In one of the on-campus projects, the College has partnered with GoPacks, a community-based organization that provides local elementary school children with nutritious food options for weekends and school breaks. Volunteers will meet in The Gathering Place at 9 a.m. Monday, January 21st, to pack 100 boxes of food for children to take home during spring break, as well as 100 "Snow Day" food bags. Members of the Marietta community who want to help with this project are welcome to contact Saleem-Tanner at oce@marietta.edu for additional details.
Other direct service projects that Marietta students, faculty and staff may volunteer for include: spending time with children and administrative work at the Boys & Girls Club; helping Marietta Main Street take down and store downtown holiday decorations; helping with a variety of jobs at the Humane Society of the Mid-Ohio Valley; assisting with facility and administrative support at Peoples Bank Theatre.
Saleem-Tanner said volunteers are also be needed to help set up, facilitate and support the registration for morning projects, the luncheon, educational workshops and evening discussions.
"At OCE, one of our goals is to help every single member of our campus community who wants to volunteer to connect with an opportunity in the community that makes them excited to serve and engage," Saleem-Tanner said. "Whether people want to serve for an hour, a week, a semester, or beyond, we have terrific community partners who are looking for people to get involved and we're excited to help individuals and groups to connect with those partners. Service is such an amazing opportunity to build skills, create new connections and relationships, and learn through experience — all while feeling good about giving back."
Marietta College Student Body President Emily Vigue '19 said the Student Government Association encourages members to sign up and volunteer with the various organizations they are involved with to promote overall campus activity. She signed up to help wherever she is needed during the day. She said she is excited about the variety of projects from which to choose.
"Personally, I really like that we are taking the day from classes to do service," Vigue said. "I think the College already does a lot in terms of civic engagement and this allows all students and members of campus an opportunity to participate in that great culture. Watching this idea come to fruition has been really exciting and I look forward to seeing the impact the day has on campus."