Campus continues adapting to online learning, isolation
As it became clear that students would not be returning to colleges and universities across the U.S. amid the COVID-19 pandemic, Marietta College quickly adapted and classes are running fairly smoothly.
However, there have been challenges. Fortunately, it looks like everyone — students, faculty and staff — is rising to the occasion.
"Switching to online teaching has been incredibly difficult, and I know students find it challenging as well. But here's the thing: we're doing it," said Dr. Bev Hogue, McCoy Professor of English. "With widespread support from the College, we're stepping up to the challenge and making learning happen, and we're even figuring out how to have some fun at the same time. The first time my Concepts of Nature class met online, I invited students to join me in exploring Terra Incognita, the unknown territory, and the journey we're taking through this wilderness keeps showing us what it means to be a Pioneer."
Without the typical comforts of campus — easy access to Legacy Library, face-to-face conversations and reliable internet access — everyone is learning to adapt. Almost immediately, Dr. Hogue (and her students) learned this tough lesson.
"In my 8 a.m. American Lit survey class, a student living in a different time zone has to get up at the crack of dawn to join our Zoom discussion at what for her is 6 a.m. It's difficult but she does it, contributing to our discussion as if we were meeting face-to-face," Hogue said. "Another student has no internet access at his rural home and so he drives down the road to find cell-phone access to call in to class from his car. Many of our students face significant hurdles to meeting classes online, but what impresses me most about them is that they're doing it — showing up, doing the work, and encouraging each other in the process."
Jim Kovatch '20 (Lancaster, Ohio) is still coping with the loss of his final season as a pole vaulter on Marietta College's track & field team, and the adjustment to online-only in his final semester is on-going.
"I have been in contact regularly with my senior capstone group but it is harder to work together and I don't get the enjoyment out of our meetings now like I did during the first half of the semester," he said. "I had a Zoom call with my fraternity the other day to continue to plan for next semester and wrap up business for this semester. We are mostly talking about how we don't want and online graduation and how it's hard to be motivated to do anything."
The College will be conducting a virtual graduation on Sunday, May 3rd, but President Bill Ruud and Provost Janet Bland are speaking with seniors about possible dates for an on-campus commencement ceremony during the summer or even in the fall.
Adapting to an online platform was easier for Elizabeth Sweda '20 (Canonsburg, Pennsylvania), who attended an online high school.
"I'm very familiar with that sort of environment, but it's weird being at home though after spending the last four years on campus," Sweda said. "I'm so used to being able to go out and do stuff in the community, that it's hard being stuck in the house with nowhere to go."
Sweda credits Marietta College's faculty with being positive and helpful during the transition.
"This is a difficult time for everyone but the faculty are definitely handling this well," she said. "They are always sending updates and keeping us informed as new information becomes available. Even though we aren't on campus, they're still keeping our community connected."
Bland, Provost and Dean of the Faculty, said she is honored to work with such a dedicated faculty. 
"They are reaching out to our students, taking their courses into the virtual on a variety of platforms. It's a huge effort, and yet they are getting it done," Bland said. "We are reaching out to students to help them with technical issues. We have set up most of our staff at home with the ability to work at home and continue to support our primary educational mission with their usual skill and dedication. Our faculty and staff are working together, sharing ideas, knowledge, and tech support. It's the challenge of our time — and our faculty, staff, and our students are rising to the occasion."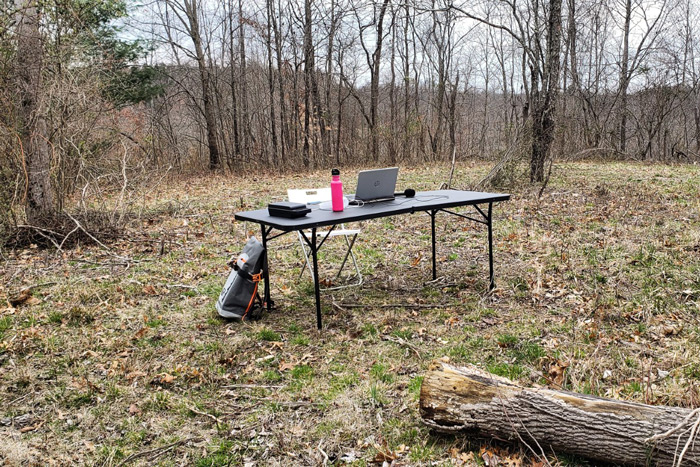 Jordan Reed, an adjunct faculty member who specializes in saxophone, has shown his ingenuity when faced with internet issues at his rural Athens, Ohio, home.
"We have satellite internet because that's all we can get, so Skyping and video calling are basically impossible," he said. "So, I was putting everything in my car and driving an hour to campus and used my phone as a Wi-Fi hotspot."
After Ohio Gov. Mike DeWine issued his stay-at-home rule, Reed needed to come up with a new solution.
"My wife and I noticed that about a mile behind our house we get good cell service," Reed said.
Now he sets up a table on the hill and teaches class outside.
"I'm only an adjunct, but I am dedicated to Marietta College and my students," he said. "It's working OK, and doing video is by far the best way for me to teach lessons. I have learned, however, to be much more patient, and I'm wildly empathetic to my students."
Kelsey Carver '20 (Bellville, Ohio) has remained on campus because of an off-campus job and internet issues at home.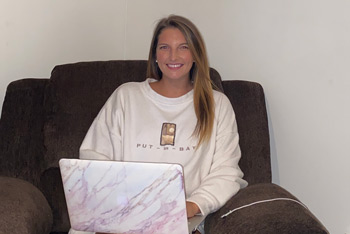 "Being on campus during this devastating time has been a blessing and a curse. I am extremely thankful to be able to have this option to reside on campus during this time," she said. "But more importantly, I am taking in every last second I can get here at Marietta College. It has been so hard to come to terms with the fact that as a member of the Class of 2020 we got our final moments of our last semester together taken away from us. Being here has prolonged my goodbye to this place I call HOME. I am fortunate to still be here and soak it all in unlike my fellow classmates."
Hogue has also missed the personal connections she makes with her students and colleagues.
"It's hard to feel connected to students when they exist as disembodied voices coming out of a computer, and even doing video chat can feel disorienting," she said. "I miss those casual conversations in the hallways, those times when the discussion continues beyond the walls of the classroom, and I really miss cheering them on in their sports and celebrating their accomplishments."
In spite of the challenges, a majority of students and professors believe Marietta College is thriving during these difficult times.
"I am still staying in contact with friends and classmates. We get to interact through the Zoom class meetings, which is nice because I don't have contact information for everyone," Sweda said. "The professors always start class by asking how we're doing and if there's anything we would like to talk about. Before class ends, they also remind us that they are there if we ever need anything.
"From talking to students at other colleges, I feel that at other campuses students aren't getting that sense of community and connectedness from their professors and peers. Knowing that there is always someone there for me definitely helps during our current situation. That's one of the great things about our campus."
Carver added, "This is not something any of us expected, but I am so proud to be a Pioneer during this time. The leadership of our campus to continue to do what's best for our campus community, the constant updates and communication, the constant reassurance and support from faculty ensuring we will all get through this together has been extremely helpful. Professors are still holding themselves to a high standard to provide quality education and students and seniors, like myself, are struggling with motivation but still pushing through to see the light at the end of the tunnel. Professors are doing everything they can to make sure we are excelling in our classes and adjusting as necessary, but they are constantly checking on us. It shows how much they care about our education, but also our well-being; and that in itself is something I am grateful for."