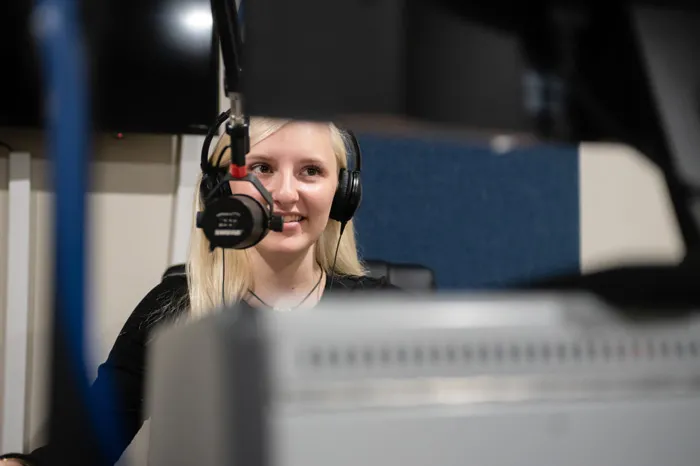 Coming from Montrose, West Virginia — population: 158 — Hailey Lanham '25 was a bit overwhelmed at the size of Marietta when she moved to campus this fall to begin her freshman year.
Knowing she wasn't alone in her struggle to adjust to college life, the Broadcast Journalism major decided to help others with the college transition process by starting her own podcast — "Daily Hailey."
"I've always wanted to do a podcast because I want to work in the broadcast spectrum, and I also just really wanted to have something of my own that people could listen to," she says. "College was hard for me at first, so I wanted to let other people who may be in the same situation to know that it's OK and some of those struggles are just a reality of going to college and starting something new. What makes it better, for me, is talking about it."
Lanham utilizes the Dream Weaver Recording Complex in the McKinney Hall, which she learned about during a campus tour. Her academic advisor, Melissa Grande, explained that the complex was available to any student interested in making world-class recordings or playing the various instruments in the space. She also finds time to work for WCMO-TV, as well as work remote broadcasts for Seven Ranges Radio, a Mid-Ohio Valley broadcasting company.
"Hailey is an excellent example of the Pioneer spirit — she is really motivated to get all that she can out of her education," says Grande, who teaches in the Theatre Department.
Though Marietta's three-lane roads are much less intimidating to her now and she has adjusted to living in a more densely populated community, Lanham knows there will be other challenging situations she will confront as an undergraduate.
"Being involved in different areas within the field of communication as a student is going to prepare me for my future, but it's also going to let me help others," Lanham says. "My professors are great at helping me, and it's the first semester of my freshman year and I'm already involved in so much. I don't think I would get that opportunity at a larger school."