Marietta students enjoyed life-changing experiences with the Savannah Bananas
If you see Tyler Johnston '24 walking across the Marietta College campus, there is a good chance he will be wearing a Savannah Bananas T-shirt.
"I have 15 Bananas T-shirts," says Tyler after interning with the Bananas this summer. "I'm known on campus as the Savannah Bananas guy."
Fellow Pioneer Natie Facchinato-Sitja '24 also interned in Savannah, and after interacting with thousands of fans this summer, she learned many valuable lessons. The best example, though, was how a small gesture could go a long way.
Greeting fans as part of the First Impression team, Natie encountered a family of three who didn't have tickets to a sold-out Bananas game at Historic Grayson Stadium, which seats just 4,000.
"They were visiting Savannah and heard about the Bananas, but they didn't realize we have a waitlist of over 60,000 to get tickets," says the Sport Management student. "However, many of our season ticket holders will hand tickets to me that they are not planning to use and tell me to give them away. But I only had two and it was a family of three."
The father told Natie that his wife and child should go to the game and he would find something else to do.
"Our top priority is to make sure we provide fun for the fans. So, I told him to give me a minute to see if I could find a ticket. I spoke with someone in ticketing, and they received a spare ticket from another fan that night, so I got the family another ticket," she says.
What happened next inspired Natie.
"He started to cry. They were all so thankful that I was willing to help them and that they would all get to enjoy the game," Natie says. "After the game, they walked around the stadium to thank me again."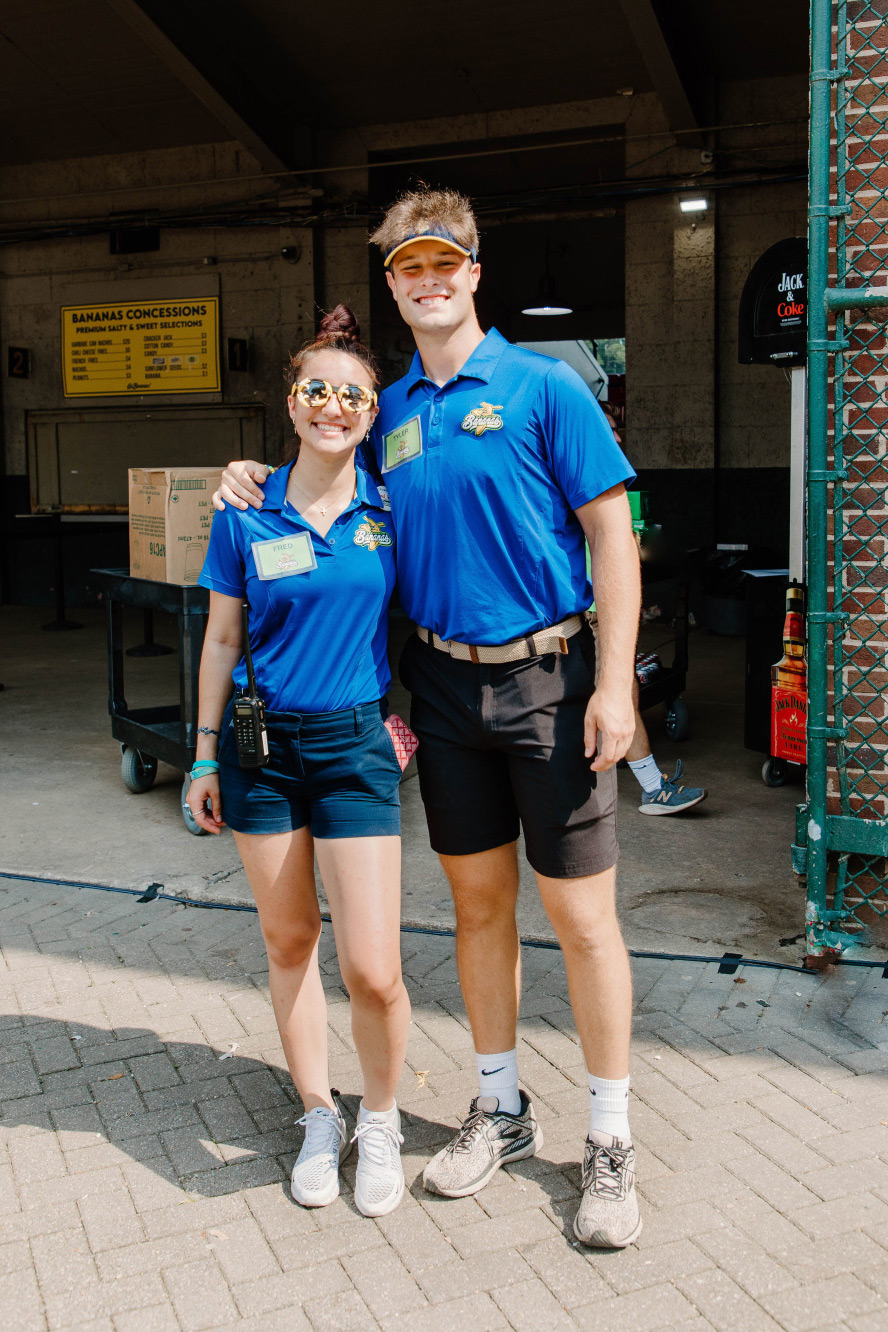 Out of more than 100 applicants, Natie and Tyler were two of eight selected for the highly coveted internships that were also life changing.
"What I learned most about this is that this organization cares more about the relationships and that we are more than just employees," says Johnston, who is majoring in Sport Management and Communication Studies. "I have a better understanding of what a good work environment should look like. And this was prevalent throughout from the players to the staff. If a player went 0 for 4, the owner wasn't upset that he didn't have any hits. He just wanted to make sure the players were also having a great experience."
The internship also involved balancing their time between the college summer league team that won the Coastal Plain League championship, and "Banana Ball." Banana Ball is owner Jesse Cole's way of introducing a baseball-like game to people who are not typical baseball fans. You can call them the Harlem Globetrotters of baseball.
"We get the Harlem Globetrotters comparison all the time, but there is one big difference," Johnston says. "When the Bananas play the Party Animals, the Party Animals are trying to win. Nothing is fixed or predetermined."
What is planned, though, are the in-game antics and the in-between innings festivities. The fans are entertained by a dancing first-base coach, a pitcher on stilts, and the players are encouraged to go into the stands to celebrate with the fans.
Other in-game entertainment includes the Banana-Nanas, a senior citizen dance team of women, and the Man-Nanas, a dad-bod cheerleading squad. At the beginning of every game, a Banana Baby is introduced as "Circle of Life" from Lion King is playing.
While neither student was an active part of the in-game antics, each got an opportunity to contribute.
"I was part of an on-field marriage proposal," Tyler says.
Natie adds, "During undercover nights, I would be there to try to find holes in our system so that I would do the dancing with the ushers for something fun."
Both students went through an exhaustive interview process that doubles as a recruiting pitch from the Bananas. Carson Bowen, Savannah Bananas Ticket Experience Director, says this procedure helps them make sure the interns fit the Bananas culture and ensures a positive experience.
"An internship is one of the most important experiences that a college student can have, therefore, we really believe when our interns complete their time with the Bananas that they should feel proud in the work they did," Bowen says. "Interns are a big part of our organization, and we were quick to trust both Tyler and Nat. They made a quick and positive impression that we let them own an area of our operations. I guarantee you those parts of our business were better off because of their involvement. They showed us things we needed to improve on. They were both very quick to make an impact on the fan experience."
Natie and Tyler both agree that they would enjoy working with the Bananas again — and there is a chance. Tyler had his internship was extended into the fall semester so he can help the Ticketing team as they prepare for a larger world tour in 2023.
"I was excited when they asked me to do it. Now I am waiting on the 2023 schedule to come out so I can start making sales," he says. "My original goal was to go to law school, but now I'm not sure I wouldn't want to start my career with the Bananas. It's a beautiful city and the organization is so community oriented."
Natie is considering several options for her summer 2023 employment, including a return to Savannah.
"I have an opportunity to coach rowing, which is something I am very interested in doing," says Natie, who is a coxswain on Marietta's men's team. "I also met the CEO of a company in Wisconsin, who encouraged me to apply there. This internship has opened up some opportunities for me."
Tyler and Natie also volunteered with the Bananas — along with seven other Marietta students — during their 2022 spring break. During the week, they helped the team prepare for its world tour. While they were there, ESPN was on-site filming for the five-part series, "Bananaland." The students are part of the first episode, which is available on ESPN+.
Rick Smith, Chair of Business and Economics, is proud of what Tyler and Natie accomplished.
"The Savannah Bananas internship is extremely competitive. There are over 1,000 people waiting to work for the Bananas, and to have two MC students intern in the same summer with them is amazing," Smith says. "They said their experience was second to none, and I hope future MC students get the same opportunity."